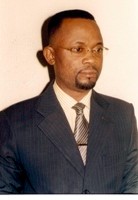 Image-making is one act in which man participates in continuous creation and duplication of being, and therewith becomes co-Creator with the primordial Creator. The Jewish-German philosopher and anthropologist, Martin Buber (in Between Man and Man), noted that art creation or image-making is an encounter between the art-creator and the looming image that hangs on the abstract perception of the artist. Only him knows how, why and to which extent the encounter impels demands of the creator. Our own brother and worldwide literary icon, Prof Chinua Achebe (in The Anthills of the Savannah) said that every artist contains a multitude.
This image-making is as old as man. It serves as occupation and source of income for the art-creator, as gift and gratitude, praise-singing and memorabilia for the presenter and receptor, as object of immortality for the art-appreciator and history-minded man living in what Prof Olufemi Taiwo called knowledge community, and as an aperture for squander-mania, etc., for the running of unquantifiable miscellaneous expenses meant for siphoning public puss by sleaze-minded public servants.
When Israelites were bitten by fiery serpents in the desert, God instructed Moses to "knack them one statue of serpent" as salvific image to look upon when bitten by the fiery serpents and be saved. Medical doctors and pharmacists today use it as the Rod of Asclepius (the snake image twisted on a cross), without remembering the initiator or to knack him one statue in Imo State.
Also, when Israelites felt disappointed by God and Moses whom they waited for long without returning, they decided "to knack themselves one statue" and began adulation and cult. They danced happily in the presence of the unknown god, in which backdrop Karl Marx called religion as das opium des vokes (the opium of the people). God vex for this one because no be him say make dem knack am.
When President Desire Kabila of Congo Democratic Republic snatched power off from their national tyrant, Lord Mobutu Sese Seko, he quickly "knack Congolese a statue of the grand national patron, Patrice Lumumba" at avenue victoire at Mboloko-Limitete junction in Kinshasa. Lumumba though of good human size became a monumental Goliath that befits the height of his nationalism in the country. There were no exaggerations.
Shortly after the Nigerian-Biafran war, Enugu citizens in commemoration of the coal mining mass-killing, "knack a statue of the miners as memorabilia." Similarly, shortly after Owelle Rochas Okorocha was sworn in as the 5th Executive Governor of Imo State in 2011, he quickly knack Dim Odumegwu Ojukwu one statue and a square, remembering Ojukwu's oil on his head before the Igbo nationalist bowed to mother earth.
The examples are endless, because to knack statues to individuals, is highly biblical, spiritual, sociological, psychological, aesthetic, self-enriching and highly encouraging, and it characterises the cheerful giver whom, the biblical St Paul said that the Lord loves.
In Imo State today, at Ogbaku-Oguta junction, directly opposite Henri Marine filling station, poses an advert board with the image of the African icon and world acclaimed icon for morale, President Nelson Mandela, in comparison with Governor Rochas Okorocha and an Oguta LGA TC Chairman. The great Mandela of South Africa is on a bill board; perhaps his statue is now ready, waiting for unveiling at Spillbat.
The tallest African President, Jacob Zuma, of South Africa don get his own, on a short image of a dwarf and a road dedicated to his name. The first West African female President, Ellen Johnson Sheriff of Liberia, must have seen her new road and statue. The first world international footballer to become President, George Weah, has got one statue in Imo State and a new road ready for dedication. The Liberian international Ebola importer to Nigeria, Patrick Sawyer, has already one statue and a new lane ready to be dedicated to him.
General Achuzia, late Admiral Anthony Onyearugbulem of Mbaise, General Aguyi Ironsi and Samuel Okwaraji (of old Imo State), late Senator Evan Enwerem, late Dr Sam Mbakwe, late Mrs Flora Nwapa, late Bishops Anthony Nwedo and Mark Unegbu, Bishops Gregory Ochiagha, Lucius Ugorji and Victor Chikwe, even Rev Fr. Eustace who Governor Ohakim allegedly slapped in 2011, Eze Cletus Ilomuanya and late Eze Emenwonu Emmanuel Njamanze, Sir Jude Agbaso, Captain Emmanuel Iheanacho, and many others that I have been shown their statues at Spillbat are really blessed in Imo today to have got theirs.
Owerri is indeed an aesthetic State capital. No one can deny this very fact.
This made me puss and puzzle, and like my French friend, say "Tiens," as a long, relentless and elastic unpaid adviser cum critic of Governor Rochas Okorocha, I too need, desire and will appreciate the erection of a statue with my image and also the dedication of a road in Owerri capital territory with the inscription-SOCIAL CRITIC-PROF PROTUS NATHAN UZORMA LANE. Please your Excellency, do me a favour, knack me one statue for my relentless admonitions cum criticism in Imo State and in your administration. The Reformer deserves one too. Yes, there are some already moulded ones without heads on them kindly mould my head and fix it on one of the statues that fits my body structure. Statue governor! You are not ashamed that in the face of hardship afflicted on ndi Imo by your ungodly administration, you are busy moulding irrelevant statues with our money while pensioners are dying on daily basis. Payback time is very close.
Knacking me one statue takes out nothing from His Excellency, notwithstanding the present economic situation of the country. Freely, he gives and knacks statues and lanes in the capital city. Freely he has been giving since and of recent statues and road dedications. God loves cheerful givers, and givers never lack.
I pray Governor Rochas Okorocha to knack me one statue, for blessed is the hand that giveth than the one that taketh, said the reggae guru, Lucky Dubey. It will not only be a memorabilia and insignia for me, but for the future generations of critics of best governors in an impoverished State. Let the shearing Governor knack me just one statue, I will be very glad for life, withdraw all I have written, rest my pen and stitch my lips. Please, knack me just one statue.
By Prof. Protus Nathan Uzorma