Lastline
Imo In A Constitutional Quagmire
By Henry Ekpe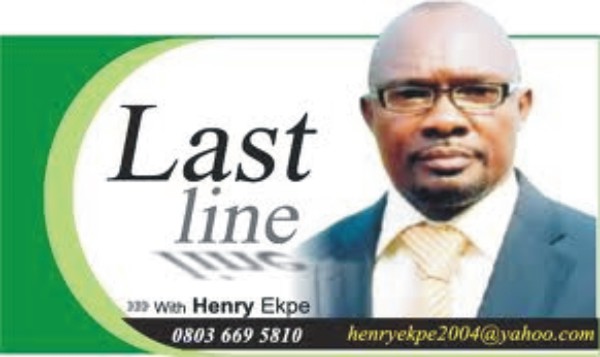 Since the creation of Imo State in 1976, the State has had five civilian Governors namely: Chief Sam Mbakwe, Senator Evan Enwerem, Chief Achike Udenwa, Chief Ikedi Ohakim and the out-going one, Owelle Rochas Okorocha.
Before now, never had Imo State dominated the air waves for the bad reasons. As at today, no day passes without one bizarre news filtering out from the Heartland State.
While other States flood the press with inspiring news items like commissioning of gigantic projects, all we hear about Imo State are stories that pain the heart.
It is only in Imo that statues are officially commissioned at State functions, Deputy Governors are removed from office at record speed. Commissioner for Happiness are appointed in an unhappy State, pensioners are owed while Government pays State workers whatever it deems fit and right at what month, all roads under goes repair at the same time without a single consideration about the populace, local government elections are not conducted while communities lose count of those asked to run their councils, the masses don't know how much that runs into the State coffers and any attempt to enquire would land you into trouble, Private homes are demolished without compensations, a chosen set of people are reserved plum Government appointments whether they have the qualifications or not, holidays are declared in the State for the celebration of Governor's birthday, existing Government Buildings are pulled down for no reason, markets are demolished instead of constructing new ones, road constructions take years without completion, and on and on.
Unfortunately, when some of us who had worked in Government tried advising through write-ups how some of these things are done in a democratic environment in order for Government not to incur the wrath of the masses, all we got was threats to live, abuses and insults on our families.
The truth remains that you cannot repeat a certain action a hundred times and expect to get a different result. In the case of Imo, the State is headed for the cliffs. Every indication shows that Imo State has in the last seven years been ran as a private fiefdom, instead of a public enterprise where every body's contribution is needed for the general good of all.
Presently, Imo is at a cross roads. However, the good thing about it all is that Imo citizens are highly educated, which is why they are usually patient, but not gullible as most people assume.
Had it not been that it is Imo State that all these ugly scenario have been visited on its citizenry, hell would have been let loose since.
But realizing that the best way to lure a Bull out from a China shop is tact and patience, soon Imo shall be free. One thing absolutely certain is that by the end of September, the incumbent Governor, Owelle Rochas Okorocha would be officially on his way out of Douglas House, Owerri. Whether he leaves his son inlaw or son as his successor in 2019, it will never be Chief Dr Owelle Etelberth Anayochukwu Rochas Okorocha.
Okorocha is full of energy and courts political power, which is the reason his regime never gave the populace a single respite throughout his Governorship.
Abinitio, he never minced word when after he was sworn-in he made it clear that he abhors rule of law, otherwise known as due process.
According to him, obeying such "bottle necks" delays his zeal to develop Imo State fast, hence his penchant at none reliance on organized system, but rather created his.
Today Imo is Politically, Economically, Judicially, Legislatively and Executively charged. The Falcon can no longer hearing the Falconer, because the Governor who the ordinary populace put into office has metamorphosed into a political deity. He even denied that APGA as a party propelled him into office in 2011. He described the party as a social organization. This was after he used the party to win election in 2011 against all odds.
To Okorocha, he must win a battles be it political or socio-cultural. But that is not usually the case for all humans. After all, Jesus Christ lost the battle of life, until his father resurrected him from the Grave.
Imo today is on a quagmire because our Governor has stopped seeing himself in the realm of a human. Everything he says is law, and must be carried out or he feels diminished. With this mind set of Governor Imo State, is on one straight Iron Jacket.
Now, all the three arms of the Government; Executive, Judiciary and Legislative have failed the masses.
Okorocha assumes the Executive, as his State Executive Council has no contribution to make in terms of advice, which is the major reason for appointing Commissioners, Advisers, and other appointees. In order to take total charge and responsibility in the State, Imo Commissioners are not recognized, as they do nothing in office than run errands for the Governor, instead of manning their Ministries.
For those of us in the Media, we have not heard when last the State Executive met. In the previous administrations in Imo, Wednesdays were the day of State Executive council meeting, when Commissioners for Information address the Journalists on Government deliberations and policies. This ritual extents to Abuja where the President also meet his Ministries. But that is history in Imo under Okorocha.
In the quest to control everything that happens in the State from sad dredging to motor parks, only stooges and neophytes are appointed into critical Government establishments that are beyond their comprehensions. That is how bad it has become in Imo.
In the area of Government Media, rather than appeal to the conscience of the people, as the owners of the State, despite the present government- induced poverty, prominent sons and daughters of the State are abused with unprintable words. Only in Imo State did we hear a Governor retire some senior citizens of the State.
It is only in Imo State that Government Media could come with the Military-style order that a son inlaw of the Governor has been penciled down by "God" as the next Governor of the State.
Such materials can be subtly sent out to the masses spiced with decorum to prick the peoples conscience, and not by Marshall order.
The present administration holds no respect for the masses, as the masses are seen as captured victims. The Imo people means nothing, and must be spoon-fed with Government policies to swallow hook, line and sinker without a whimper or else you are tagged an enemy.
Whoever read Senate President Saraki's letter of resignation from APC would realize what a good and diplomatic Press Release can do on the conscience of a people. Go and read that letter and see how professional Media Experts can couch their piece for immediate impact without abuses. Saraki's letter never insulted anybody, not even the President or Oshiomole but yet sent out the message.
Now, taking a look at the Prince Madumere imbroglio, which is the current matter in the series of bizarre actions that come out from Imo every week, the State as usually is in the public domain.
We all know why Madumere is facing impeachment, despite the frivolous allegations manufactured by the spineless Imo House of Assembly.
But the Madumere issue ones again exposes the friction between the Imo Executive, Legislature and Executive in Imo State.
Madumere is being persecuted for challenging his boss, by aiming to be a Governor, when Okorocha had anointed his son inlaw, Uche Nwosu. For not obeying the "Master", Madumere has to pay the price.
And Okorocha, as a smart politician knew what a pliable Imo House of Assembly could do for him. Which was the reason he single-handedly handpicked most of the APC lawmakers in Imo. He also encouraged those in PDP to join APC to boost the number of Imo APC Legislators, in case of moments like the Madumere saga.
With a Speaker like Acho Ihim, who looks desperate at all times, Okorocha was at home with the present House, and could even write their order paper for them.
However, we all can see why it is said that absolute power corrupts absolutely. With Okorocha as the Imo Executive personified , and the Legislature in his pocket, he could order Concorde Hotel to be moved now from its present location, and you still see some fools pushing the Building even though they know it is absolutely impossible. Too bad!
But the only ray of hope remaining for Imo State and its dissolute populace is the Judiciary, the Temple of Justice. Although all sectors in Imo have been desecrated, but the Judiciary is yet to decay to the bone, because there are still men of honour in that arm of Government.
The Imo House of Assembly as the House of Perdition and of Hatchet men had finished the Madumere interment, only waiting to cover the grave, when the Judiciary came to the rescue.
Now, Imo State, with its strange News, has become a State that has two Deputy Governor. One in office with, one waiting to be sworn-in. Who says Imo State under the regime of Okorocha is not special!
Under this situation where Chief Callistus Ekenze has been nominated and was nearly sworn-in as new Deputy Governor, with Prince Eze Madumere still claiming to be the authentic Deputy Governor, what gives?
Certainly, Okorocha has come to the height of his political shuffling. Obviously, he will still wriggle out of this present log jam, because he knows how Nigerian politics is played, with the Imo patrimony at his disposal.
But one thing is that Imo State will ever remember Okorocha, for good or bad. Okorocha in all his imagination would have preferred that the framers of Nigeria constitution did not reckon with the issue of three Arms of Government and checks and Balances.
If asked to suggest, the Imo State Governor would have preferred where only the Governor existed without Legislature and Judiciary so that the State coffers and all the authorities are quatered in one person; the Governor.
The Imo Governor does not only want to charge of all the arms of Government, but also the political party.
Today, Imo APC, the ruling party in the State has two authentic State chairmen from different sources. While Okorocha's own State chairman, Dan Nwafor was sworn-in by the newly minted National Chairman, Comrade Adams Oshiomole, the already existing State Chairman, Dr Hilary Amadi was sworn-in by the out-gone National Chairman, Chief John Oyegun. And all these are playing out against court litigations, upon litigations, with the Judiciary scorned.
Imo Government does not bother about the masses who are languishing in poverty, with excruciating pains faced by non paid State Civil Servants.
Despite these ugly situation, those in charge of the State gives no danm, as what matters is their personal financial and political successes above the suffering faced by the majority who stuck out their necks for Okorocha in 2011 and 2015.
The situation seems like dancing on the grave of the entire Imo citizenry, who are now pushed to the wall with no help in sight. How can a Leader be chasing Rat when his House is on fire? "Confusion break Bone" says Fela.