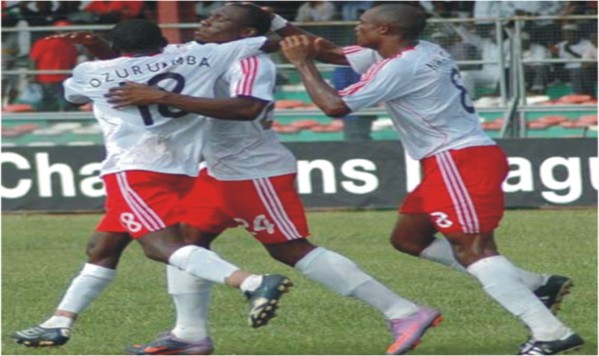 Former players of Iwuanyanwu Narional now Heartland FC have reunited with the aim of promoting their welfare as well as to push for the immortalization of the man that contributed to the famousness and progress.
Speaking to Trumpeta in Owerri, Mr Obinna Obiaka spokesman of the association made this Clarion call as part of their programme marking the remembrance of the September 18, 1994 ill fated air crash that took the lives of the club two key players Messrs Omale Aliminwosa and Uche Ikeogu and left others injured as they were returning from Tunisia were they successfully went to represent the country in an international engagement.
Obiaka opined that Chief Iwuanyanwu through his sole sponsorship of the football club then in early 80's to late 90's was able to put the name of Imo State and Nigeria in positive global map and enhanced the professional status of many Nigerian and African youth footballers and therefore deserved to be immortalized with edifices.
He informed that the fundamental essence of their formation of the association is to over see the welfare of their members lamenting that various governments and clubs they served during their prime days are unperturbed of their present welfare.
The mathematical mid field maestro during his hay days expressed their resolve to partner with Imo State Sports Writers Association of Nigeria (SWAN) under the leadership of Mr Everest Ezihe to established a foundation that will take care of ex-footballers in the state.
Obiaka expressed gratitude to Kalu Nwankwo, Tony Nwaigwe and other members of the association in diaspora for their labour of love to members of the association who are in need while cautioning against government undue interferences in the management of football clubs in the country.
Adding his voice, Barr. Ifeanyi Dike(Fela), who is the Legal Adviser of the association advised Imo SWAN members on the need to give adequate support and respect to their chairman whom he described as visionary and purposeful leader .
Dike reiterated the need for synergy between Imo State SWAN and the association while pledging to support the Sports Journalists in their efforts to ensure the growth and transformation of sporting activities in the state.
Members of the association who were present include; Isaac Mbaegbu, Casmir Mbachu, Charles Uzor, Jonathan Ubanwa and Collins Amadi "Zigima", while Tony Nwigwe participated virtually from his base in London.