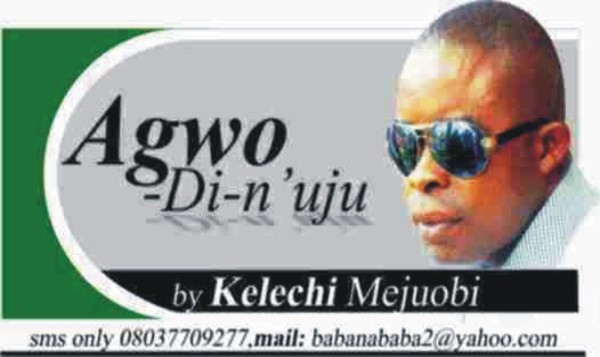 By Kelechi Mejuobi
Since I landed Owerri, Imo State capital from Lagos, in late 2003, to continue my trajectory in the exciting pen pushing job, this year appears to be a turning point of my 19 years stay in the state fondly called Eastern Heartland.
The advent of the armed hoodlums known as "Unknown Gunmen" has indeed become a watershed in the history of the state. Before now, the only major uprising in Owerri, that remained a landmark was the historic "Otokoto Riots" of 1996.
Since the eve of Easter Monday of this year, staccato of gunshots, frequent records of deaths arising from clashes between security agencies and criminal elements as well as sorry tales of victims of gunshots have dominated events in Imo.
Very frightening is the high level of insecurity in the state where residents not only live in fear of the unknown but also no longer know peace. Even when peace comes abruptly, it is of the graveyard.
From a place known for excellent hospitality status, Owerri is fast turning into "Afghanistan" of our time. To sum it up, a young lady I had a brief encounter outside the state few days ago on noticing I reside in Imo, jocularly asked why has Owerri, she termed ebe ngwori (heaven for enjoyment), has turned 460 degrees to become home for bloodshed.
I won't go further in this piece without extending apologies to readers who have missed Agwodinuju Column; a regular commentary of yours truly, at the Trumpeta newspaper back page since 2011, the medium debuted.
Several concerned readers had called, sent messages and inquired what was responsible for the out of stock posture of the column for over three months.
The truth remains that I have been indisposed due to other engagements coupled with domestic injury I sustained in one of the major fingers which inhibited my output. I am forced to bounce back as requests to get my views on current developments have been overwhelming.
Back to the prevalent insecurity situation in Imo. There is no doubt that the state is winning notoriety for wearing a dreadful toga of the Afghanistan of our time.
Afghanistan, an Asian country had in the past been an epicenter of violence orchestrated by macro combat interactions between the Afghan guerrilla forces and the Soviet and Afghan regular armies.
In the early 80s, the only story that emanated from that country was of violence, crisis and killings. Imo is gradually tilting to this narrative.
Imo had been a notable peaceful state. Before now, it had enjoyed a serene atmosphere that entrenched a fun filled life which attracted all and sundry. Buoyed by rich entertainment outlets that rank second to none in the country, Owerri is endowed with attractive night life were frolickers gather regularly for variety shows and social raccmattazz.
But the attributes that distinguish the state as heaven for enjoyment are fast weaning with insecurity winning serious attention.
In the past, people moved freely and unlindered without fear of the unknown irrespective of the time. The Old town and New Owerri where most of the entertainment outlets are located bubbled with life. Night crawlers had unrestricted movements till wee hours.
The Owerri of today is in sharp contrast of the Owerri of the past where residents scamper for safety when a car exhaust pipe releases thunderous noise in the public. Within splits seconds, vehicle drivers will enter James Bond driving mode. One- way driving and reckless speed on the roads in other to run into safety will be activated. Confusion sets in the next moment, while all streets get deserted and only the few die hards will be spotted. Even shops and business outlets get locked up immediately. However, one major question remains how did the state get to this perturbing point? It won't be out of reckoning to state that last year's ENDSARs protest which rocked the country and saw civilians attack police formations gave hoodlums chances to challenge security outfits. During the EndSARs protest, Imo had its dozen share of the violence. Not less than four police divisions were razed down by the protesters who dared police by setting stations on fire while carting away arms and ammunition. It was the first attempt to try security agents for a battle. Also, the Orlu crisis which occurred this year sparked off another challenge to security in Imo. There was insecurity issues which informed the government to move in police and military to restore peace in the area. In the process, there were skirmishes between the security agents and fighters suspected to be operatives of Eastern Security Network, ESN of the IPOB.
The crisis became blossomed when suspected hoodlums attacked the state police headquarters and wrecked havoc. Owerri prisons facility sharing border with the police headquarter was not spared as not less than 1,500 detainees and prisoners got freed after the attack.
In the meantime, if no police station was not attacked or burnt in the state, gun totting hoodlums would take over parts of Orji, Akwakuma, Mbaise and Douglas roads embarking on shooting spree before security agencies race to the scene to engage them in gun battle. In most cases, casualties, including passers-by become victims of death and injuries sustained as a result of gunshots and stray bullets.
I may not be in a position to give accurate number of deaths recorded so far since the mayhem commenced, but it is certainly going to be an outrageous figure if proper number of those who lost their lives are counted. Families of lost ones and those injured in the inferno are still gnashing their teeth and wallowing in sorrow. Petitions have flooded offices of security agents in the state over complaints related to allegations of extra judicial killings. More resounding were the cases of two students of Imo State University, IMSU, who are no more. A Germany based Nigerian gunned down while on his way to the Sam Mbakwe airport on Aba road. There was also a case of an Owerri based businessmen who met his untimely death the day he took delivery of a new car and went to drop off a friend in town.
The security agents are not also left out in sharing these loses. Each strike by unknown gunmen witnesses casualties on the side of police and military. Though, no official releases to state the records, but it can't be less than ten so far. The sad details are numerous to recount here.
SO WHAT NEXT?
There is no way residents of the state would continue this way as the unrest has slowed economic activities and crippled governance. Commercial activities are at lowest ebb while regular programs of government shelved. Uzodinma has curtailed public appearances in the state. Despite assurances from the state government, coupled with the efforts of the security agencies, air of insecurity still remains, thereby warranting a holistic approach to finding solutions.
Only on Sunday, police claimed to have recorded a breakthrough by gunning down a major commander of the unknown gunmen and killing five others in the process. The victims were accused of attempt to launch fresh attack on police headquarters, Owerri. But gunshots boomed again in Orji and other parts of the state capital 24 hours later, signaling that end is still far for normalcy to return.
Even at that, some roads in the state capital housing sensitive government establishments are still blocked for public access while security agencies mount regular guard.
There is need for the police and military to step up efforts against further intrusion of the rampaging gunmen while the state government reassures people of the state of required capacity for continued protection of lives and property. The state government may consider changing tactics by considering dialogue with all stakeholders as proposed by the Archbishop of Owerri Catholic Church AJV Obinna.
Instead of an all military onslaught, a reach out to the disturbing gangs, similar to what was applied in other parts of violence prone location can be applied.
Stakeholders in the state irrespective of party lining can also be of use in the new order of finding peace.