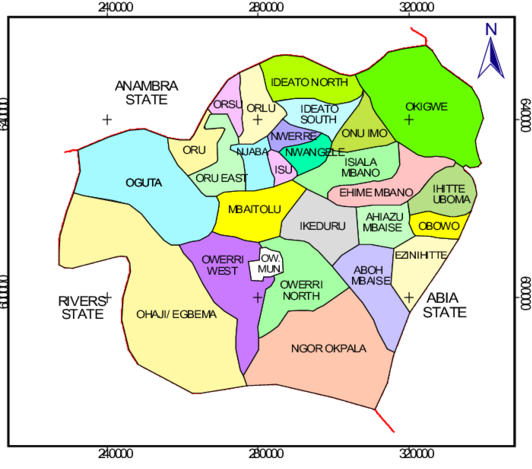 By: Tochi Onyeubi
Since the introduction of sit-at-home order in Imo state and by extension the South East by the Indigenous People of Biafra, the security situation in the region has been in total quagmire, causing great damage not only in loss of lives and property, disruption of education. It has impacted the economy leading to significant financial losses and human activities.
A PEEP INTO MEMORY LANE
Recall that the Indigenous People of Biafra introduced the weekly sit-at-home in August 2021, the South-East states of Anambra, Imo, Enugu, Abia, and Ebonyi following the arrest and detention of its leader Mazi Nnamdi Kanu fueling heightened insecurity.
However, before this, there was existing wide spread disaffection over claim of marginalization and subjugation of Ndigbo by the Buhari administration where he came up with unequal percent for the South East.
Also sweeping through the country in 2020. was the growing common disapproval and discontent of the Special Anti-Robbery Squad Unit of the police (SARS) to be associated with harassment and shooting of innocent citizens, extortion at gunpoint, and extrajudicial killings of suspects. This subsequently culminated into the EndSARS mass protest of October 2020, calling for the end of the unit.
Regrettably, masked behind the facade of the "End SARS protest," individuals with malicious intent set fire to police stations and facilities throughout the 27 local government areas of both the state, killing and maiming police officers in the process. This resulted in a significant reduction of effective policing in rural areas, leaving only minimally capable patrol teams, while additional personnel were relocated to the central headquarters in Owerri. As a consequence, this left citizens vulnerable to brutal assaults they had little capacity to fend off.
After the EndSARS saga, attack on police formations and officers across Imo state persisted. By April 5, in the wee hours of the morning, the Owerri correctional center was attacked. The release of over 1800 inmates ignited the new wave of crime and criminality in Imo state. This gave rise to another faction popularly known by the acronym, UGM (Unknown Gun Men) carrying out more severe attack and abduction of Imo citizens, traditional rulers, heavy attacks and destruction of police divisions, law court, and even the Independent National Electoral Commission (INEC) in the build up of the 2023 elections.
The Nigerian Government declared the capture of Nnamdi Kanu, the leader of the Indigenous People of Biafra (IPOB), on June 2021. Kanu had been previously arrested in October 2015 on charges related to terrorism and treasonable offenses, stemming from his support for the secession of South East states to establish Biafra.
Following his evasion of bail in September 2017 due to a military raid on his residence, he left the country. His bail was revoked in March 2019, leading to an order for his re-arrest, trial and subsequent detention.
The event was later to culminate to collapse of businesses, close down of schools, deserted communities and numerous lives tragically cut short due to the emergence of insurgency and insecurity in the Southeast region occasioned by the sit-at-home.
INSECURITY SITUATION IN IMO
Despite the IPOB's claim to have suspended the exercise, a faction led by Simon Ekpa based in Finland has continued to declare the sit-at-home at regular intervals. Efforts by state governors and authorities to end the sit-at-home exercise have faced challenges, and the enforcers continue to threaten residents.
While some communities in Imo suffer less impact of insecurity, communities in Orsu, Orlu, Njaba, and Okigwe local government areas have had severe impact of the devastating effect of the security situation.
In the face of the growing attack, residents have abandoned their home and taken solace inhe bushes or neighbouring communities
Eke-ututu market, Orsu Ihitteukwa, Ihittenansa, Amaebu, Eziawa, Umuhu okabia, and Amaruru, in Orsu local government area of Imo state have become desolate.
Similarly, Ihube in Okigwe local government area, Okwe in Onuimo, Njaba, and Orlu have been abandoned by both residents and security agents. These communities were bubbling and thriving agrarian communities and traders but activities have been grounded due to the fear of Unknown Gunmen and enforcers of Sit-at-home.
Recently, Orie Amaraku market, in the Isiala Mbano Local Government Area of Imo State, as well as buses and tricycles were set ablaze by enforcers of sit at home.
Eyewitness account reported that, armed men, who drove in three Sienna vehicles and motorcycles came with explosive devices to set the area on fire as they were shouting "obey sit-at-home order of IPOB." They warned the residents not to open for the weekly market of Orie Amaraku, on the said say of sit at home. Similarly, a tricycle rider and his passenger were shot dead at Akwakuma same day.
VOICES ON THE STREET
Iwuji Chika 36, a restaurant owner in Egbu, Owerri North who complained bitterly about the impact of the continuous sit-at-home on her business and huge strain it has caused in fending for her family. She said they are tired and of the situation and no amount of palliative from the government can undo the effect, rather the government should work hard tk out an end to the malaise so that life can return to normal.
She noted that with the incessant threats by the Ekpa led faction of IPOB, life mortality has increase owing to the high rate of crime and criminality.
A politician, Ben Igwegwuka said the Sit-at-home situation is a cankerworm that has done no one another good. He pointed out, that, areas in Orlu, Awommama, Orsu , Mgbidi has forced people inside, grounding to a halt economic activities, which has affected the thriving economic growth ot the South East.
"It is having its toll on the economy of the South East, making it unable to grow. There has to be an end to this", he said.
Isahaya Amos from Nasarawa state , but resides and does business in Owerri, stated the sit-at-home has not only created fears for him, but has impacted his business.
"When i came here in Imo state, this place was very peaceful and everything was going well. But these days, Owerri has changed".
" I cannot even confidently go to the market especially during sit-at-home. On several occasions there is stampede and people running running helter skelter with gunshots in the air. This is not good for us".
Recommendations
Some stakeholders and citizens are calling for the release of Nnamdi Kanu as a potential solution to the problem.
Despite police efforts to provide security, people still choose to stay at home due to the threats from enforcers.
Civil Society Activist, Clinton Ezeigwe recommended as part of measures to curb insecurity, the need cor government to initiate openand inclusive dialogue with community leaders, religious institutions as well as representatives from the regions to understand the concerns behind the sit-at-home and work towards finding peqcesul resolutions.
He further stated that government should as a matter of urgency address the underlying issues that led to the sit-at-home and create targeted policies that address the issue and protect citizens.
"Government should strengthen security measures for the protection of lives and citizen and prevent any potential violence or disruptions associated with the sit at home".
He stressed on the need for dialogue and strengthening of Civic engagement.
"Promote civic engagement and community involvement which will enable the community to participate in decision making especially aa it regards their security – thereby promoting inclusivity, diversity, and equitable distribution of resources to address any feeling of marginalisation with the South East.
All efforts made to get the Imo state Public Relations Officer to speak on the subject matter, proved abortive as he declined to make any statement in this regard.