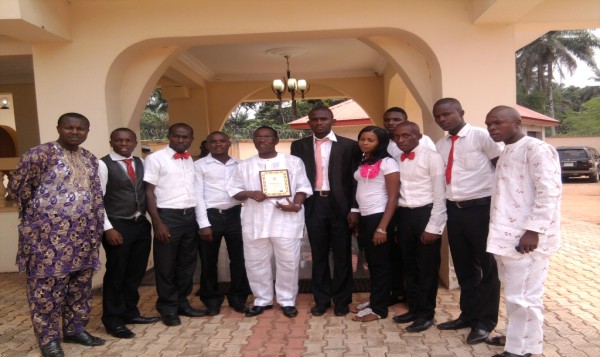 By ; amaechi kingsley
Member representing Ezinehitte Mbaise constituency, Hon. Obioma Ekennia, was last Monday honored by council of Mbaise students.
The council which is made up of Student President of Mbaise extraction in various tertiary institutions.
In his speech, Hon. (Dr.) Ekennia commended the Mbaise Student Presidents for finding him worthy of the award, adding that the award is a motivation to continue in the public service for the good people of Mbaise and Imo state.
Hon. Dr. Ekennia also advised the student to stay out of social-vices and encouraged students who are politically minded and hard working.
Earlier in his speech, the Personal Assistant to Hon. Dr. Ekennia, Hon. Onyema Januarius stated that  the student comprise of all the higher institutions in Imo state, adding that based on their intentions and the aspirations of Hon. Dr. Ekennia, the student deemed him fit and worthy to be issued an award of excellence.
The President of the Council of Mbaise Student Presidents in Imo state, Comrade David Nwaogwugwu presented the council comprising of presidents representing each institution in Imo state to Hon. Dr. Ekennia, adding that the Mbaise student Union in all the institutions in Imo state decided that Hon. Dr. Ekennia is deemed fit and worthy for an honorable award of excellence for his good works to the people of Mbaise.