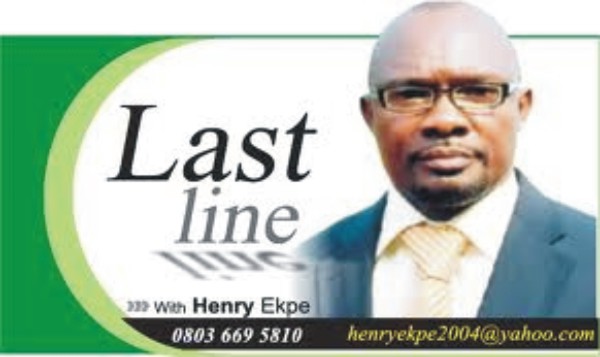 First of all, I want to welcome my Readers after a tough year 2017 where yours truly was on constant alert and Movement following various threats to life and job.
For two consecutive times this year before now, your resolute LASTLINE has been absent. Not for any reason other than to rest and reload for a new 2018, which seems to look better than 2017.
However, life has to go on even as the hectic political periods draw nearer, with the INEC time table which has now woken up politicians that the Game is real, near and on.
Meanwhile, before the close of last year, the All Progressive Grand Alliance, APGA Imo State, gained public attention following its various activities.
Infact, APGA as a political party dominated the Imo political environment with tumultuous outings as 2017 petered away.
APGA, which seems to have gone to sleep since Governor Rochas Okorocha used the platform to win 2011 Imo Governorship election, has been bursting to the seams with activities.
From all indications, whoever is taking APGA for granted in the coming elections in Imo State is doing so at his/her own ignorance. Take or leave it, APGA has suddenly become the political party dictating the pace of affairs in Imo State.
The party, at the close of last year attracted some Big wigs into its fold as members. And since then, it has become the darling of old and aspiring politicians in the State.
Currently in the party are Dr Alex Obi, a former State Chairman of PDP, Senator Bright Nwanne, Chief Humphrey Anumudu, a former Governorship candidate of ANPP, Chief Charles Onyeagbako, Mr Frank Nneji the owner of ABC Transport company, Hon Uche Onyeagocha and others too numerous to mention here.
It is even said that a former Governor of Imo State, Chief Ikedi Ohakim will within days join the APGA Train, Senator Hope Uzodinma is also rumoured to be close to joining the APGA movement.
Meanwhile, these Heavy weights are moving into APGA to meet old members, who have been holding the party financially together these past years.
They include Chief Okey Eze and Chief Owunna. However, it is a good thing for a political party to have political Heavy weights in its membership. It boosts the party's financial war chest, as well as attract followership who dot after the Heavy weights.
But the pertinent question is; will the combined weights of these political Elephants not affect the pressure on the party's foundation, and likely lead to an implosion that may scatter the party?
Can Imo APGA contain the powerful interests that have today converged under it to pursue their different political ambitions?
Can Imo APGA manage the coming explosions that may emanate when these political currents meet each other at the transmission meter of political ambitions?
I put up these postulations in the name of questions, because, naturally there are bound to be disagreements to agree, when the money bags and political Irokos begin to express the major objectives that led them to join APGA.
It is a fact that politicians move from one political party to the other in search of their personal interests, until where they are realized
In the topic under discussion, it is glaringly clear that most of these politicians who recently pitched tent with Imo APGA are there for a purpose; to contest for election.
But the unfortunate matter is that this purpose seems to be the driving force pushing them into APGA, a party which has suddenly become a beautiful bride to them.
My worry remains that when come begins to become, all the present heavy weights now is Imo APGA will drop their cards on the table, and it may result that they all have the same Joker in their hands. Then what follows?
Since 1999, Chief Humphrey Anumudu has dreamed to be a Governor of Imo State. But at each stop, he narrowly missed the chance. Therefore, I predict that the Mbieri born business mogul joined APGA to continue the elusive venture, come 2019.
Chief Okey Eze in 2015 nearly took away the APGA ticket from Captain Emma Iheanacho. But ever since then, he has continued to bankroll Imo APGA. Therefore, it is clear that the Ahiazu Mbaise born Entrepreneur is seriously interested in becoming APGA's Governorship candidate in 2019.
Senator Bright Nwanne contested for the last Imo Governorship primaries under PDP in 2015. And for the urbane and quiet millionaire to still join the Governorship fray in 2019 is a certainty he is still pursuing his ambition. The Ezinihitte Mbaise born business man cannot deny the fact he still wants to be Governor.
Chief Frank Nneji, the owner of ABC Transport Company recently made it into active politics under APGA. And for a person of his calibre and pedigree, nothing short of Governorship will appease him. Therefore, Nneji is already nursing the dream of being a Governor.
Assuming the Ohakim rumour as regards joining APGA becomes reality, obviously the former Governor would throw his Hat into the ring for the proverbial second term, which he said was denied him in 2011.
Senator Hope Uzodinma is also tipped to be eyeing APGA, and may used the party to test his rumoured Governorship dream.
Therefore Readers, when these gentlemen with all other qualities to be Governor, rumble for the single APGA ticket come August 2018, what do you think will happen? Who will step down for the other and who will win?
The APGA has remained a modest party in Imo State, but had always suddenly become strong during election years as ambitions politicians troop in to realize their plans.
In 2007, Chief Martin Agbaso nearly became a Governor under APGA, until INEC truncated his dream by annulling the result midway.
Nobody gave a chance to APGA again until Chief Rochas Okorocha dusted the party and stormed into Imo Government House Owerri under the party.
Many had hopped Okorocha will increase the fortune of the party by funding it and make it more viable for new comers. But he had personal ideas, and instead dumped the party for the newly-created All Progressive Congress APC.
Therefore, in real truth, this is the first time in the history of Imo APGA that the party would be loaded with known political Bulldozers in a given electoral year, to the extent that the party is counted in current permutations even before elections kick-off.
In this case, Imo APGA is already reckoned as one of the parties to beat in the State, as against previous elections where the party was seen as a "one-man-show" outfit.
Therefore, it behoves to ask if this latest development within Imo APGA will serve to its advantage or an albatross that may spell its doom as the days role by.
Imo APGA has never witnessed such a tumultuous vibration within its office before. The fact is that the party had always made do with relative personalities, and not a convergence of too many men of power, money and force. So, this is a litmus test facing Imo APGA, as observers are keenly watching how these powerful men seeking for just one single Diadem, will go about the competition, and how the party will come out of it unscathed.
It is a good omen for a party to attract such a number of men into its fold seeking to actualise their personal dreams riding on the back of APGA.
So, what goes if in the end the bountiful fruit is not harvested to the personal satisfaction of the various men involved and their followers? Remember that the population of the present Imo APGA is just like a Rainbow Coalition of Leaders with their individual followers.
For me, this latest challenge will unveil how strong or weak Imo APGA will be as the elections beckon. Mis-management of this present opportunity will knock a big dent on the soul of Imo APGA that it will grope for stability until the election proper arrives and is over.
Meanwhile, until Uzodinma and Ohakim join APGA, but for now the party is seen as one of the platforms through which Owerri zone will ambush Okorocha, who is yet to make it clear where he would pick his successor having held power for Orlu zone for nearly eight years now in addition to Udenwa's previous Eight years.
For now, those dominating APGA are from Owerri zone, and especially from the Mbaise stock.
Chief Martin Agbaso from Owerri zone cornered the party for years, until Okorocha from Orlu zone stole in and poached Agbaso to relinquish his vice-hold on APGA.
But Okorocha after taking over APGA, threw away Agbaso with the bath water and found a new bride in APC.
Indeed, APGA had remained quiet, until these Owerri- born politicians decided to cash their political cheques in APGA, which presently led to the quaking of the land by APGA.
Therefore, it remains to be seen how APGA will fair in this marathon race, which the involvement of these known political Irokos has not only added value to the party, but will determine what the party stands to achieve after these Big Men finish their battles within the party.
Will it end in gloom or good? The Masses are watching.