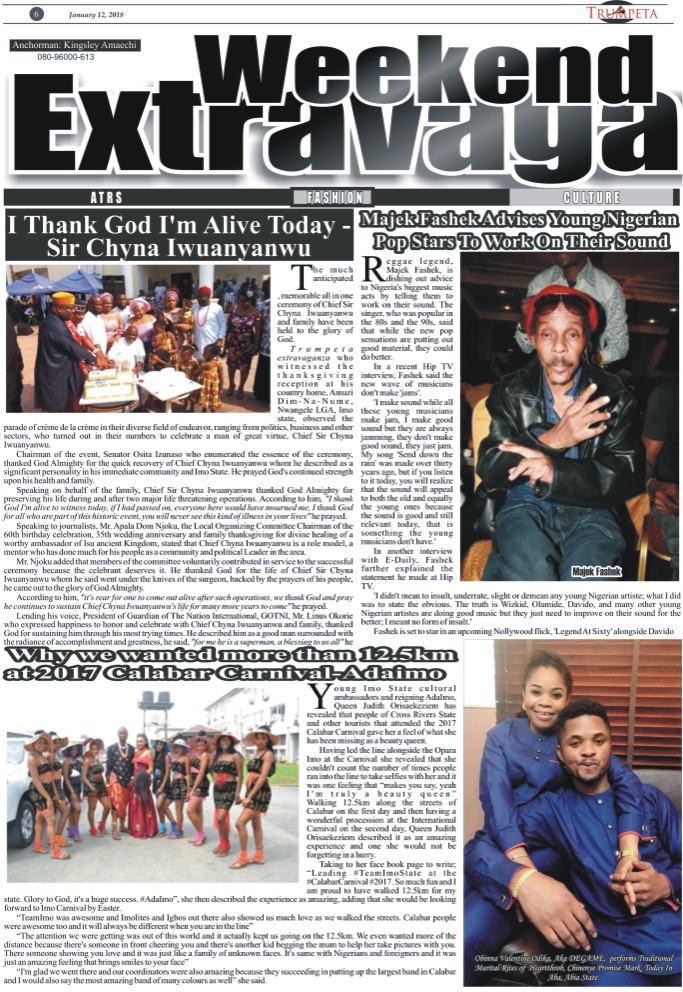 The much anticipated, memorable all in one ceremony of Chief Sir Chyna Iwuanyanwu and family have been held to the glory of God.
Trumpeta extravaganza who witnessed the thanksgiving reception at his country home, Amuzi Dim-Na-Nume, Nwangele LGA, Imo state, observed the parade of crème de la crème in their diverse field of endeavor, ranging from politics, business and other sectors, turned out in their numbers to celebrate a man of great virtue, Chief Sir Chyna Iwuanyanwu.
Chairman of the event, Senator Osita Izunaso who enumerated the essence of the ceremony, thanked God Almighty for the quick recovery of Chief Chyna Iwuanyanwu whom he described as a significant personality in his immediate community and Imo State. He prayed God's continued strength upon his health and family.
Speaking on behalf of the family, Chief Sir Chyna Iwuanyanwu thanked God Almighty for preserving his life during and after two major life threatening operations. According to him, "I thank God I'm alive to witness today, if I had passed on, everyone here would have mourned me, I thank God for all who are part of this historic event, you will never see this kind of illness in your lives" he prayed.
Speaking to journalists, Mr. Apala Dom Njoku, the Local Organizing Committee Chairman of the 60th birthday celebration, 35th wedding anniversary and family thanksgiving for divine healing of a worthy ambassador of Isu ancient Kingdom, stated that Chief Chyna Iwuanyanwu is a role model, a mentor who has done much for his people as a community and political Leader in the area.
Mr. Njoku added that members of the committee voluntarily contributed in service to the successful ceremony because the celebrant deserves it. He thanked God for the life of Chief Sir Chyna Iwuanyanwu whom he said went under the knives of the surgeon, backed by the prayers of his people, he came out to the glory of God Almighty.
According to him, "it's rear for one to come out alive after such operations, we thank God and pray he continues to sustain Chief Chyna Iwuanyanwu's life for many more years to come" he prayed.
Lending his voice, President of Guardian of The Nation International, GOTNI, Mr. Linus Okorie who expressed happiness to honor and celebrate with Chief Chyna Iwuanyanwu and family, thanked God for sustaining him through his most trying times. He described him as a good man surrounded with the radiance of accomplishment and greatness, he said, "for me he is a superman, a blessing to us all" he concluded.