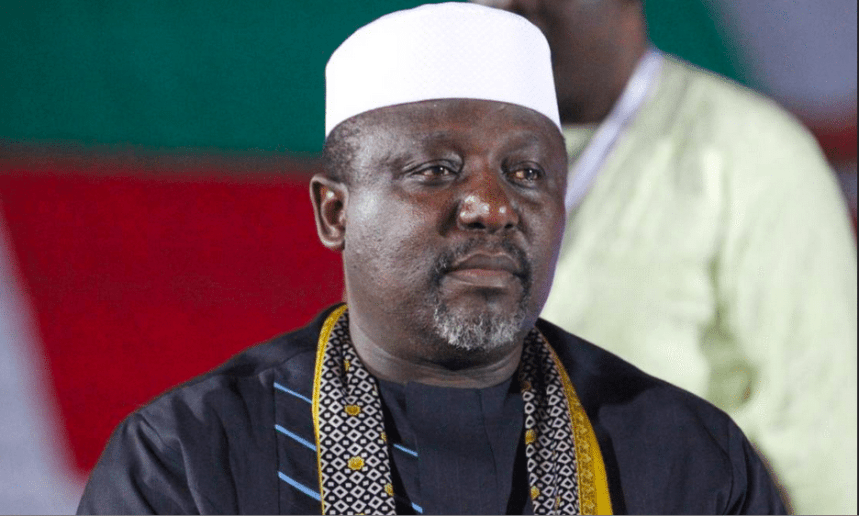 By Onyekachi Eze
As the 2019 general elections approach, which will inadvertently mark the end of 8 years regime of the Owelle Rochas Okorocha led Rescue Mission Administration in Imo, more intriguing revelations on how the incumbent emerged as the number one citizen of the State emerged in 2011 unfold.
Latest revelation from the Government House, Owerri, over the weekend would surprise Imolites, over the Governor's assertion, saying that the All Progressive Grand Alliance (APGA) which he won the number one seat of Imo in 2011 was not behind his victory.
In attempts to reply the leadership of APGA over purported attacks on Okorocha, the Governor's Chief Press Secretary, Sam Onwuemeodo in a release claimed that the party he was the flag bearer during the 2011, APGA was inconsequential to his emergence.
The statement made available to Trumpeta reads, "And in 2011 Okorocha won his election for who God has made him to be and not because of APGA".
The release states that Owelle Okorocha had the golden opportunity in 2011 to win the elections, not because of a political party, but because it was God's destined plan, that further shows who he (Okorocha) truly is.
Taking a swipe on the National Chairman of APGA, Chief Victor Oye, Okorocha challenged him to work towards winning the other neighboring States of Anambra, comprising Enugu or Ebonyi States.
Said he "Equally, Chief Oye should work and make APGA win another State in the South-East where there are five States and only one is APGA at the moment. And in 2011 Okorocha won his election for who God has made him to be and not because of APGA. If Chief Oye doubts this hypothesis let him make APGA to win in Enugu or Ebonyi that also have close boundaries with Anambra State that is controlled by APGA this time. Finally, Igbo people like Oye should learn how to celebrate their God-given stars like Owelle Okorocha instead of trying fruitlessly to run down such men".
Okorocha through the release also warned APGA to go by their political campaigns without bringing in his name in any way, saying that since he left the party to settle with APC, nothing is left in APGA.
Speaking on the governor's alleged plan of joining APGA, they said that such was a ruthless, unfounded rumor of the centuries, stressing that Owelle Okorocha's achievements in Imo since 2011 till date has surpassed that of his predecessors.
Saying that Okorocha had no such plans, APGA chieftains were enjoined to stop pursuing shadows, and give accolades to Okorocha for a job well done.
He said, "It is obvious that Chief Oye and his Cohorts in APGA are yet to recover from the deep cut the exit of Governor Okorocha inflicted on APGA, for the merger that saw the emergence of APC. They are yet to recover from the shock occasioned by that patriotic action by Governor Okorocha and they can't help the situation, aside talking about Okorocha and APGA as if something is left with the Party".
"Infact, Oye and Co. are using Okorocha's name as a marketing strategy for APGA. He could do that in a more refined manner than using insults and abuses. Governor Okorocha took the soul of APGA to APC and he did it in the overall interest of Ndigbo and Nigeria. He deserves accolades from reasonable sons and daughters of Igbo land".