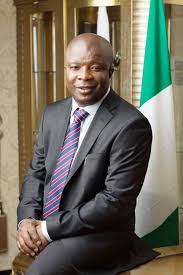 Tunji Adedeji
The race for Imo Douglas House ,Owerri assumed a competitive twist last weekend following the official declaration of a United Progressive Party (UPP) governorship aspirant,Hon. Tony Nwulu, a 39 years old ,Mbaise born member of the House of Representatives representing Oshodi-Isolo II Federal Constituency on the platform of the Peoples Democratic Party (PDP).
At a well-attended declaration exercise  where Hon. Nwulu arrived in a convoy of over fifty vehicles ,mostly members of Mezie Imo Movement to the warm embrace of his people and members of UPP  at the Town Primary school ,Eziudo, Ezinihette Mbaise  Local Government Area , Imo State,he said he was poised to re-engineer the fortunes of the state to entrench self-reliance by concentrating on the areas where the state has comparative advantages in human and material resources and restructuring the Local Government system in the state.
Nwulu said that he is not a desperate politician ,stressing that he only harkened to  God's voice and directive before declaring to run for Imo gubernatorial seat .
The Governorship hopeful maintained that despite his achievements in office as lawmaker in the last three years and the calls by several groups for him to contest the 2019 governorship election, his bid would be possible if approved by God and not man.
According to him,"The truth of the matter is that I'm a product of Gods grace and devine intervention. Just like my journey as a representative in Lagos State began With blessed sacraments. Recently I asked God for directive and a silent voice  told me  to run for Imo governorship seat just like i was also told in 2014 to run for House of Representative  and asked God how and where ? And he responded that here and now for  I will make a way for you .In my prayers I told God I don't speak or understand Yoruba language and he said go ahead my son everything will work together for you good."
"For me there is no god father anywhere but God in heaven . Among all of us contesting for Imo Governorship seat ,I'm the youngest. All of them are very much qualify but I believe power belongs to God and that is why I'm not desperate at all. "
"I don't condemn and will never insult any political leader elected by the people. If God can give me victory in a land I don't speak their language how much more my homeland. God said that I was going to be Governor , God told me that it was going to be realized in 2019. And by the grace of God  all the huddles and challenges that will come with it i will overcome them and will be sworn in as Governor in 2019."
"Since  God say go ahead and contest I'll do that and nobody will be able to defeat me , that I can assure you! because it's his directive.
"But if God had said relax my son and forget it. I'll do just that. I will go back to my business because I listen to God who alone gives power."
Earlier ,Hon Nwulu stormed the palace of His Royal Highness ,HRH .Eze Desmond Oguguo,Nmiri ne – zuroha 1 of Eziudo Ancient kingdom ,Ezinihitte Mbaise,Imo State , for royal blessings.
Nwulu dressed in a casual attire arrived in a convoy of over fifty vehicles to the warm embrace of Eziudo chiefs.
Hon Nwulu told the Monarch that his mission was to obtain royal blessings from the king and also to solicit for his support. He used the medium to assure Imolites that he is fully prepared for the general election  .
"HRH .Eze Desmond Oguguo,Nmiri ne – zuroha 1 of Eziudo Ancient kingdom ,Ezinihitte Mbaise,Imo State  prayed for Hon.Nwulu success and also called on Imolites to support him with a view to achieving positive change.