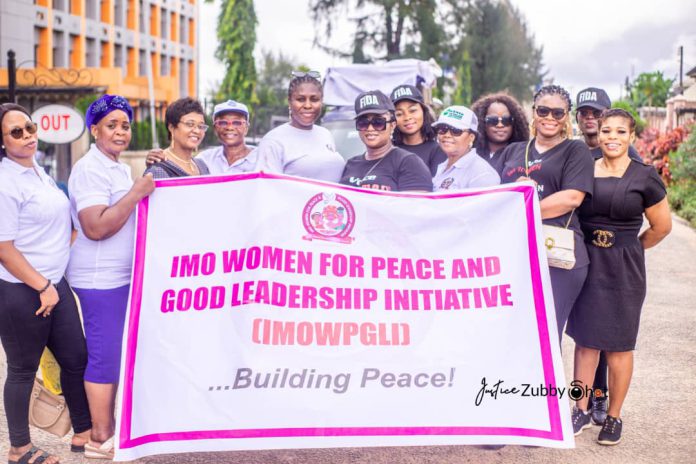 Imo Women for peace and good leadership initiative( IMOWPGLI) as part of efforts to further the central objective of our organisation, also in collaboration with International federation of women lawyers (FIDA), we seize the opportunity presented by this year's International Day of Peace (21st September) as designated by the United Nations, to fervently appeal for collective sacrifice to promote and sustain peace in Imo State. In demonstration of our concern and commitment, as women and mothers, to the promotion of peace in our dear State, we recently embarked on a 5-day pre-event fasting and prayer retreat, which was followed by a Public Walk for Peace in Owerri. The purpose of the Public Walk for Peace was to draw public attention to the imperative for mutual sacrifice to promote and sustain peace in Nigeria, particularly in Imo State.
Peace is a catalyst for social and economic development, and a success factor critical to the advancement of democracy, and delivery of good governance. In a fast-growing population, and in a State in which a shrinking economy is becoming unable to sustain the increasing demand for socio-economic opportunities and benefits, we cannot afford to compound our predicament by giving free rein to conflict and violence. Armed conflict and insecurity will not only impair social harmony and order, but they also already constitute a major disincentive to both local and foreign investments. Lingering inter-group bitterness, and a vicious cycle of vengeance over these past years, could destroy the foundations upon which social stability and harmony were once built.
The basis of our interest and concern about peace lies in the fact that as women and mothers, we are always the worst victims of violence and armed conflicts. Part of the outcomes of violent conflicts and insecurity orchestrated by individuals is widowhood and the loss of our children. In many cases, these consequences come with a reversal of family economic roles that demote women to single parenthood and adversely promote them to breadwinner status. This is in addition to terminal infirmities precipitated by bereavement-induced despair and unbearable heartbreaks suffered by mothers. Mindful of the devastating consequences of violence and conflict, what should be our attitude to growing our society? Surely, it is inevitable that we must seek peace and pursue it with diverse groups and communities and the interests they represent.
We acknowledge the difficulty and stress involved in managing the irritation and provocation represented by the apparent defiance of State Authority by yet-to-be-identified non-state actors, who press to achieve their objectives by means that are perceived to be detrimental to public peace and social order. While it is important to firmly confront perpetrators of violence and armed rebellion, it is equally imperative to seek ways to engage with them. Constructive engagement with dissidents enables the government to better appreciate the background and perspective of their frustration and grievances, and to respond with appropriate solutions.
Through dialogue, a common ground for mutual trust and confidence can be established that yields positive outcomes in furtherance of conflict resolution and settlement of lingering grievances. It is difficult to solve problems whose origins and dimensions are obscure to those that ought to address them. Indeed, governance is essentially about problem-solving. The difference between good and poor governance is the cost of solving the problems of society. Achieving peace by bloodshed is not only costly and unaffordable but also gives rise to a whirlwind of further violence and vengeance.
In a democracy, it does seem convenient that the most responsible use of the coercive powers of the State in dealing with group dissent and opposition is to wield them with utmost restraint, as instruments of deterrence, beyond which they should be considered unnecessary.
Therefore, in building Peace and social harmony, it is important to continue to remember that these values are only achievable through compromise and tolerance of opposition and dissent. Peace is the outcome of responsive governance. It is again important to remember that since dissent is part of the democratic process, Government must be prepared to creatively manage social plurality and the diversity of interests and perspectives associated with it.
Seeking peace and pursuing it is usually fraught with frustrations and trials that task even the most elastic of patience. It calls for sacrifice, compromise, and perseverance when peace appears elusive. In pursuit of peace, there is need to realize that the cheapest and most effective route to winning a war is to avoid it in the first place.
Summing up, we wish to express confidence and optimism that lasting peace is achievable in Imo State. Peace can be achieved faster by seeking to understand the root cause of social grievance, through constructive engagement with the forces of opposition. It is possible to rid Imo State of negative crises and insecurity and build a peaceful and stable society on the ashes of what today appears to be an intractable whirlwind of instability and chaos.
Going forward, as Ndi-Imo join the rest of the country and the civilized world to commemorate this year's International Day of Peace, we are hopeful that our concerns as mothers, wives, and daughters will be addressed accordingly. Imo women for good peace and good leadership initiative wishes Imo people a great day of peace and harmony and decades more of peace.