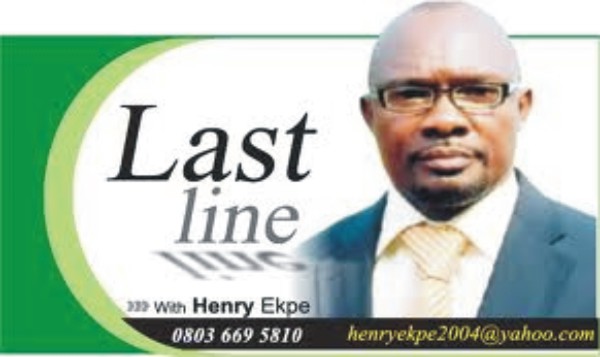 By Henry Ekpe
I was born and bred in Owerri, Imo State. Except when I ventured out of the State seeking for Higher Education, I have lived in Imo all my life.
After my University Education, I started work in Imo, even after some of my peers had moved to Lagos, Abuja, Portharcourt and other Bigger cities seeking for greener pastures. Imo was usually seen as a quiet and serene environment, only meant for coming to enjoy monies made in other Industrial States. Imo is purely a Civil Service State.
Infact, I started my Journalism Profession in Imo and has remained here to attain some of the positions those who ran out to other States thought they would have acquired. No place like home.
I was the first "Indigenous Journalist" to be made a Chief Press Secretary CPS to an Imo State Governor. Thanks to Governor Ikedi Ohakim.
Before then, Journalists in Imo State were thought to be inferior to their colleagues who reside in Lagos, the hub of Media in Nigeria.
But Ohakim broke that jinx with me. It turned out that there was no difference between home bred Journalists, and their counterparts elsewhere. The only lacuna was "Packaging".
Please, I am not writing about myself, but only trying to gradually introduce today's topic and the reason I should not be happy with what is going on in Imo State today.
I am only trying to explain that I am a serious Stakeholder in Imo State. I contributed to the grooming of the State from the moment democracy berthed here in 1999.
It is quite unfortunate that Imo State today has deviated from the dreams of the likes of Governor Achike Udenwa, who was the first Civilian Governor of the State in 1999 after the military had gone back to the barracks.
Then, Governance was seen as a collective effort, with others, and essentially for the good people of Imo State. It was never a "One-man-show" as we see it today. Then, Imo Governors led with inputs from Leaders, and had respect and fear for Elders.
The reason was that the Institutions were functional then. The Local Government Areas, the Judiciary and Legislature were all functioning independently.
Local Government Elections held periodically. Council chairmen then embarked on serious projects.
I remember Dr Uche Diogu built a mini-stadium in Isu LGA, Agu constructed a gigantic Hall in Ihime Mbano and  Eze Mayor left a big Secretariat  Complex in Orlu LGA.
By 1999, the Speakers of Imo House of Assembly, Rt Hons Kelechi Nwagwu/  Agwuocha Chukwukadibia could invite the Governor to appear before the House, and heavens will not fall.
Even in the House of Assembly, there was two major political parties; All Peoples Party, APP and Peoples Democratic Party, PDP.
It was the same in the LGAs, where Dr Ogbenta and Cympox were Chairmen APC controlled Oru East and Orsu LGAs.
In the House of Assembly, CNC Onuoha was of APP with some others. The situation only raised the bar in the House and made debates robust. It was not a Master/Servant relationship between Imo Legislature and the Executive like we witness today. It helped to restore sanity in the system and deepened democracy in Imo System.
Defection was not even contemplated, as all party men remained steady in their parties to build them, and not to move.
Every Court judgment then was obeyed to the letter.
Imo was beautiful. The politicians slugged it out with superior arguments and strategies and not with stones and cutlasses.
Not with violence and other intimidations.
As Budding Journalists then, we practiced our jobs without fear. We enjoyed the company of all politicians, no matter your political party.
Let me say it here that at that time, all these Big politicians in Imo today were just coming up. They were still learning the ropes from the gurus like Chief Echeruo, I D Nwoga, Nnanna Ukaegbu, Chief Ukadike, Chief Enyeogasi (Ok 2000), Ambrose Mezu, Mike Ahamba, PC Onuoha etc.
Then, politics was civil in Imo, and party was supreme. If Alex Obi roars, you shut up, if Marcon Nlemigbo speaks, you take note, if EJK Onyewuchi orders, you have no alternative.
Let me say that, politics still retained its intregues and horse trading then, but it was more dominated by intellectualism and strategies. Brain and not brawl.
That was the reason people like Sanisu Buhari could resign from his position as the Speaker of the House of Representatives the moment it was discovered that he forged his University certificate. If it were now, it would have been better Nigeria burnt down than for one individual admit his mistake and take the easy route out.
If it is now, rather than find out if the certificate was fake, goons would be sent after the Newspaper that blew the whistle instead.
In Imo today, Bitterness is hovering everywhere in the air. It is not restricted to any person, Political Party or Groups. It is everybody, involved.
From Civil Servants, to Politicians, Artisans, Clergy, Students, etc.  Everyone has one thing or the other to complain about the next person. And unfortunately, those who ought to note this dangerous situation seem not to notice, or merely don't care.
No environment, like the present Imo, makes genuine progress. This is the reason the Government claims it is doing a lot, yet the masses are not taking note.  The populace are indifferent. What is the cause of such ugly scenario?
Today, acts we never thought would visit our beloved State are becoming common sights. And very unfortunately, there are no more real "Elders" in Imo State. Those men and women who could look the authorities in the eyes and tell truth to power for the overall interest of a majority of Imo people.
Even the Chief Executive, Senator Hope Uzodinma is not happy. From messages coming daily from his Media team, the Governor believes strongly that some people don't want him to have peace of mind and Governor Imo State.
Who are these people? Why not announce their names, arrest them, prosecute and jail them, with the evidences available.
Every day, Government Media keep naming and calling some prominent Sons and Daughters names, as if the Governor has lost the power to rein in Trouble makers in the State, since they know who they are.
Apart from Uzodinma, many notable politicians in the State are feeling bitter and wounded. The former Governor, Senator Rochas Okorocha has so been fought that we now only hear him sparingly. From his occasional quips, his inner mind is pained.
For Senator Ifeanyi Araraume, if not that he has a Lion heart, what was visited on him could kill any Man.
He got a plum job in Nigeria National Petroleum Cooperation, NNPC, that would have benefited many Imo Sons and Daughters, including shoring up his own political ratings, but the rug was pulled off his feet.
That was a life -long opportunity denied a man. He should be Bitter and he is.
Emeka Ihedioha was Governor of Imo State, after seven months, his brothers and friends ganged up and shoved him out of the Big position.
The man is lucky to still be young and has hope that future will be better. He is one of the Leaders licking their wounds.
Many political contractors are being owed millions of Naira after executing Government projects. Some of them can't even afford to feed their families any more. They are bitter. Which man will be happy and see his children starve?
In the just concluded primaries of the political parties, some people were simply asked to step down in APC after spending fortunes. Fela will say, Just like that!
Some of these APC Aspirants today moved to other political platforms, now bitter, and facing their "Old friends" in the general elections.
In Imo PDP, litigations litter all the courts in the land. Those who lost primaries are still fighting "internal war" to undo their party, when they ought to support their party as the general election approaches fast.
Example is that of Hon Jones Onyereri of Orlu Senate Seat and Dr Albert Agulanna of Aboh Mbaise/Ngor Okpala Federal Constituency who were all sacked by court.
Then the Akokwa matter, where Ikenga Ugochinyere still exhibits bitterness over the razing down of his property and death of close relatives.
The most bitter and gruesome is the slaughter of a fine young man, the Sole Administrator of Ideato North LGA, Chris Ohizu. A bestial act never before witnessed in the annals of Imo State.
 Many Civil Servants in Imo are bitter too, for their names being struck out off pay roll and described as "Ghost Workers". Many of them are devastated that they are now assumed "Ghosts" even while still living.
Many youths are bitter. No work, no education, no hope of tomorrow. Not caused by them but a rudderless system that cares not about the "Leaders of tomorrow".
Who will bell the cat? How do we quench these bitternesses hovering in our State? Will we ever get back to the good jolly old days when we mingled as brothers and sisters? Do we remember that our children are coming behind, and must have a State to c all their own? Why? Why and Why all this bitterness?
We must begin the healing process now. And who should begin it than the Government. Heal the wound in Imo.