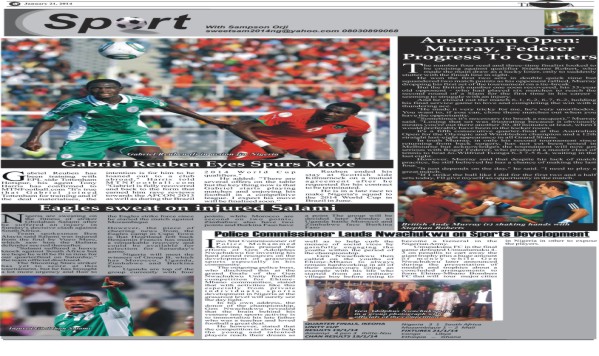 Gabriel Reuben Eyes Spurs Move
Gabriel Reuben has been training with EPL side Tottenham Hotspur, his agent Tony Harris has confirmed to MTNFootball.com "It's true that Gabriel joined Tottenham for training and if the deal materialises, the intention is for him to be loaned out to a club abroad," Harris told MTNFootball.com "Gabriel is fully recovered and back to the form that earned him rave reviews towards the AFCON 2013 as well as during the Brazil 2014 World Cup qualifiers."
He added: "There are several offers on the table but the key thing now is that Gabriel starts playing matches and enjoying his football in a competitive league. I expect his move will be finalised soon."
Reuben ended his stay at Scottish side Kilmarnock on a mutual agreement after he requested for his contract to be terminated.
He is in a late race to make Nigeria's squad to the 2014 World Cup in Brazil in June.
Eagles sweat on injured Salami
Nigeria are sweating on the fitness of striker Gbolahan Salami after he suffered an injury in Sunday's decisive clash against South Africa.
Team spokesman Ben Alayia said Salami was injured from the foul by Vuyo Mere, which saw him the Bafana defender see red thereafter.
"Salami suffered a heavy knock against South Africa but we hope he will be fit in time for our quarterfinal on Saturday," the team official disclosed.
The Shooting Stars striker has yet to score at this tournament, but he has brought a lot more urgency and flair to the Eagles strike force since he started the match against Mozambique
However, the piece of cheering news from the Eagles camp in Cape Town is that Heartland left back Benjamin Francis has made a remarkable recovery and could be available for selection for Saturday's game.
Nigeria will meet the winners of Group B, which has Morocco, Uganda, Zimbabwe and Burkina Faso.
Uganda are top of the group currently with four points, while Morocco are second on two points, Zimbabwe also have two points and Burkina Faso have a point The group will be decided later Monday as Uganda battle Morocco and Zimbabwe face Burkina Faso
Police Commissioner Lauds Nwachukwu on Sports Development
Imo Stat Commissioner of Police Mohammed Katsina has praised the efforts of Gen Adolphus Nwachukwu for investing his hard earned resources on the development of grassroot sports especially in his community.
The outgoing police boss, who disclosed this at the grand finale of the Gen Nwachukwu Unity football competition for Ehime-Mbano communities, stated that with activities like this especially from private individuals sports development in Nigeria at the grassroot level will surely see the day light.
In his own address, the donor of the championship, Gen Nwachukwu revealed that the brain behind his venture into sports activity is to immortalize his late father who was a teacher and loved football a great deal.
He however, stated that the competition is also to help the young and talented players reach their dream as well as to help curb the menace of social vices by gainfully engaging the youths within the period of the championship.
Gen Nwachukwu then called on the youths of Ehime-Mbano to always remain hardworking in all of their endeavours citing an example with his life who started from an ordinary village boy before rising to become a General in the Nigerian Army.
Umunakunu FC in the final game defeated Umualumaku 4-3 on penallis to cart away the giant trophy plus a huge amount of money while Gen Nwachukwu later announced during the presentation of medals and trophies about a concluded arrangements to form Ehime-Mbano Bombers FC that will tour major cities in Nigeria in other to expose the players.
QUARTER FINALS, IKEOHA UNITY CUP
RESULTS 19/1/14
Amainyi 4 pen 3 Ihitte-Nsu
CHAN RESULTS 19/1/14
Nigeria 3 1 South Africa
Mozambique 1 — 2 Mali
FIXTURES 21/1/14
Congo — Libya
Ethiopia — Ghana
22/1/14
Burundi — DR Congo
Mauritania — Gabon
CAPITAL ONE CUP FITURES 21/1/14
West Ham — Man City
22/1/14
Man United — Sunderland
COPA DEL RAY 21/1/14
Espanyol — Real Madrid
22/1/14
Levante — Barcelona
Real Sociedad — Satander
COPA ITALIA 21/1/14
Roma — Juventus
22/1/14
AC Milan — Udenise
EPL RESULTS WEEK 22 RESULTS
Swansea 1 3 Tottenham
Chelsea 3 1 Man United
Arsenal 2 0 Fulham
Liverpool 2 2 Aston Villa
Man City 4 2 Cardiff City
LA LIGA RESULTS
Levante 1 1 Barcelona
A/Madrid 1 1 Sevilla
Villarreal 2 0 Almaria
Real Betis 0 5 Real Madrid