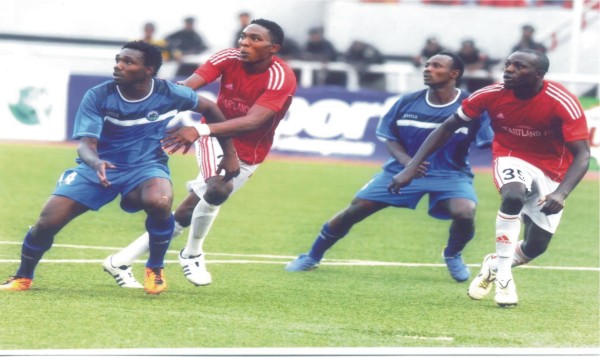 Heartland Fc
Set For Closed
Camping
…Retains 23 players From Last Season
Heartland Football club of Owerri will soon embark on a pre-season training for the 2013/14 LMC organized Nigerian Professional Football League which is expected to kick-start on February 23.
According to reports reaching Trumpeta sports desk, arrangements have been concluded to move the new players alongside the retained 23 into camping by the weekend once the issue of registration is sorted by the management today.
The report went further to indicate that captain Chinedu Efugh has penned down a three year contract to continue staying with the club till 2018 as well as Bright Ejike whom all thought had pitched tent with Enugu Rangers after playing some pre-season friendlies and scoring goals for them.
Media officer of the club, Mr Cajethan Nkwopara who is now the SWAN South-East national Vic-President pointed out that the Naze-Millionaires would only add at most nine new players to make the squad list slightly above 30 players.
"We are looking at sorting out issues with our squad list ahead of next season in the next two days. We want to thereafter proceed on pre-season camping exercise. We are going to add at least nine new players to the ones we have," Nkwopara stated.
With this development, Heartland only lost Ikechukwu Ibenegbu (Mosquito) to Warri Wolves out of the 24 players retained from last season.
Heartland will kick-off the season with a home game against Dolphins of Port Harcourt at the Dan Anyiam Stadium on Sunday February 23.
EREDIVISE (HOLLAND LEAGUE)
6/2/14
Fc Utrecht — Zwolle
Ajax — Fc Groningen
COPA LIBERTADORES 6/2/14
Atletic PR — Sporting Cristal
Botafogo RJ — Dep Quito
Guarani — Univ De Chile
English FA Cup Replay 4/2/14
Fulham 0–1 Shefld United
Gary Neville: Jose Mourinho Best In World At Managing Big Games
The Chelsea manager masterminded a huge 1-0 victory at Manchester City on Monday night, ending their prefect Premier League home record in the process and taking his side level on points with their opponents, two behind leaders Arsenal.
Garry Neville praised the way Mourinho set up his team to nullify the threat of the title favourites and said that even his demeanor on the touchline had an impact on the result.
He loves the attention of big matches,"
"You saw him tonight and he was like the conductor of the orchestra. He walks out at the start of the match and sits on the bench before his team have even come out.
"He comes alive on big match days and that's what the best managers do. He is the best in the world at the moment at affecting big matches, absolutely brilliant.
"He thinks about every small detail, things that I don't think many would think of because he's been around the block. He's shrewd, he's smart and he calls it on.
"He's good and he knows he's good."
Mourinho chose to sell Juan Mata to Manchester United in January and many were surprised by his treatment of the man who'd won Chelsea's Player of the Season award for the last two years.
But Neville says the manager is starting to put his stamp on the team and an important aspect of his success this season has been using wide players who are willing to work hard; something he feels is increasingly common at Europe's top clubs.
"You can see the way in which Jose Mourinho is taking this team," he added.
"You can see it in this last month or so; Willian and Hazard have energy, desire, power and strength. We are seeing it with our eyes. Tonight he left Oscar out because he's got players in the team like Ramires who was big tonight.
"When you put a world-class center-forward in that team, which I'm sure Chelsea will do in the summer, you have got a real top-class team on your hands.
"Jose Mourinho has said they are not quite there yet and thinks Manchester City is still ahead of them; I can't disagree with him, but they're not far behind. They are coming on the right lines – for what he wants anyway.
"Would he tolerate a David Silva? I don't think he would. You see Willian and Hazard and the way in which they work and the work of Ramires tonight. I think Chelsea were brilliant all night.
"Full-backs have got to be wingers and wingers have got to be full-backs. There's no excuse any more. There is too much evidence in the way the game is going to say 'we will have a luxury player on the left or right'. Unfortunately not – not at the top level.
"There's a lot of evidence in the last 12 months, watching Dortmund and watching Munich and tonight with Chelsea; that's the way the game is going."
Favourites
Despite the victory, Mourinho claimed after the match that his side are not ready to win the title this season, but should be considered as favourites next year.
And while Neville agreed Chelsea could suffer for the lack of a top-class striker – Samuel Eto'o, Fernando Torres and Demba Ba have scored just 11 Premier League goals between them so far – he says they are not far behind City.
He said: "I have a tendency not to believe a word Jose Mourinho says, but I actually believe him. I think the odds reflect where it probably still is at. In his mind there's that niggling doubt that he's just that little bit short.
"He was criticised earlier in the season for parking the bus in big matches, but his team are now starting to play very well in big matches and his journey is on an upward curve.
"His team is getting better, you are starting to see Mourinho-like performances but is he going to fall that little bit short?
"The bookies suggest he is and I think he possibly might because of that lack of a devastating centre-forward."
Ronaldo Handed Three-game Ban
The Portugal international will miss three matches following his dismissal at the weekend, but will be available for Wednesday's Copa del Rey game against Atletico Madrid
The Spanish Football Association (RFEF) has handed Real Madrid star Cristiano Ronaldo a three-game ban following his red card against Athletic Bilbao.
The Portugal international – who celebrates his 29th birthday on Wednesday – received his marching orders in the 76th minute of Sunday's Liga encounter after an altercation with Athletic's Ander Iturraspe and Carlos Gurpegui. Ronaldo consequently risked a suspension that could cover anything from one game to in excess of three and the RFEF has now opted to keep him out of action for three matches.
The forward was slapped with a one-game ban for the incident with Iturraspe, while getting an additional two games for his offensive gesture after his dismissal.
He will miss the Liga games at home against Villarreal (February 9) and Elche (February 23) as well as the away match versus Getafe (February 16).
However, Ronaldo wasl be available for both legs of the Copa del Rey semi-final tie against Atletico Madrid, with the first leg taking place at the Santiago Bernabeu on Wednesday.