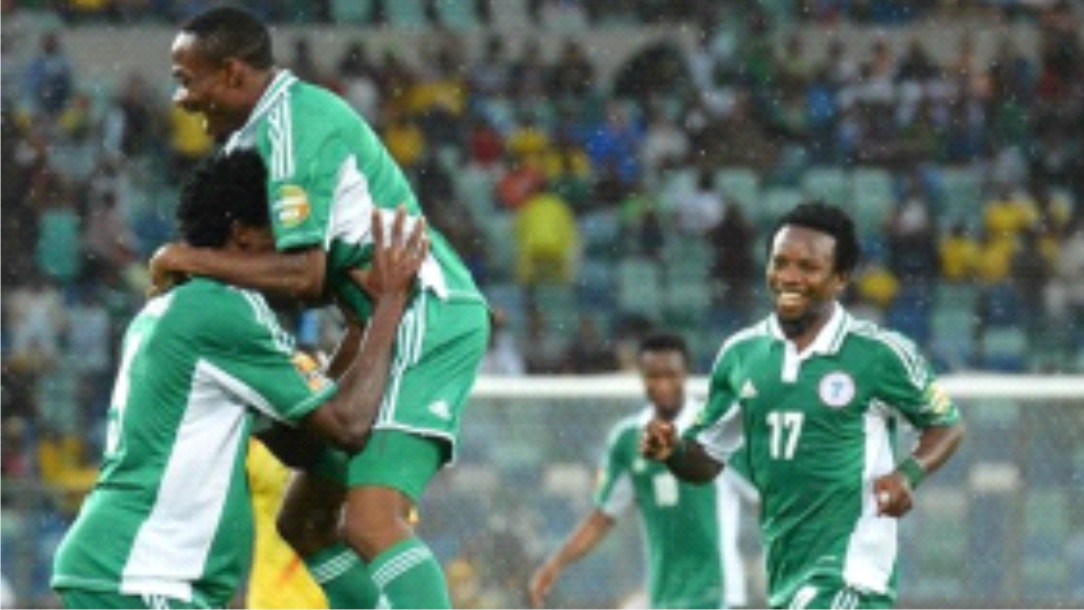 Obulimba Champion
Of Champions Cup
Holds On Sunday
The final of this year's Owerri-West Champion of Champions Football Competition powered by the honorable member representing Owerri-West in the Imo House of Assembly, Hon Innocent 'Obulimba' Ekeh will come to its crescendo on Sunday June 1 at the Police Training School field along Nekede/Ihiagwa road.
The competition has been an annual tournament for all the Communities in Owerri-West LGA designed to help identify football talents as well as help to foster peace among the Communities in the area.
According to a release from the Local Organizing Chairman Mr, Nlekerem, the final of the competition which is in its 3rd edition will see Umualum Community tackle Eziobodo for the giant trophy and a mouth-wateringsum of N250, 000 as first prize while Ohi will square up with Umuanunu (surprise team of the season) for the third place position.
It would be recalled that the median edition which was won by Obinze and the second won by Irete has yielded positive results as most of the talents already identified have since gone ahead to become professional players such as Chidiebere Nwakali (Eziobodo) who now plays for man city in England and many others who are today playing abroad as well as some playing in Nigerian Club sides like Chidiebere Ajoku (Umualum) who recently transferred from Nek United FC, Nekede to Prime FC of Ogbomosho etc.
Heartland Survives Akwa UTD Scare, Sets Off for Double Away
Akwa United was close to leaving Owerri with a point but they could not find the much needed equalizer as Heartland hung on to their lone goal to win on the day. Here are three things from the match.
When will Heartland start playing like they are at home? Heartland got the vital three points against Akwa United but as the 1-0 scoreline showed; their performance could have earned them less. Yes, good teams have days when they play poorly and still manage to grind out results but with Heartland such lackluster performances are fast becoming routine.
Gone are the days when Heartland is dominant at home. Nowadays, they are just barely limping over the finish line in matches. They have had eight draws this season; the most in the championship, five of which were at home. Secondly, they do not score enough goals. Of the 15 games they have played this season, they have scored more than one goal just once (their 2-0 victory against Rangers) all others were either none or just one. The table shows they have scored 11 and conceded 10 and that says it all.
Good teams make their home ground formidable. They put up strong, attacking and clinical displays that make teams want to even throw in the towel before the ball is kicked but no, not in Owerri nowadays. Games like this one are nail biting, edgy and very tense for the fans.
Heartland were able to score the lone goal against Enyimba only very late into the game while Sharks, Dolphins, Nasarawa United, El Kanemi Warriors and most recently Abia Warriors all happily left Owerri with a point. In other words more than ever, teams now believe they can come to Owerri, put up a good performance and get rewarded.
Heartland must improve on their home front; they must do more in training to better their goal scoring, end their flirting with the lower bottom of the table and of course save their fans some agony.
Iwu: One for the future
A lot has been said about the young Heartland goalkeeper Emmanuel Iwu and if he keeps up with his performances, he surely will be one of the best goalkeepers in the country.
He's the youngest player in the Heartland first team but his commitment is unrivalled. His reflexes are sharp; his distribution impressive and same can be said of his handling. Thrown into the league at a relatively tender age, Iwu is proving with his displays that he wants to keep Ebele Obi permanently on the bench.
Heartland played Iwu against Enyimba in Owerri and Kano Pillars in Kano and in both games; they got four points out of six. Against Akwa United, he did not do much for most of the duration because the defense limited the Uyo side to long range shots that got sailing over the bar but in the second half, he pulled a world class save from Enezi's goal bound volley. It was late in the game and had that effort gone in, it would have been another two points dropped for Heartland. The youngster proved his alertness and concentration to tip the ball over the bar.
Heartland has a promising youngster in Iwu and should he give it the commitment and hard work his vocation requires, he can become one of the best in the world.
Meanwhile the team left Owerri yesterday's morning to Binin City for a double header against Bayelsa United and Sunshine Stars in Akure for their GLO NPL Week 17 and 18 games on Sunday and Wednesday respectively.
Scotland Test Narrows Keshi's Choices
.As SundayMbah gets Second Chance
So Stephen Keshi needed to take a look at which members of his 30-man squad to cut before the official deadline in five days.
That is one day before his next international test, against Greece.
In doing so, he rested his 'Untouchables', put some first teamers in reserve, and sent the potentials out to do battle against the Tartan Army.
The likes of Austin Ejide, Elderson Echiejile, Victor Moses and Efe Ambrose, who came in late on to force the issue, are part of Keshi's core team and, barring injury, were under no threat.
With Sunday Mba having all but ruled himself out of the squad by failing to arrive in London, Keshi has six players to cut.
One of those players is a goalkeeper and the choice comes down to Chigozie Agbim and Daniel Akpeyi.
With no game before the June 2 deadline, it is almost certain that Agbim, by virtue of his longevity in the squad and leadership position among the home lads, will be the pick for Brazil, leaving five players facing heartbreak hotel.
CERTAINTIES
Ejike Uzoenyi, Uche Nwofor, Osaze Odemwingie and Joel Obi passed their test. Uzoenyi seems to find some secret elixir once he pulls on the green white green strip.
His movement, pace, passing and trickery was among the bright spots of a turgid first half performance. He has certainly earned his spot.
Uche Nwofor came on as a sub and not only matched his direct competitions (Shola Ameobi and Okeychukwu Uchebo) but looked more dangerous than both his rivals combined. And this includes their combined time on the pitch.
There were plenty who wanted Odemwingie back in the squad, and for good reason. He brought skill, technique, running and direct threat back for the Eagles.
His ticket is certain.
Joel, like Osaze, has not touched a Super Eagles shirt since 2011, although not for any Twitter-related outbursts. His absence has been down to injury.
But he showed that he has lost none of his calm, measure passing nor his blood and thunder tackling. Competition for Onazi in Brazil.
MAYBES
It is unlikely Keshi will drop any of his defenders, seeing as he has very limited cover in what is definitely his weakest department. Which means that Kunle Odunlami (hopefully, he did not injure himself seriously), Azubuike Egwuekwe and Joseph Yobo might just squeak in.
The captain was not at his best, and appears to need more game time. On the basis of this performance, he may have to continue playing second fiddle.
Nnamdi Oduamadi arrived late to camp, and late into the fray. Kept wandering into his favoured central midfield position, but never looked like he posed any particular threat.
Meanwhile, Nigeria's head coach Stephen Keshi has welcomed CA Bastia midfielder Sunday Mba despite reporting late to camp 24 hours after deadline due to hitches with his travel documents.
The Former Warri Wolves and Enugu Rangers midfielder, who was on the verge of missing out on playing at the World Cup, finally joined his teammates on Wednesday night.
On accepting the 25-year-old to camp, Keshi said he "was aware of the development that accounted for the late coming of Mba were owed to visa issuance problems".
Dayo Enebi Achor, who is the team administrator, explained that the delay was due to the late renewal of Mba's expired United Kingdom visa.
"They were ready to do the job on time for the player to be with his teammates but his club wanted him in France and so he had to leave but we also made contact with the United Kingdom High Commission in France and they helped facilitate his quick arrival here.
"We must thank both Commissions in Abuja and Paris for their help and wish them the best even as we hope to extend any hand of fellowship that they may need to them in the future", Enebi said.
Meanwhile, Mba has now joined the remaining 29 players for the trip to Philadelphia, United States on Thursday morning in preparation for Brazil 2014 and its next friendly game against Greece, next Tuesday.
The 25-year-old AFCON 2013 final winning goal scorer could again nurse hopes of making the World Cup when Stephen Keshi reveals his final list of 23 players on June 2.
NPL WEEK 17 GAMES
Bayelsa Utd — Heartland
Akwa Utd — Crown FC
FC Taraba — Sharks FC
Abia Warriors — Gombe Utd
W Wolves — Nasarawa Utd
Rangers — Kaduna Utd
Sunshine — El Kanemi
Giwa FC — Nembe City
Kano Pillars — Enyimba
Dolphins — Lobi Stars
World Cup Friendlies (30/5/14)
Honduras — Turkey
Iran — Angola
Switzerland — Jamaica
England — Peru
Spain — Bolivia
31/5/14
Uruguay — N. Ireland
Chile — Egypt
Bosnia — Ivory Coast
Norway — Russia
Algeria — Armenia
Holland — Ghana
Portugal — Greece
Italy — Ireland
Mexico — Ecuador
Colombia — Senegal