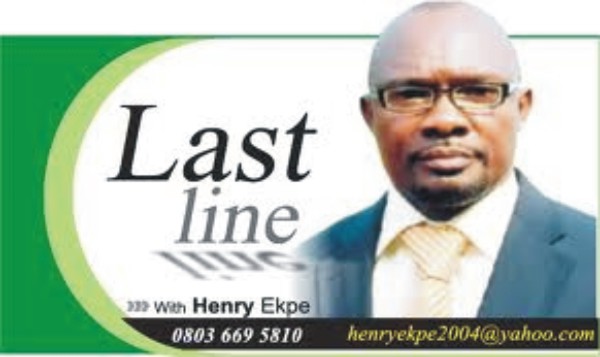 This column has been in a hiatus since this year. It was not deliberate to have abandoned my numerous readers these past months. I was sent to a "forced leave" by a reckless driver who snuffed life out of the most precious thing I ever had, my beautiful wife, Chizoba.
Since the incident, stories have been flying about on what really happened. I refused to say anything on the grave incident, as I allowed others tell the story, while concentrating on how to wave my "Queen" a final goodbye.
Though there are many issues to be discussed, but there is no way I can resume duty this year without intimating my readers what kept me away from this column for more than a month.
Let me say that as a living being, never think that nothing is impossible in life, provided you are still breathing.
When we read or watch outrageous happenings in print or electronic media, one should not assume it cannot happen to him or her. With God, all things are possible; both the imaginable and unimaginable. The negative and positive.
If there is any thing I thought not possible, at least in the next ten years, it was the death of my late wife. I loved her so much I did not place her among things that could be taken away from me this soon.
Why should I? When she is young, bubbling with life and was a part of me so much so that we must talk at least four times a day, no matter where I am. She was everything I wanted in a woman, beauty and brain, caring, a mother, friend, confidant, wife and business partner.
I met her at the University of Uyo, Akwa Ibom State when I was leaving for my Youth Service in 1996, and she was just entering the Institution. I groomed her to my taste, character, mien, candour, conduct and temperament. She was my soul mate.
That was the reason she was my "handbag". Hardly I go anywhere without her. Church, school-runs, market, social outings, including going to buy little things as biscuits for the children.
Therefore, when she died on December 29, 2014 at about 12:45am, I was devastated beyond words. You may ask, how did it happen?
We went to visit a family friend, IK Nkwocha, at Agbala, Owerri North LGA, who in the spirit of Christmas celebration said we should "eat out" and have fun.
It is no crime taking your spouse out. Rather than take these ladies of easy virtue who have noting to contribute to your family, I prefer Chizomam to eat my money, which we both worked hard for.
Therefore, IK suggested we go to Emekuku, at a popular eatery that specialises in local cuisines. We got there, sat down and ordered for our choice foods; Ugba and Ukwa.
While waiting to be served, we joked, as I was busy playing "eye games" with two little kids who came with their parents at the joint too.
Then a young man of about thirty years joined us. But he later got up to re-park his Lexus 130 SUV. After sitting down, he yet again went to re-park the vehicle on the instruction of one of the young men who came with him.
Yet again, he stood up to re-park the car. This time, he lost control and ran over my wife, knocked down IK, and pushed me to the wall while reversing.
There was an uproar, as people rushed to the scene of the incident. By this time, I had managed to wriggle out from the wall, only to start looking for my Chizomam. I had seen IK lying face up, motionless, but no Chizoba.
Thinking that my lovely wife may have escaped into the crowd during the stampede, I was shocked to discover my Jewel under the vehicle. Men of Road Safety Commission, who arrived the scene immediately, helped me to retrieve her from under the vehicle.
Luckily, as she stood on her feet, she called me "Daddy" and I hugged her, but discovered she was bleeding from the left wrist and both knees. We rode in the Road Safety vehicle to the Holy Rosary Hospital, which was just a stone throw from the accident scene.
As we got there, I discovered that even though it was a Sunday, the medical personnel there were on duty and eager to work, but lack of facilities disappointed them, as the hospital is like a poultry, with obsolete facilities scattered everywhere.
It took about one hour for an x-ray to be carried out on my wife, even as all the wounds were stitched.
With the x-ray result out, the old doctor, who should be in his seventies told me that my wife had a broken rib and therefore the matter could only be handled at Federal Medical Centre, FMC, Owerri, but since the hospital was on strike, I should proceed to Imo State University Teaching Hospital, Orlu without wasting time.
I was ordered not to touch the steering for any reason, since I may think I was in the right frame of mind, not knowing I was in shock. This was true as it took me days to realise that actually I was shocked to every particle of my body.
Before moving to Orlu at about 6p.m., my wife had started complaining of chest pain. By then my friend Chinwe Obinna had responded to my distress call and arrived the hospital within a short notice.
This was because, when I demanded for an ambulance to convey my wife to Orlu, no matter the cost, I was told that Holy Rosary Hospital had no such luxury.
And since I was consumed on what to do to make my wife live, I did not care about the man who caused the havoc. It was only when we were preparing to go to Orlu that a young man who introduced himself to me as Reuben approached me, requesting if he could follow us to Orlu. "Who are you?" He said he was the driver who owned the evil vehicle.
The only thing I told him was that I don't want any trouble, but he should pray that nothing fatal happens to my wife.
We then put my wife into Chinwe Obinna's vehicle and headed to Orlu. On our way, the situation changed as my wife started groaning deeply, and continued whispering to me, "My children, take care of my children."
When we got to Orlu at about 9:00pm, the doctors at the teaching hospital assured me they could handle the situation, and they sprang into action.
They plugged Oxygen pipe into her nostrils, with drips on her wrist. After about 40 minutes, she started showing signs of recovery. She called and requested for water, and they gave her "pure water" which she rejected, telling the doctors that she only drank bottled water. You can see the level of her consciousness! In fact, she seemed to be more alert, as she started covering her chest and asked her elder sister Josephine to pray for her recovery, while she continued chorusing Amen! Amen!
Then suddenly, she asked us to pray for her as breathing was becoming difficult. I discovered that the oxygen was not bubbling again and I attracted the attention of the medical personnel to the disturbing scenario, and he muttered something like "wahala dey o! We don't have any other oxygen o!"
At this juncture, I asked my wife to open her mouth while I blew breeze into her mouth, which she gladly obliged; and I continued blowing until she started panting for air and suddenly jerked, smiled, looked into my eyes and passed on. That was how I lost the first known property I had. That was how my 33-year old Angel left me to cater for four little children alone.
From all indications, I discovered that Chizomam wanted to live and did everything possible to make it possible. But the system failed us. Again, I am very sure that she went to heaven, which was what she saw and smiled at me.
Immediately she died, I remembered Reuben. "Where was he?" I asked.
Chinwe and my in-law, Okey, left me with my wife's dead body at Orlu and went after Reuben who ironically hails from Naze community in Owerri North as my wife.
However, when Chinwe and Okey hit Naze at about 2:00am, they discovered that Reuben, whose surname is also Naze, had parked his vehicle in a different village, slept in a different house, getting set to elope that morning. But unfortunately for him, the police team stormed where he was sleeping, arrested him and he took them to where he hid the devilish vehicle that killed my wife.
However, after personal investigations, I discovered that it was an accident, caused by Reuben Naze's overzealousness and negligence as a young man consumed by the euphoria of owning a "Jeep", and now higher than his peers.
It was this restlessness to show-off his vehicle that led him to park and re-park three times until he inflicted this wound on me that will last till the day I leave this earth. Reuben has denied me my wife and happiness, taken away my children's mother, killed a daughter in-law, friend and daughter to some people.
But in the end, I asked the police to release him unconditionally. What could Reuben, who just came back for Christmas from Thailand pay me and Chizomam will come out again? Can he bury my Angel if I even charge him for the ceremony? So, I asked him to go, but let it be on record that he used his vehicle to run over my wife and his sister. But he should be careful, for many people may not be like me in case of next time.
Unfortunately, my friend, IK, is still lying in the hospital in Port Harcourt since that December 28, 2014. He has been operated upon twice on his left leg. And my fear is that my friend is diabetic.
On January 30, 2015, my love and delectable "Baby" was buried in my compound at Umuechem Umuhu, Ngor Okpala, with Imo State present.
I cannot thank Imo people enough. From my wife's burial, I discovered that those who love me far outweigh those who wish me evil. I cannot name the mammoth crowd that came to mourn with me one by one. The crowd was intimidating.
But I remain grateful to Deputy Speaker, House of Representatives and my "Nwa-Nwa", Rt Hon Emeka Ihedioha, our Governor, Owelle Rochas Okorocha, my political benefactor and former governor of Imo State, Chief Ikedi Ohakim, my brother and Deputy Governor, Prince Eze Madumere, our mummy, Prof Mrs Viola Onwuliri, Speaker of the Imo State House of Assembly, Rt. Hon Benji Uwajimogu, my senior brother, Sir Jude Ejiogu, my friend Chike Okafor, Okenze Obinna, Senator Osita Izunaso, Nda Lemmy Akakem, Prof. Jude Njoku, Hon Bede Eke, Hon Mrs. Pat-Ekeji, Chief Hariter Njoku, TOE Ekechi, Mathew Nwoguala, Nnanna Igbokwe, Grey Egu, Okenze Emii Nkwota, my spiritual father, Bishop Maxwell Korie and other clergy.
National and State Assembly members of Imo State extraction, the political class, Corporate Organisations, Nigeria Union of Journalists, Business Tycoons, University of Uyo Alumni, Orji and Nekede Mechanic Village, Neighbourhood Organisation, friends, in-laws, Agbala Community, Imerieriwe and Naze Towns, Ngor Okpala PDP etc.
My personal regards to Gerry Ogu and Kelechi Mejuobi and the entire Trumpeta family.
Who will I mention, who will I leave? It was awesome. Please, I appreciate and love all of you. May God bless you all who identified with me in this period.
Today, I am an orphan as well as a widower, at this young age. What do I do? Only God can provide the answer. That I am still living today since December 28, 2014 means that God will lead me through this calamity. Honestly speaking, this pain pierced through my heart. Can it heal? Oh Chizomam! God knows the best.