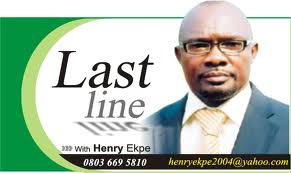 In the entire world, no war ends without saboteurs. These are elements used by the enemy to infiltrate the opponents. And these people who serve as tools of information for their masters are usually used to work against their own people for a plate of porridge, or easy lucre.
Saboteurs abound in every sphere. Be it in your office, political party, community, your house etc. It started from the Bible. Was Judas Iscariot not the trusted friend of Jesus who sold him?
But one significant thing with saboteurs is that they don't end well. The reason is simple. They are not trusted by any Principal they are serving at any given time. Because such Principals know that if his opponent's Driver serves as his conduit to gather information about his Boss for him, if he employs such fellow, he would do the same to him, as long the price is good.
I made that definition for Owerri Zone to know that if it has failed since 2009 to produce a Governor of Imo State, it should be blamed on some of their sons and daughters who play the Judas against the general aspiration of Owerri zone at any given time.
But what is Owerri Zone? It is one of the tripods that make up the present Imo State. Imo State was politically delineated into three political zones by the Elders for political exigency.
The main reason behind the creation was to partition Imo State into three political zones to give each of the zone sense of belonging in the rotation of power; particularly the Governorship seat of the State.
This was because, if the production of Imo State Governor was left as a winner takes all battle, Owerri and Okigwe zones may never make a Governor, because Orlu zone is larger than Okigwe and Owerri respectively.
While Orlu has twelve Local Government Areas, Owerri has nine and Okigwe six. But despite the arrangement to give sense of belonging to all the zones, it has not been working as one zone has dominated the Governorship seat of Imo State since 1999.
Unfortunately, it has to be so because political power is not given on a plate, as no sentiment is attached when pursuing political power. You either get it by force, or negotiate for it. In this circumstance, Owerri zone has failed to actualize any of the theories propounded here. This is because Owerri zone has never governed Imo State in the last sixteen years, even when Okigwe which has lower number of Local Government Areas and population has taken four years out of this sixteen years, while the behemoth, Orlu zone monopolises the largesse for twelve years, and still counting.
Now, you ask, was it that Owerri does not know how to play politics that Orlu and Okigwe have dominated the Governance of the State these past years, even when Owerri zone hosts the State Government? Does it mean Owerri does not know how to take power by force, or does not know how to negotiate for it?
Indeed, since the inception of the Democratic system of Government, Owerri zone has never came close to making an Imo State Governor than the 2015 Governorship election.
This was necessitated by the fact that many Imo people felt that Owerri zone has been so marginalized and therefore deserves the slot in 2015. This was tacitly given approval as Orlu zone completly refused to present any Governorship Aspirant in any of the major political parties, except the incumbent Governor, Owelle Rochas Okorocha of the All Progressive Congress APC.
Okigwe zone did same thing by not fielding any strong candidate in any of the political parties. The coast literally looked clear for Owerri to produce the next Governor.
Infact, a few days after Governor Rochas Okorocha was sworn-in as Governor in 2011, some politicians from Owerri zone began marshalling plans on how to fight a titanic battle to retrieve power from Orlu zone represented by the incumbent Governor, Rochas Okorocha.
Many Owerri Sons and Daughters showed much interest in the project and supported the conveners with their presence by attending such meetings regularly.
Owerri seemed mobilized and sensitized enough for the challenge ahead, more so when they began earlier than the other three zones.
But surprisingly, when it was time for the Owerri solidarity to deliver one of their own, it was shocking that all those who were mouthing "Owerri For Governor 2015" were fraudsters, men who wanted to "use" Owerri people to line their own pockets.
The delusion Imo politicians have is that the masses are still as gullible as they thought they were. Any politician who worked at the last election and did not notice the tremendous change on the psyche of the voters must be floating. The awareness is too high, which made politicians to change the pattern of their riggings, which could only sail through at the "high level" as it was impossible to rig at the grassroots.
What this means is that the poor voters are beginning to realize the importance of their votes.
In this case, all the politicians who sabotaged the Owerri project have been recorded by the masses, and will be shocked to their bone marrows when they return again in 2019 with their silly sermons.
The last election thought the masses that most of the people who parade themselves as rich men and women are "covering up" . For if a politician counts himself rich, how could he or she be bought so easily? Or why would he self-out easily?
The poor masses believe that most Owerri top politicians were bought, which was the reason they sold their birth rights and the thick of time.
If not how could they have thrown away the bath water with the Baby ? I say this because most of them said they betrayed the Owerri course, when they discovered that there was no better option for Owerri among the candidates presented, other than to look towards the status quo ante; which is; remaining with the exiting order than vote otherwise.
They could go tell that to the Marines.
There were numerous options for "Owerri Activists" who wanted to vote for Owerri. In the last election, there were Captain Emma Iheanacho, Ken Ojiri, Ngozi Olehi, Emeka Ihedioha, Osmond Ukanaso etc.
Therefore, those of them who said they went the other way because there was no option are simply being economical with the truth, and making a jest of themselves.
Imo state is a smaller version of Nigeria. And while Orlu and Okigwe Zones could be described as having the same zeal and confidence the Hausa and Yoruba have for their ethnicity, Owerri is the Igbo who pretends to be republican in nature and sabotages its people and could be purchased like good on the shelve.
Whether anybody likes it or not, Okigwe and Orlu zones have more cohesiveness among themselves than Owerri zone, and that is why both zones will continue to Lord it over Owerri zone as far as Governing the State is concerned.
From the look of things, Owerri zone has kissed itself final good bye from the Douglas House, for many years to come. The last Governorship election created too much bad blood in Owerri zone that it will take along time to go away.
For instance, as far as Mbaise and Ngor Okpala Clans are concerned, in the last Governorship election, which even though PDP is the biggest loser, both Mbaise and Ngor Okpala believe that there was a planned gang up to stop their son, Rt Hon Emeka Ihedioha, from being the Governor of Imo State, coupled with the bitter propaganda that Mbaise man cannot be allowed to Governor Imo State from Owerri zone, when there are Mbaike and core Owerri people.
What this means is that a dangerous precedent and seed have been sowed, which will thwart every effort made by any Owerri man to be Governor of Imo state.
Has anybody thought how Mbaise and Ngor Okpala axis of Owerri zone will react whenever any "Owerri man" comes out to vie for Imo Governorship in the future? I see Mbaise and Ngor Okpala doing everything possible to stop such fellow. In this circumstance the coast would have been left clear for Orlu and Okigwe zones to continue to produce the Imo Governor as long as time can permit them.
It will be difficult to convince Mbaise Clan and Ngor Okpala people that it was not a deliberate act to stop that area from producing Governor that made the almighty PDP to lose the Governorship election in Mbaitoli, Ikeduru, Owerri West, Owerri North, and Owerri Municipal Councils.
Even at that, it is unbelievable that Owerri people prefer a Governor from another zone in Imo State than from Owerri zone, of Mbaise extraction.
Whether anybody likes it or not, there is reason why Nigerians cry for zoning of all political positions in the country. This was what gave birth to the zoning of Imo State politically, into three.
When Udenwa was Governor of Imo State, apart from his immediate community benefiting from government, Orlu town did.
When Ohakim was Governor, nearly all track roads in Isiala Mbano were tarred. Now that Okorocha is incharge, apart from his immediate family, inlaws and community seeing what it meant to have a son as Governor, Orlu zone is basking in euphoria of development.
Is it not ridiculous that Owerri zone, despite their so called education and enlightenment has failed to realize that producing a Governor will change the shape of the zone?
It is a pity that jealousy, envy and saboteurs among the Owerri zone political elites would not allow the zone to ever produce a Governor for Imo State. Too bad for a people who were a reference point to others. But can Owerri regain its groove? Avery big question.