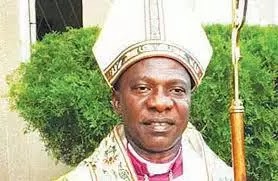 Bishop of the Anglican Diocese of Egbu, Rt Rev Geoffrey Enyinnaya Okorafor has advised President Mahammadu Buhari to read the hand writing on the wall and ignore political sycophants and leave office in May 29, 2019. He also expressed disgust that Buhari administration allegedly does not pay regard to the public opinion, especially on advise on how to fight corruption. Bishop
Okorafor, who gave the advise in his 82page Presidential Address which critically analyzed situation of President Muhammadu Buhari's economic, political and social conditions of the country, delivered during the first session of the eight synod of the Diocese held at the Cathedral Church of all Saints Egbu, in Owerri North Local Council of Imo State, also advised Governor Rochas Okorocha of Imo State to look back at himself and assess himself on how the people he is governing are at home with his rulership programmes, policies, actions and inactions., urging that retirees should be paid their full pensions and entitlements without further delays. He opined that there are many perceptions held by the people on him.
Advising Buhari in the occasion attended by the Chancellor of the Diocese and immediate past Chief Judge of Imo State, Justice Benjamin Njemanze, a term Imo House of Assembly member (who represented Ezinihitte Mbaise constituency), Oliver Enwerenem, some government and top religious officials, Bishop Okorafor noted that there have been calls and suggestions on Mr. President to run a second term come 2019, which he said sounded very good indeed, but urged the. President not heed such as those making the suggestions were his worst enemies and sycophants of the highest order. He further advised Mr. President to pack all his bags and baggage from Aso Rock, if by God's grace he pulls through the hazards of governing this difficult and complex entity called Nigeria, maintaining that he has achieved his life ambition as military Head of State as well as a civilian President. He pointed out that with his age, and health challenges, which makes him look frail, the Presidebt needed nobody to tell him that the military junta called Buhari who would sneeze and his boys and people around him caught cold is now expiring by the day, stressing that to saddle him with additional load of campaigning from state to state and presentation of manifestoes in the process is killing. He explained that a good actor would always quit the state when the ovation is loudest and urged him to take leave and be a good actor for his name has already entered in the annals of history as both a military junta as well as a civilian President of Nigeria both encapsulated in one name Muhammadu Buhari.
On the president's fight against corruption, Bishop Okorafor recalled emphatically that last year, the President was called on to do a house cleaning exercise, beginning with his own house and office before engaging in the fight against corruption outside, regrettably that call he noted fell on deaf ears. He said he was not surprised because governments in the land have no regard or respect for the opinion of the ordinary citizens. The Bishop who wondered what has happened to the looted funds that have been purportedly recovered also questioned when Nigerians would be given the account while also expressing fears if the funds were not passing from one corrupt hand to another.
The Anglican Bishop who was particularly irked that the heardsmen were still going about freely armed with riffles, whereas the Indegeneous Peoples of Biafra (IPOB), whose members hold only rallies, unarmed, was declared terrorist group and proscribed.
While IPOB, he said has been seen as only involved in their mass rallies, without arms of any sort, affirmed that It was unacceptable to declare it a terrorist group.
Continuing he noted that the heardsmen no longer go with their staff in hand but now go with riffles of different rounds and shoot, kill or maim at the slightest resistance against them when their cattle destroy people's farms. He posited that if such people that go with loaded guns band, kill and destroy people's homes were not a terrorist group, one wonders who is and how and why a group without any guns can be branded terrorists.
Speaking on the Imo State Governor's policies, programmes, actions and inactions since his second term in office, Bishop Okorafor, advised him to borrow a leaf from what is in the biblical quotation, Matthew 16: 13; Mark 8:27, and Luke 9:18, on where Jesus Christ asked Peter "Who do you say I am?"and urged Governor Okorocha to remove ego and sincerely assess popularity test of self in office, stressing that now was most appropriate time when he should appraise himself and know the mindset and impression of the citizenry of the state entrusted into your care more than six years ago. He said the assessment could not come from sychophants and praise singers who he noted would shout Hosanna, Hosanna for him today and shout a loud 'crucify him' as he quits office.
On the alleged whole lot of work going on, but appear poor in quality, the Bishop advised the Governor to take them in bits: "We would advise that projects in Imo
State are taken in bits and quality work done. He who has ear, let him hear. Whether road project, education project, unemployment problem or any of the like should be taken step-by-step." He described
as the 'most ungodly behaviour of this government the non accurate payment of pensions, gratuities and statutory payments including the failure to pay allowances to pensioners in full. Furthermore he averred that if the State Government informed Ndigbo that it collected the sum of N7billion from the Federal Government Paris Club Fund, one of the most appropriate steps should have been to settle the case of pensioners asserting these old men and women,had served the state with all youthfulness in them. They are not begging for money. What they were asking for was their due as rights,he added.
On the vexed rummoured issue that the Imo State governor intends to ensure his son-in-law, takes over office from him, the Bishop advised against such move, rather, another time, for posterity and conscience sake.
His words: "This is the time to right some of the wrongs so that posterity will remember you in the positive direction. If ever you son in-law should be chief executive of Imo State, we advise you that it should not be immediately after you. It could be sometime in the near future for conscience sake."
Okorochas's son -in-law, and presently the Chief of Staff, Government House, Owerri, Uche Nwosu, is widely said and believed that the governor is working behind to succeed him. Nwosu, married Okorocja's first daughter, Uloma