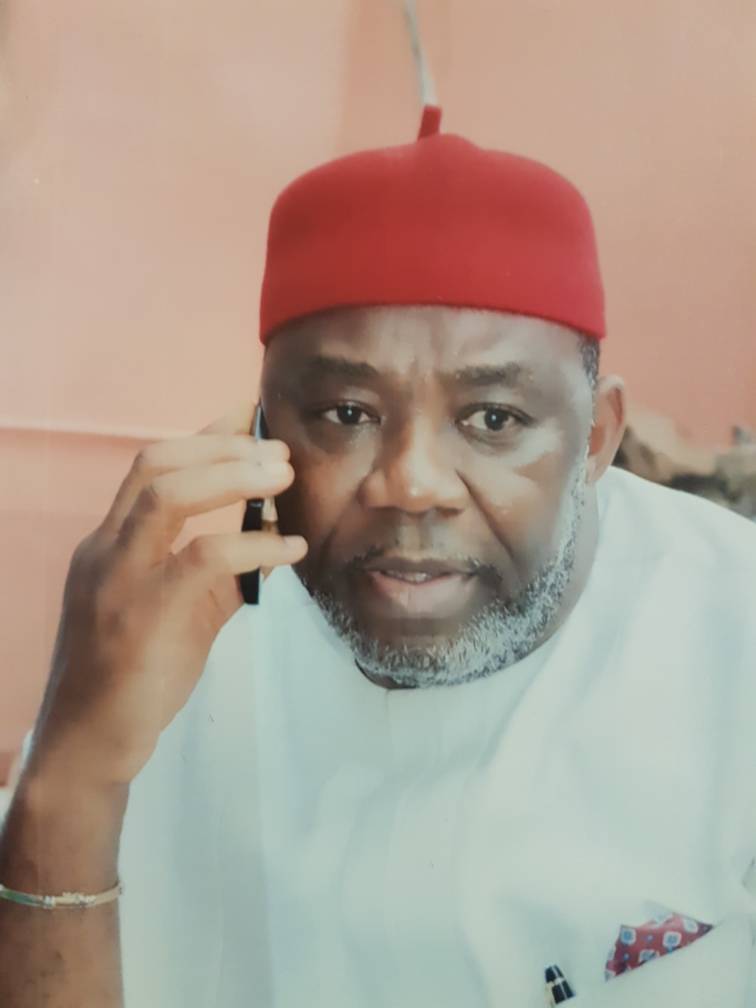 While having lunch with my friends who visited me on
1st February 2018 at Hungryman Restaurant Owerri, my attention was drawn to an advertorial in the Nigeria Newspoint Newspaper of 22nd January, 2018 captioned
"Willie Amadi lied, our late Monarch never supported Ekeukwu Owerri market relocation" a matter that has generated so much sentiment from all quarters and all manner of groups and persons. Naturally, due to the sensitive nature of the matter, I decided to allow the sleeping dog lie.
Unfortunately again, another front page article in Nigeria Newspoint of 29 January, 2018 on the same vexed issue by Uncle Bob Kay Njemanze which narrative tried to unfairly define my person and character got me provoked. I am therefore constrained with all modesty to rather define myself and my 55 years Journey of life as a toddler, the youngest District Sales Representative of Nigerian Breweries Plc in 1982 at the age of 20 years on record, a Lawyer of over 23 years standing and a Professional in politics. It is important to define yourself than allow people define you out of mischief because perception is key.
My interview of 1st January, 2018 of the Big Truth Newspaper as it affects Ekeukwu Owerri relocation, reconstruction and or demolition remains the TRUTH, the whole TRUTH and nothing but the TRUTH. It touched on other issues including but not limited to Ekeukwu market, Land policy, General administration, Urban renewal progranme of the current administration.
Below are the excerpts:
QUESTION: THE APC HAS TAKEN OVER THE SEAT OF POWER
IN IMO AND FOR THE PAST SIX YEARS, OWELLE ROCHAS
OKOROCHA HAS BEEN IN CHARGE OF AFFAIRS DESPITE
CRITICISM. ARE YOU IMPRESSED WITH HIS STYLE OF
GOVERNANCE?
… "Secondly, the management of the state finances [cash money] is totally private and confidential. Bank accounts of the state are unanimous and unknown in all the Banks. You can hardly levy execution of any government funds in any bank in
Nigeria because 85% of government accounts held in banks are financially veiled under a special purpose vehicle fraud [SPV].
Only the Governor, the Commissioner for finance and the Accountant General of the state. Thirdly, all contracts for projects like Roads has no contractual identity. the Contractors are not known and will never be known. No reasonable Contractor in the mould of Julius Berger, MCC, Dangote and Sawoe, RCC or even Indegionous Contractors like CODUC,
LEMMY Construction, Raudo, Frank and Gene etc ever had an opportunity to do any road in the state in the past six years. All we see are some hungry looking Comedians with Wheel Barrows and dilapidated manual machines/Equipments playing on our Roads. I want to challenge this administration to publish the list of all contractors and the Roads they constructed in this state and particularly in Owerri municipal Council from 2011 till date. It is really a pity. The state will pay severely for this brazen stealing and looting of the state money averaging over one trillion naira in the past 6 years. But watch out- IT shall end in praise because God does not sleep when his Children are in pain.
Finally, I do not hold anything against the driver of this administration His Excellency Rochas Okorocha for the simple reason that the society never gave him a chance. He was born into poor parentage. He never had opportunity of education. He never had access to government social services. And by this,
The society disowned and punished him as a private citizen. He struggled, suffered and endured poverty and injustice but by divine intervention and persistent struggle on the street, he broke the jinx and overcame this human and institutional imposed adversity. Therefore, he arrived the scene of the comfortable club with a mindset of revenge against the establishment and the rich operators. He sees every rich man in government position as an enemy. He appreciates rich men who struggled to become rich. Following his entry into politics, he anchored with the less privileged Children, not the just the poor but the poorest of the poor. This is why it will be a mirage to stop him from installing a successor if there is no coalition by all stakeholders and parties leading to a revolution at the hour of long knives of 2019 Governorship election. I say this because the wrong notion that the poor people who supported Okorocha in 2011 have left him is not true. The poor people who have left Okorocha are the por people who lived from the crumbs of displaced rich men and PDP government between 1999 and 2011. The poorest of the poor who do not pay school fees but have been elevated and recognized by Governor Okorocha whether honestly or fraudulently and who have never been used to any sort of luxury in their lives but the luxury of association with Owelle ' Their Governor! Their Governor', are still with and can die for him any day, anytime.
This is the real grass root".
QUESTION: WHAT IS YOUR TAKE ON URBAN RENEWAL
POLICY OF GOVERNOR ROCHAS OKOROCHA?
On the Urban renewal policy of the state, I give His Excellency Rochas Okorocha a kudos. The aesthetic of the state capital, Orlu and Okigwe towns are in tune and accord with globalcommunity standard. What is, and will remain in contention is at what cost?The face lift is admirable and commendable. The Governor has done very well in opening up the state capital in line with the UN urban renewal standard. Unfortunately, you cannot make an omelet without cracking an egg. Nonetherless, the process and procedure of making an Omelet should be humane. There are legal guidelines for example, revocation of land. It must be for an overriding public interest and use.So when a government land or a private land belonging to a citizen is revoked and appropriated by the Governor using the provisions of the Land Use Act for himself, family, friends and Associates, amounts to abuse of office and therefore illegal and actionable. It is simply a case of obtaining people's Land by false pretences aka 419. It shall not endure. Conversely, where revocation is made for public interest, compensations must be paid or relocation of the citizen to another land etc. This is good governamnce So as an Owerri indegine and a former government servant, I think His Excelency Rochas Okorocha has not been fair to the citizens of the state and Owerri indigenes in the implementation of laudable Urban renewal progranme of the state. The traders and market women and men have been the worst hit. Though there must be sacrifices where needed forthe overall interest of the majority but such sacrifices should be laced with human face and sympathy where necessary. I therefore appeal to the state government to review the process and assist the victims because it is never too late to correct a mistake. In this case, it is a mistake of absence of compassion for those in severe pain by their Governor.
QUESTION: AS AN OWERRI INDEGENE, WHAT IS YOUR
COMMENT ABOUT THE DEMOLITION OF EKE UKWU
MARKET AND ITS RELOCATION TO OHII?
"The demolition and or relocation of Ekeukwu Owerri and indeed all other markets in Owerri municipal is the finest andpatriotic decision of the incumbent administration. Let me shock you and other readers of this interview a little bit. First, the Ohakim government and the late and last Eze Owerri HRM
Eze Emmanuel Emeyonu Njemanze Ozurigbo [ IV] and a committee of Owerri stakeholders agreed in 2010 to relocate Ekeukwu market Owerri. The Committee was headed by Chief Analyn Nwaneri. I was given the schedule and authority to supervise same. This was part of our Urban renewal progranme of the Clean and green of the past administration. My office disbursed the first fund for the committee to travel to Tejosho Market in Lagos and had planned to visit Dubai in nFebruary before the April 2011 Tsunami Imo Governorship election. I will address this issue and other events of the administration in my subsequent interviews but let me quickly score the present administration 80% on this laudable achievement. It is a display of leadership capacity to implement good and endurable legacy through courage and firmness.
My support and appreciation of this government action is based on logic. In the first place, the presence of Ekeukwu and other markets within 2 Klms to the seat of power, the Government House created a traffic, security and sanitation problems for the inhabitants of the capital city and Owerri people. Instructively, 80 percent of all the Buses and Vehicles that come to the capital from the 26 LGAs and outside the state between 4am to 6pm daily have their destination to these markets.   70% of Robberies, pick pockets and nuisances are connected with the markets. 90% of the sanitation problem of the municipal city, the seat of government and face of Imo state is caused by these markets. The administration conducted a study through a renowned Environtalist and the Architect who produced the twin TWIN CITY master plan of Owerri. As a Special Adviser on Sanitation and Transportation and GM Imo Environmental Transformation Commission [ENTRACO], it was under my schedule to implement same.I can safely say that this particular government decision will stand the test of time for generations yet unborn. We should please appreciate and commend the administration and not to politicize it. My only advice to Governor Rochas Okorocha is to revisit the compensation process for the owners of the shops and stalls and wipe their tears so that, as I advised Imolites in2007-2011, they should 'Sacrifice a little and enjoy forever"
THE LIES
Uncle Bob and the trio gang of Herdsmen unfortunately did not either think out of the box or reach me to explain my interview since they have unfettered access to me but chose to fraudulently tell my story in the public spaceso as to soothe their anger against the administration they had jointly enjoyed whilst the CONSPIRACY against Owerri people lasted between 2011 to 2015. This their later 'SAINT' struggle for purported Owerri interest is as interesting as it is laughable. They lied and will continue to lie because as old professional liars and blackmailers without any decent or visible source of income, they only survive on NSHIKO MENTALITY projects.
THE FICTION
What would have gone wrong between Governor Rochas Okorocha and Uncle Bob Njemanze who out of frustration and envy of Governor Ohakim supported Governor Okorocha during and after the 2011 election?
Was his nomination by Governor Okorocha as a member of 2014 National Constitutional Conference where he earned a living for the first time in more than 30 years and or the numerous sponsorship of 'medical treatments' abroad including regular Executive crumbs given out by Governor Okorocha to him not appreciative enough?For Chief Analyn Nwaneri and the trio of Chief TOS , Oparaugo, Chief CDB Williams and Chief Obinga John, Igwe, silence is the best answer to fools.   Let me for the sake and sentiment of my younger brother and friend PrinceAmanze Njemanze, the second son of Uncle Bob who is quite close to me from Childhood till date refrain and spare the immediate unveiling of the 'Man and Character called Bob Kay Njemanze' but let me warn for the last time that in speaking the Truth to Power, 'Every Man is Naked'. Nda Bobo, please, please and pleasetry and age gracefully knowing fully well that I cannot be ignored and IT shall end in praise.