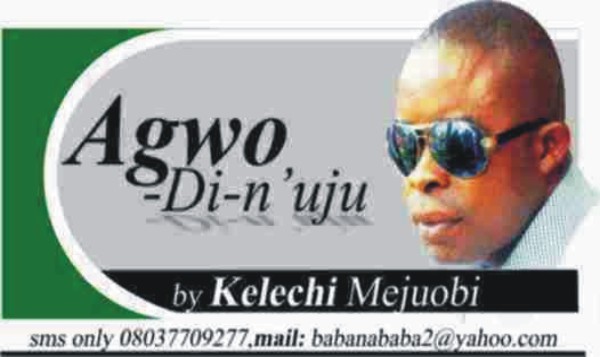 Oloye, is the pet name of a bosom pal who is from the South West part of Nigeria. Ever since he left Owerri about two years ago for another section of the country on job transfer, we have been in constant touch through the various social media platforms. Phone calls rarely came up to bridge the gap until few days ago he decided to find out the meaning of a particular local word.
Despite his Yoruba background and few years sojourn in Imo state as a personnel of one of the federal security agencies in the state, Oloye can be said to be a "home boy" in Owerri considering his vast knowledge of the socio-cultural lifestyle of the people and the  political developments therein. His fond memoirs of life in the state rekindles his interest about goings on in Imo he is acquainted with in terms of regular updates from different angles.
The upbeat Oloye took time to place repeated calls which attracted my attention. Instead of the usual opening verbal banters associated with our phone exchanges, he sounded comical with a pronouncement of a word I made serious efforts to understand but to no avail until I paused a while and inquired if it was "Iberibe" that is worrying him  before he responded, "Omoba na "Iberiberism"
The Oloye question drags me into the trending word of "Iberiberism", gaining popularity in several quarters, courtesy of governor Rochas Okorocha.
Oloye experienced difficulties trying to pronounce the word "Iberiberism" Though he understands primary elements of Igbo language even as he cannot fluently converse with it. But Iberiberism was unfamiliar to his knowledge of the language.
The next from him as the phone chat was on, was "Omoba pls what is the meaning of Iberiberism" I couldn't help but burst into wild laughter from my end after due consideration of his desperate bid to know the meaning in smattering Igbo. He became impatient with my boisterous outburst and the next step he took was to plead in adulterated English, "Oh boy tell me nah, wetin be Iberiberism"
I informed him that the progenitor of Iberiberism is better qualified to explained as I can only disclose the meaning of a similar word known as Iberibe, an Igbo word, for foolishness.
As part of his media bliss to mark 7 years in office, Rochas Okorocha on Democracy Day of 2018 engaged in a talk show with a Channels TV newscaster. At the stage, the Imo State governor opined that it would amount to Iberiberism if he collects billions of naira as allocation and only renovated schools and boreholes to show for it. Okorocha was quoted to have expressed in a video that has gone viral in the social media that "I collected five billion and can only show you boreholes and renovation of schools and I can retire them up perfect it and that is for me and that is what I called Iberiberism. When the channels guy asked what is Iberiberism, he responded "Go to Rochas Dictionary and find out meaning of Iberiberism. His interviewer, astonished at the manufacture of the word "Iberiberism" tried to find out the meaning, the governor requested him to go to the dictionary for explanation. The drama continued on set in the video that has aroused public interest.
Iberiberism has gradually crept into the lexicon of the state courtesy of the state governor. The new vocabulary has generated interest in the public. It was not surprising that Oloye has also joined the fray to make inquiries about the meaning just like the channels folk, hence his call.
It was a bit difficult giving a concise explanation, but I simply offered that Iberibe, the supposed precursor of Iberiberism means foolishness and such a person is called "Onye Iberibe", the act of being foolish. If an admixture of Igbo and English is applied, it can now be pronounced as Iberiberism. In Yoruba language, I offered the translation as Were or Olodo.
There have been mixed reactions to the Iberiberism nomenclature since Okorocha made it popular last week. I stand with the governor on the recognition and canvass for the inclusion of Iberiberism in the Oxford Dictionary, if certain acts associated with human endeavours are considered. Iberiberism if accepted as official word in English can both be a noun, verb, adjective and also used as a phrase or even a stand-alone sentence. It could also be pronounced: ee' bay' ree' bayism' as the case may be.
My argument stems from the facts that words used in English have origin and were created by people. In line with my Afrocentric disposition, giving Iberiberism, a dictionary status, cannot be overemphasized even as some innate forces prevalent since he became governor in 2011 may have gingered Okorocha to want its inclusion in the dictionary as an official word.
Before I go further, it is pertinent to state that the evolutionary emergence of language in the human species has been a subject of speculation for several centuries. Arguably, origins of language probably relate closely to the origins of modern human behavour. Therefore, clamouring for inclusion of Iberibe and the consequent Iberiberism is no exception.
A deeper thought to the Iberiberism as canvassed by Okorocha cannot be divorced by the style of government his administration has showcased.
One wonders how employed 10,000 job beneficiaries the governor met on ground in 2011 would be sacked for 25,000 others he claimed to have employed latter before they were relieved off their duties for another 3,000.
In Owerri, the state capital has become a huge construction site in the past seven years without any meaningful facelift achieved so far. It would be recalled that in the early times of the governor's Rescue Mission government, roads like Okigwe, Whethral, Assumpta Avenue and Orlu saw the closing of drainage systems with slab by a company known as Roche. The beautiful road side flowers and trees that provided shades for roadside users were uprooted for block work. Few years later and before the project could be completed, government backed bulldozers returned at the locations to demolish the concrete footpaths in the name of road expansion. While the projects are yet to be completed, the state government is coming with trees planting program. The resultant confusion is presence of flood anytime it rains in Owerri town.
A reflection of the Iberiberism philosophy is incensed by avalanche of abandoned projects in the state with the governor having less than 350 days to leave office with several promises unfulfilled, the abandonment of existing General Hospitals for new 27 ones that are more of block work, carcass of abandoned City Gates billions of State resources was voted for in the budget, the forgone Prince and Princess Hotels, the non-existent designed hotel that would have occupied the disputed Area K in World Bank Area, transferred to Avu Junction, in Owerri/Ph Road.
What of the confusion associated with the caricature form of government called Community Government Council, CGC and the succeeding State Developing Committee, SDC? How far has it gone to replace the Traditional Town Union system at the grassrrots?
A government without proper education policy, anchored on a "promise and fail" tactics can give rise to the inclusion of Ibiriberism in English dictionary. Once, people of the state applauded Okorocha for promising to establish not less than 6 universities. Today, where are the Imo European University, Imo Turkish University, the Jesuit Loyola University etc before the final establishment of Eastern Palm University Ogboko, its ownership is generating ripples.
At a time, moving to Turkey in search of investors became the stock in trade of the State government officials after the huge expenses in hard currency, no one can sight the Turkey investors in the State afterwards. Instead of looking inwards for the revival of moribund indigenous money making establishments, the 2015 campaign mantra of job, job, job, factory, factory, ended up as a ruse with Avutu poultry in coma, Standard Shoe factory site overtaken by weeds and the multi- million naira downstream sector Adapalm suffering from economic kwashiorkor.
Why won't Iberiberism be part of the dictionary of Imo State under Okorocha when pensioners are not paid regularly as at when do, civil servants receive 70% of their salaries and were asked to go on compulsory leave each Christmas? Or do we discuss about the three-day farming formula even for workers in the municipality without available space for agricultural practice?
When last did the once famous "Ikuola Nkwu" gospel preached came out from the mouth of the governor?
Where are they ICAPS/Young Scientists School signature projects, the famed 15km roads per LGA that is non -existent, Ohaji/Egbema Industrial Park and International Palm Produce Market?
How can the Marine University, Osse motor will become a history and included among the abandoned projects despite promises that it would be in place for academics before he leaves office?
The commentary continues next week.