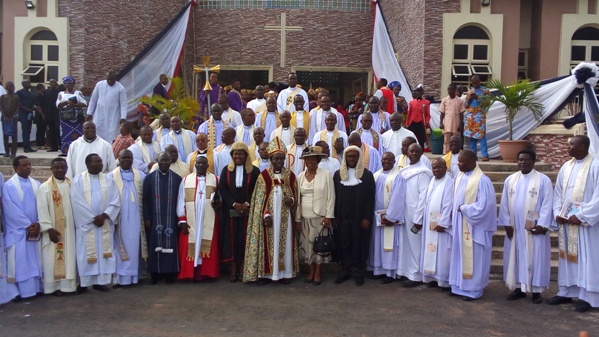 By Peter Uzoma.
The last may not have been heard about the crisis and legal battle that has bedevilled the Anglican Diocese of Owerri over the question of succession following the retirement of Rt Rev Cyril Okorocha.
At exactly eleven minutes past nine in the morning, Thursday last week, the case was called up in an Owerri High court presided over by Hon Justice Orjiakor.
Sir Nnawuchi (SAN) led three other Lawyers under the umbrella of Registered Trustees of the Anglican Diocese of Owerri while Chief DeNwigwe (SAN) also led a squad of twenty-one Lawyers to represent the Anglican Primate Nicholas Okoh.
The first issue that was treated was that of jurisdiction or contempt of court. Sir Nnawuchi (SAN) recalled that on 21/3/18 the court made an order stopping the Primate from appointing, translating or electing Bishop David Onuoha or any other Bishop in whatever guise for Owerri Diocese.
He regretted that the Primate erred in law by appointing Bishop Emmanuel Maduwike as supervisory Bishop of Owerri. Again, he was worried that no sooner had Bishop Okorocha retired on 12/6/18 than Bishop Maduwike took over and summoned all Chancellors and Registrars of the Province without those of Owerri Diocese for a meeting inside the Catholic Hall Owerri. Also invited were Archdeacons and Administrators of Owerri Dioceses.
He said a contempt suit was filed on 17/6/18 praying the Court to, according to him " undo whatever they might have done" and restrain the Primate from further appointments and specifically restrain Bishop Maduwike from functioning as Supervisory Bishop of Owerri.
In his reaction, Chief DeNwigwe(SAN) insisted that the Primate and Bishop Maduwike cannot be held for contempt of court just as the Primate acted within the arm bits of the law and in not disobedience because he foresaw a chaotic, anarchy and lawless situation following the absence of a leader in the Diocese before the said appointment.
He said the Primate drew his powers from the Canon of the church which both parties subscribe to adding that the situation would have been worse because the Management Team Bishop Okorocha appointed prior to this retirement had all resigned because they saw the constitution and Canon of the church did not cover them.
The Counsel maintained that Bishop Maduwike cannot be said to be a substantive Bishop since the constitution allows him only three months to supervise.
After weighing the arguments from both sides the Court in its ruling set aside the appointment of the supervisory Bishop and subsequently nullified it.  It also stopped the Primate from making further appointments as long as the issue of Owerri Diocese was concerned.
Meanwhile, the Primate's legal team had filed an appeal on 22/6/18 at the Federal Court of Appeal challenging the ruling. The Appeal Court also asked for stay of execution of the ruling of the lower court meaning that Bishop Maduwike would remain as Supervisory Bishop of Owerri Diocese until the Appeal Court decides otherwise.