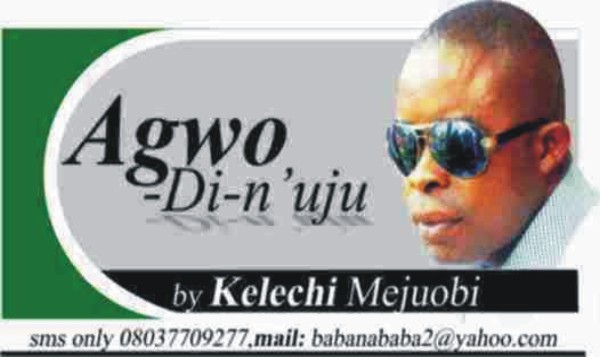 I have tried to refrain from joining issues with the Chief Press Secretary, CPS, to the governor of Imo State, a colleague in the pen pushing profession, and a pal, Sam Onwuemedo, since he became the spokesman of the number one  citizen of the state.
But intermittently, Onwuemedo who is also the proud owner of another Owerri based tabloid, named Whitepaper, squirms with a habitual Freudian slip he show- cases at will, which most times draw out other media professionals to engage him in a crossfire. This won't be the first time I abandoned the regular contents of this column to dwell on his faux pas, as he continues to operate like a media misfit.
While one tries to avoid unwarranted exchange of missiles, the more Onwuemedo engages in parapraxis, apparently borne out of illusion, fertilized by power hubris.
The last time we had reasons to exchange ink fireworks was when he took on the Trumpeta medium, I serve as co-publisher and one of the  editorial chiefs, in a despicable manner. Apart from pouring invectives laced with vituperative remarks on the Trumpeta newspaper owners for running news he considered not comfortable to his pay masters, a truculent Onwuemedo quickly rehashed damming oppressive policies against free speech and press freedom in the country, the military junta used to stifle the media in the past, to warn editorial staff of the newspaper against stories not favourable to Imo State government.
Part of Onwuemedo's sad reminder of the fascist regime of the military times was the shaving off a journalist's hair through forceful means  by a retired Military Governor of the state  and now monarch in Bayelsa State, over unfavourable reports, disappearance of a newspaper correspondent and the infamous letter bomb to one of the founders of Newswatch, late Dele Giwa. Incensed by a contemptuous indifference to the existence of others, Onwuemedo who forgot we are in a democratic era warned Trumpeta newspaper's operators to watch their backs and avoid witnessing ills of the past because he is serving the government of the day and paid to ensure press relations.
I didn't allow his habitual threat to newsmen who are not within his beck and call, to pass unnoticed, before I launched back branding  him as a media misfit obsessed with supercilious tendencies not worthy to occupy the post of a middleman between the gentlemen of the press and the state governor.
The management of the newspaper witnessed subtle attempts by Onwuemedo, who has been uncomfortable with the  medium's house style,  to stifle life out of the publishers through threatening text messages, inducement of state government petitions against  Trumpeta before  the Department of State Services, DSS, and Police as well as unbridled angst against Government officials who patronize the Owerri based tabloid.
Tumpeta management has it on good authority how Onwuemedo, who in his insipid write up denied about his government waging war against the media, was instrumental to Imo State Government dragging the newspaper publishers to the DSS and Police over a story related to his paymaster's visit to the demolished New Market, Owerri, few weeks to Christmas of 2017.
It was him that surreptitiously asked the Principal Secretary to the Governor, Dr Paschal Obi, to write to the security agencies to arrest and prosecute the journalists because their medium gave an accurate report of what transpired which government agents didn't find interesting. The government didn't stop at that, it also involved a lawyer who wrote the medium.
Undaunted by earlier pernicious tackles that yielded no fruits, Onwuemedo went further to single handedly ban the medium in Government House, Owerri. His antagonism against Trumpeta reached a crescendo a fortnight ago when the state governor and his principal, Okorocha, held interactive session with journalists in the state at the Government House, Owerri.
Irked by the presence of one of the newspaper's correspondent, Okey Alozie, at the venue, Onwuemedo went berserk and battled to forcefully bounce him out of the venue but for the intervention of the governor and other government officials who resisted his sheer display of animosity to the medium.
Apart from Trumpeta, other Owerri based medium like Newspoint, Watchdog, Hard Truth, Frontline Express and Moment have no business with Government House, Owerri courtesy of Onwuemedo.
While the dust raised by the failed attempt to stop Trumpeta correspondent in Govt House is yet to rest, Onwuemedo last week came up with an alarming proclamation against the newspaper.
Following a report carried by it over the controversies surrounding the conferment of Chieftaincy Title on Uche Nwosu, the Chief of Staff to the governor, Onwuemedo threw away decorum and common sense, though not common to issue a Fatwa on Trumpeta.
In a message he made public via social media, the governor's media aide said;
"Since I came as CPS, I have never told any government official to deal with or not to deal with any media outfit. But it has become necessary to do that with Trumpeta Newspaper based here in Owerri. We have never expected any favourable report from the tabloid judging from the political status of the owners. But there is a limit to falsehood.
"Although the government of the day in the State, does not have the habit of harassing Journalists or media houses, we however have the right to know favourable ones among them…….. 
"For this reason I want to ask or appeal to all those in the Rescue Mission Government to avoid further dealings with Trumpeta. I have no right to do this, but I want to plead with all the government officials to bear with me. Anybody in this government and who loves this administration should not be having any dealing with the tabloid. It is an appeal. And I plead with the appointees and all those concerned to understand where I am coming from.
"I take full responsibility of whatever is going to be the outcome of this action. God bless all of us. My name is Sam Onwuemeodo.
Irrespective of what the newspaper had written on Nwosu who is also the son in-law to the governor, one expected Onwuemedo not to have overshoot his boundaries in an indecorous manner suggesting that he is a half baked media relations official. While he can react on issues affecting his principal, Okorocha, Nwosu is different and has a media officer in charge of press relations. Unfortunately, Onwuemedo's chicanery against Trumpeta blinded his sense of reasoning not to differentiate between his principal and the son in-law in the course of discharging his duties. Except he wants to curry favour from the "powerful" Nwosu, all government appointees owe allegiance to now, since the governor is positioning him to become his successor in office. Come May 2019, rejoinders and press statements from the Office of Chief of Staff are expected to emanate from the media officer in the office one Vivien Onwuka. But Onwuemedo's sycophantic display that has come to the be his signature life style in office, won't let go because he wants to remain in Government House forever as a media aide; perhaps from Okorocha to Uche Nwosu.
Now to the issues raised in the Fatwa against Trumpeta to determine if Onwuemedo deserves applause over the proclamation.
The governor's media aide no doubt is being outlandish in his relationship with media operators in the state. As one who claims to have paid his dues in the system, it sounds absurd for him to expect favourable stories from newspapers, radio and TV outlets in the State when such are not the Imo Broadcasting Corporation, operators of Orient TV and Radio Stations, and the moribund Statesman, owned and financed by the government he serves.
A private owned medium like Trumpeta, with its watchword as the "Voice of The People" is guided by the ethics of the job not to be the mouthpiece of the Imo State government, or any other organization. Rather, it employs best practices to play the role of the watchdog of the society by presenting balanced stories devoid of jaundiced remedies meant to massage the ego of the  Onwuemedo and his paymasters.
Considering the years Onwuemedo has put into the trade and in view of his background as a private newspaper owner, he is expected to have known that no media survives through government patronage not to talk of the administration he is serving that has only succeeded in infesting residents of the state with abject poverty and deprivation. The media sector is not also left out too. Onwuemedo would have shamelessly avoided this aspect in his Fatwa than "scratch" operators to squeal on the regrettable Rescue Mission system of re-skewing the media since it came on board in 2011.  Though his medium might be an exception this time, as he carefully promoted the gradual killing of Imo Government owned Statesman newspapers, to create room for his Whitepaper Newspaper, as the major beneficiary of government patronage. No newspaper survives through government patronage in Imo State except his Whitepaper as he supervises the death status of the Statesman, leaving behind hundreds of the establishment's workers jobless and starving to death as a result of no pay.
While I challenge Onwuemedo to name any media house in the state he has honoured their invitations for any occasion and made any handsome pledge on behalf of the government since he came on board as CPS, let him not forget that when he launched Whitepaper in Concord Hotel nine years ago, I was present. As the Chief Press Secretary, CPS, to the then Speaker, of the Imo State House of Assembly, Goodluck Nanah Opiah, I, on behalf of my principal gave him the sum of N100,000. On the few occasions Trumpeta newspapers had cause to organise an event, I still challenge him to come open and indicate if he ever attended any or that of others and what he gave as donation,  before asking government appointees to refrain from patronising Trumpeta.
Instead, what Trumpeta managed to benefit from Onwuemedo was a nasty text message he sent to one of partners and the Editor In-Chief, Henry Ekpe who lost the dear wife to accident in Dec 2014. While who- is- who in the State including top officials of Rescue Government, he serves, sent words of sympathy, visited for condolences and attended the burial, the CPS to the governor, a week after burial only sent a message alleging that "Ekpe used the wife for rituals", as if he is the owner of life and death and no one close to him has died in the past, after expressing happiness over the loss of the young woman. It was unexpected from the person of his standing that for a story he disliked, the dead was mocked. Onwuemedo should be ashamed to raise the issue of patronising media houses because the outgoing government he is serving has already scored zero and nature won't forgive him for being at the driving seat of this sheer inhumanity to the gentlemen of the press. If Onwuemedo should have sense of memory and research his archives, he would have noticed that during my days as CPS to the Speaker of Imo Assembly, the fee paid to him and other Owerri based media operators of that era like Announcer, Horn, Newspoint  and others was not below #100,000 per one page colour. The likes of Lambert Ojukwu of Newspoint, Bright Chimezie Njoku of Horn, Gele Agbai, formerly of Newspoint but now Newsbreak, the late publisher of Announcer or even Emeka Nkwoada one of his editors can also testify to this fact. I have records where I paid Onwuemedo #100,000 per colour page advert handed to his Whitepaper four years before he was appointed Okorocha's CPS. I now challenge him to name one single advert he placed on Trumpeta six years he has spent so far in Government House, Owerri, as one in charge of governor's media outlet. The Latin word for the "Fact Speaks for itself" is "Res Ipsa Loquitor". Let his fact speak for . I challenge him to react to this before we shall clap for him, sorry clap for Jesus, over his Fatwa against Trumpeta. Unfortunately, apart from Whitepaper he uses his vintage position to appropriate all state government adverts as well as using his position in the governor's office to coerce government appointees into patronizing it, Onwuemedo shamelessly pays a paltry sum of #30,000 per colour page advert into newspaper houses willing to tolerate his shenanigans, hook, lime and sinker; far below the N100,000 I paid him nine years ago.
Before asking government officials to withdraw patronage to Trumpeta, Onwuemedo would have also known that the altruistic postures of appointees of his paymasters do not worth more than a Zimbabwean dollar. The regime of his principal has hitherto pauperised appointive positions in the state, thereby forcing them to bargain for unimaginable amount of #20,000 per colour page advert; A development considered to be an anathema in the industry. Onwuemedo should also cover his face in shame than push one to open up on the poverty status of appointees serving his pay master who lack the capacity to patronize a publishing newspaper house. How would he reconcile the fact that while as a full fledged publisher  he received less than #100,000 for one page colour advert from those in government years ago and now paltry sum of #20,000 is paid by officials of the government he is serving?
One can also be forced to query Onwuemedo on what Trumpeta stands to gain from the administration he is serving when the days of his paymasters in offices are being counted. If they have not done so in the past seven years, will it be now the game is over? I will ask the governor's media aide to come in the open and disclose a common patronage Okorocha or his appointees has done to appreciate any of the lively Owerri based tabloids than an induced divide and rule tactics orchestrated by him to dismember the unity of purpose in the once flourishing Independent Newspapers Publishers Association, INPA, now divided into two parts with a faction controlled by government through his effort. I wish Onwuemedo would go into memory lane and recall that as CPS to the Speaker, I organised regular interface between the Imo State House of Assembly and the Owerri based publishers where the go home with three digits. The last one held at the private home of the then House Committee chairman on Information, I wouldn't mention his names, he was handsomely appreciated alongside others despite the editorial style he adopted during that period. I still wish he gives such testimony about any home based tabloid he has used the office of the governor to appreciate than instituting schism, commotion and hatred among journalists plying their trade.
It is official that the irascible Onwuemedo has surreptitiously kicked out notable senior journalists and household names in the Correspondent Chapel of Imo NUJ from coming near Government House, Owerri. History will never forgive him for deliberately barring Imo State correspondents of Thisday (Amby Uneze) veteran Chidi Nkwopara of Vanguard and at a time Punch guy, Chidiebube Okeoma from affairs of the governor. Their sins are that the hold tenaciously to the tenets of the job and fail to write what pleases his pay masters. The very hypocritical Onwuemedo should also shamelessly reveal why he still sends his regular "Janjaweed" press releases to official email of Trumpeta after passing a fatwa that government officials should not patronize the medium.
As at the time of this report, his latest release about the coming election in Imo State was sent to the company email. What an Irony!.
I can't end this commentary without reminding him again that several chief press secretaries have warmed the office. He is not the first and won't be the last. Since the advent of our nascent democracy, Mbadiwe Emelumba and Bright Nwelue were there for Achike Udenwa. My partner, Henry Ekpe had a taste of the office before him when my former boss in defunct New Age newspapers, Steve Osuji left Ikedi Ohakim. At least, Chinedu Offor and another pal Ebere Uzoukwa also had a feel of the office before he was appointed to service Okorocha. No matter the number of years he spends in office it can never be his abode forever. Therefore he deserves no clap because we shall continue to clap for Jesus.