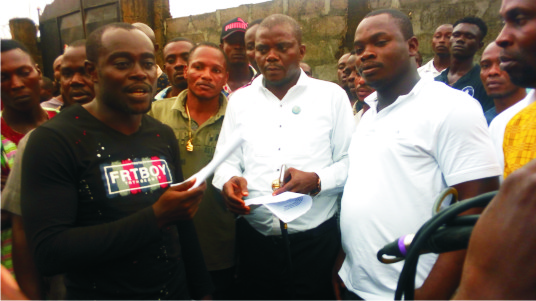 by Amaechi Kingsley
Sequel to the erroneous impression by Imolites after a peaceful demonstration at SEPLAT by some youths of Ohaji/Egbema LGA under the umbrella, Awara Court Area Youth Front on 30th August, 2018, the group has disassociated itself from scrupulous elements that hide to malign their genuine intentions for the development of their communities.
Briefing journalist last Friday in Owerri, the youths from the area who were led by Engr. Nwibari Henry, Eruka Stanley, Felix Omerije and general Chika Juba stated that their peaceful demonstration at SEPLAT was not politically motivated nor aimed to tarnish the image and reputation of any leader from the area but rather to call the attention of the oil company to a round table where they can sign a GMOU with their host communities.
The group noted that the misplaces judgment surrounding the last protest was uncalled for as they reiterate their support for Engr. Uju Chima Kingsley and the rescue mission government led by Governor Rochas Okorocha.
The coordinator of the group, Arch Emmanuel Ugorji who affirmed reasons for their protest, noted that it was not targeted at individual, group or government but only seeks an interface with the oil company as they disassociate themselves from any individual or group perpetuating questionable actions against the rescue mission government led by Governor Okorocha and his deputy chief of staff, Engr Kingsley Uju.
They insist that their peaceful demonstration at SEPLAT remains until they familiarize with the host communities and sign the GMOU.
They further acknowledged the role of Engr. Kingsley Uju in restoring sustainable peace and development in the communities and appealed the state government to compel Oil Company in the area to sign the GMOU and ensure its effectiveness.
According to them, "anybody who wants to disrupt the relative peace enjoyed in the area should stay clear from our communities", they concluded.
Responding, the newly elected local government of Ohaji/Egbema, Hon Ebenezer Amadi who assured to convey their message to the appropriate authorities promised the group that their demand will be met for the peace enjoyed to be sustained as he hinted that development cannot thrive without peace.
Hon Amadi further enjoined people of the area to support the state government as he attested to governor Okorocha's unflinching resolve to develop the area and urged them to cooperate with him at the LGA level to ensure Ohaji/Egbema attain enviable height.