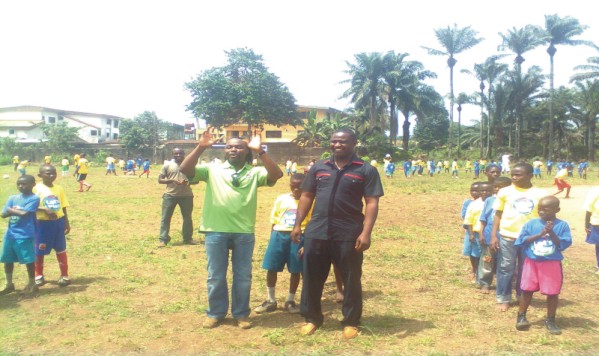 The Imo State Head of Service, Mr Evan Uzokwe has called for a total restructuring and development of our grassroot sports programme in other for enable the nation to excel once again in International outings.
Mr Uzokwe who stated this in his office on Thursday when members of the state SWAN paid him a courtesy visit described SWAN as very exceptional people.
He however expressed his displeasure on the lack of young talents being discovered in the recent sporting events our Nation participates in. Uzokwe also called on the authorities to go back to the grassroot and re – discover the magic that unleashed sports, talents like him and the current Director General of (NSC), Dr Pat Ekeji.
He also took time to recount the good old days when he represented this collage (Holy Ghost collage Owerri) along side notable names like Pat Ekeji, Kevin Onwana, Santos Mba, etc in the old academic sports and they he were able to progress from that level to play for P & T football club and Spartans of Owerri now known as Heartland football club.
Uzokwe who also represented Nigeria at the international level both in football and Athletics posited that only when we go back and make our grassroot programmes better, then we can enjoy rich talents in our sports again.
The one time permanent secretary of finance further expressed the need for our sports men and women to always think of their future while still performing their God's given talents as he and Ekeji are pure examples with what they have become in life today as they were able to enroll into the universities to enhance their prospects.
He also called on SWAN to continue in their efforts of keeping the public informed and educated as part of nation building, adding that as a civil servant that he is a member of the "Rescue Mission Agenda".
The government of Rochas Okorocha which he is part of the administration in his own opinion has been doing everything to ensure that all aspects of our state is rescued with the on going projects in the state and most of the government policies which has repositioned the civil service sector in Imo.