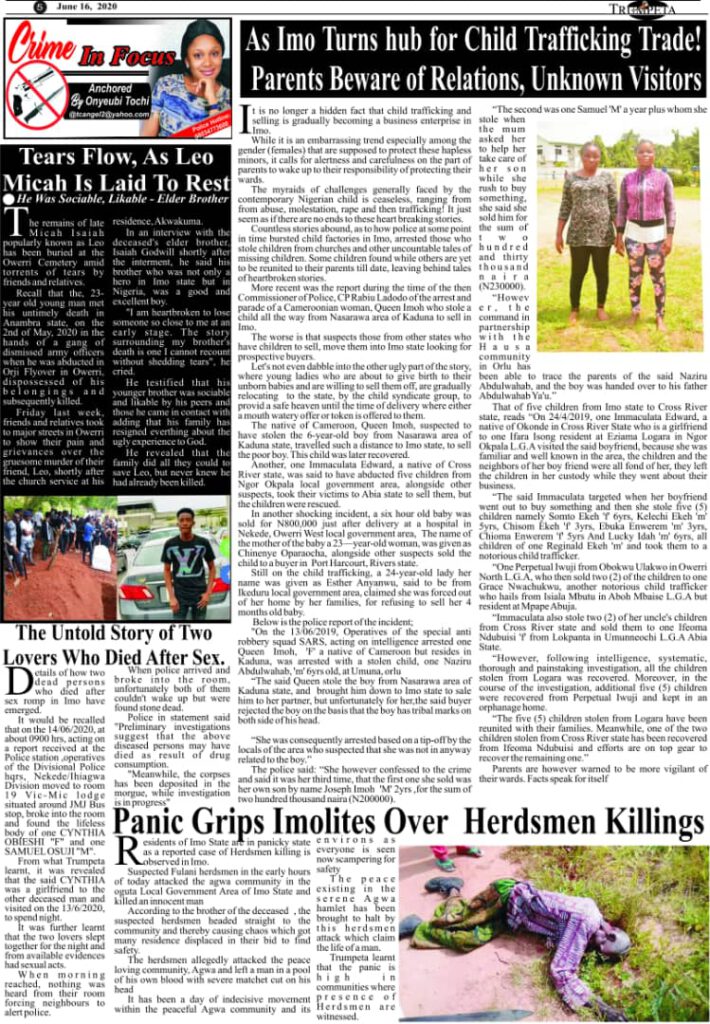 As Imo Turns hub for Child Trafficking Trade!
Parents Beware of Relations, Unknown Visitors
It is no longer a hidden fact that child trafficking and selling is gradually becoming a business enterprise in Imo.
While it is an embarrassing trend especially among the gender (females) that are supposed to protect these hapless minors, it calls for alertness and carefulness on the part of parents to wake up to their responsibility of protecting their wards.
The myraids of challenges generally faced by the contemporary Nigerian child is ceaseless, ranging from from abuse, molestation, rape and then trafficking! It just seem as if there are no ends to these heart breaking stories.
Countless stories abound, as to how police at some point in time bursted child factories in Imo, arrested those who stole children from churches and other uncountable tales of missing children. Some children found while others are yet to be reunited to their parents till date, leaving behind tales of heartbroken stories.
More recent was the report during the time of the then Commissioner of Police, CP Rabiu Ladodo of the arrest and parade of a Cameroonian woman, Queen Imoh who stole a child all the way from Nasarawa area of Kaduna to sell in Imo.
The worse is that suspects those from other states who have children to sell, move them into Imo state looking for prospective buyers.
Let's not even dabble into the other ugly part of the story, where young ladies who are about to give birth to their unborn babies and are willing to sell them off, are gradually relocating to the state, by the child syndicate group, to provid a safe heaven until the time of delivery where either a mouth watery offer or token is offered to them.
The native of Cameroon, Queen Imoh, suspected to have stolen the 6-year-old boy from Nasarawa area of Kaduna state, travelled such a distance to Imo state, to sell the poor boy. This child was later recovered.
Another, one Immaculata Edward, a native of Cross River state, was said to have abducted five children from Ngor Okpala local government area, alongside other suspects, took their victims to Abia state to sell them, but the children were rescued.
In another shocking incident, a six hour old baby was sold for N800,000 just after delivery at a hospital in Nekede, Owerri West local government area, The name of the mother of the baby a 23—year-old woman, was given as Chinenye Oparaocha, alongside other suspects sold the child to a buyer in Port Harcourt, Rivers state.
Still on the child trafficking, a 24-year-old lady her name was given as Esther Anyanwu, said to be from Ikeduru local government area, claimed she was forced out of her home by her families, for refusing to sell her 4 months old baby.
Below is the police report of the incident;
"On the 13/06/2019, Operatives of the special anti robbery squad SARS, acting on intelligence arrested one Queen Imoh, 'F' a native of Cameroon but resides in Kaduna, was arrested with a stolen child, one Naziru Abdulwahab, 'm' 6yrs old, at Umuna, orlu
"The said Queen stole the boy from Nasarawa area of Kaduna state, and brought him down to Imo state to sale him to her partner, but unfortunately for her,the said buyer rejected the boy on the basis that the boy has tribal marks on both side of his head.
"She was consequently arrested based on a tip-off by the locals of the area who suspected that she was not in anyway related to the boy."
The police said: "She however confessed to the crime and said it was her third time, that the first one she sold was her own son by name Joseph Imoh 'M' 2yrs ,for the sum of two hundred thousand naira (N200000).
"The second was one Samuel 'M' a year plus whom she stole when the mum asked her to help her take care of her son while she rush to buy something, she said she sold him for the sum of two hundred and thirty thousand naira (N230000).
"However, the command in partnership with the Hausa community in Orlu has been able to trace the parents of the said Naziru Abdulwahab, and the boy was handed over to his father Abdulwahab Ya'u."
That of five children from Imo state to Cross River state, reads "On 24/4/2019, one Immaculata Edward, a native of Okonde in Cross River State who is a girlfriend to one Ifara Isong resident at Eziama Logara in Ngor Okpala L.G.A visited the said boyfriend, because she was familiar and well known in the area, the children and the neighbors of her boy friend were all fond of her, they left the children in her custody while they went about their business.
"The said Immaculata targeted when her boyfriend went out to buy something and then she stole five (5) children namely Somto Ekeh 'f' 6yrs, Kelechi Ekeh 'm' 5yrs, Chisom Ekeh 'f' 3yrs, Ebuka Enwerem 'm' 3yrs, Chioma Enwerem 'f' 5yrs And Lucky Idah 'm' 6yrs, all children of one Reginald Ekeh 'm' and took them to a notorious child trafficker.
"One Perpetual Iwuji from Obokwu Ulakwo in Owerri North L.G.A, who then sold two (2) of the children to one Grace Nwachukwu, another notorious child trafficker who hails from Isiala Mbutu in Aboh Mbaise L.G.A but resident at Mpape Abuja.
"Immaculata also stole two (2) of her uncle's children from Cross River state and sold them to one Ifeoma Ndubuisi 'f' from Lokpanta in Umunneochi L.G.A Abia State.
"However, following intelligence, systematic, thorough and painstaking investigation, all the children stolen from Logara was recovered. Moreover, in the course of the investigation, additional five (5) children were recovered from Perpetual Iwuji and kept in an orphanage home.
"The five (5) children stolen from Logara have been reunited with their families. Meanwhile, one of the two children stolen from Cross River state has been recovered from Ifeoma Ndubuisi and efforts are on top gear to recover the remaining one."
Parents are however warned to be more vigilant of their wards. Facts speak for itself
Tears Flow, As Leo Micah Is Laid To Rest
…….. He Was Sociable, Likable – Elder Brother
The remains of late Micah Isaiah popularly known as Leo has been buried at the Owerri Cemetery amid torrents of tears by friends and relatives.
Recall that the, 23-year old young man met his untimely death in Anambra state, on the 2nd of May, 2020 in the hands of a gang of dismissed army officers when he was abducted in Orji Flyover in Owerri, dispossessed of his belongings and subsequently killed.
Friday last week, friends and relatives took to major streets in Owerri to show their pain and grievances over the gruesome murder of their friend, Leo, shortly after the church service at his residence, Akwakuma.
In an interview with the deceased's elder brother, Isaiah Godwill shortly after the interment, he said his brother who was not only a hero in Imo state but in Nigeria, was a good and excellent boy.
"I am heartbroken to lose someone so close to me at an early stage. The story surrounding my brother's death is one I cannot recount without shedding tears", he cried.
He testified that his younger brother was sociable and likable by his peers and those he came in contact with adding that his family has resigned everthing about the ugly experience to God.
He revealed that the family did all they could to save Leo, but never knew he had already been killed.
Herdsmen Wreck Havoc in Imo Community Again, , Hacks Man To Death
Pandemonium struck in the wee hours of Saturday morning in Agwa, Oguta Local Government Area, of Imo state, as men suspected to be Fulani Herdsmen and armed to the teeth, attacked the sleeping community and killed an aged man.
The unsuspecting community was thrown into confusion as members scampered for the safety of their lives.
According to the brother of the deceased, who gave an eye witness account of the incident, informed that the suspected herdsmen headed straight to the community, causing chaos which got many residence displaced in their bid to find safety.
He informed that, the men attacked his brother leaving him in the pool of his own blood with severe matchet cut on his head
The incident it was gathered, has left the community heavily shaken as everyone is seen looking for succour in the neighboring community.
However, the member representing the constituency, Hon Frank Ugboma who visited the community, assured them that justice must be served and perpetrators must not escape the full weight of the law
He reaffirmed his commitment to secure lives and property of all members of his constituents, while calling on the state government to help remedy the situation before it escalates and jeopardises the peace of the community
The lawmaker who couldn't hold back his tears consoled family of the deceased and assured them of government timely intervention any moment soon.
Recall that this is not the first time Agwa had reported threats and attack of Fulani herdsmen. Last year, Obudi a community in Agwa apprehended two herders with bullets in their sack and has continued to raise alarm over the unwanted continued stay of herders in their bushes.
The Untold Story of Two Lovers Who Died After Sex
Details of how two dead petsons who died after sex romp in Imo, have emerged.
It would be recalled that on the 14/06/2020, at about 0900hrs, acting on a report recieved at the police station, operatives of the Divisional police hqrs, Nekede/ Ihiagwa Division moved to room 19 Vic- Mic lodge situated around JMJ bus stop, broke into the room and found the lifeless body of one Cynthia Obieshi "F" and one Samuel Osuji "M".
From what Trumpeta learnt, it was revealed that the said Cynthia was a girlfriend to the other deceased man and visited on the 13/6/2020 to spend night.
It was further learnt that the two lovers slept together for the hight and from available evidences jas sexual acts.
When morning reached, nothing was heard from their room forcing neighbours to alert police.
When police arrived and broke into the room, unfortunately, both of them couldn't wake up but were found stone dead.
Police in statement said, " Preliminary investigations suggest that the above deceased persons may have died as a result of drug consumption.
Meanwhile, the corpses has been deposited in the morgue, while investigation is in progress".