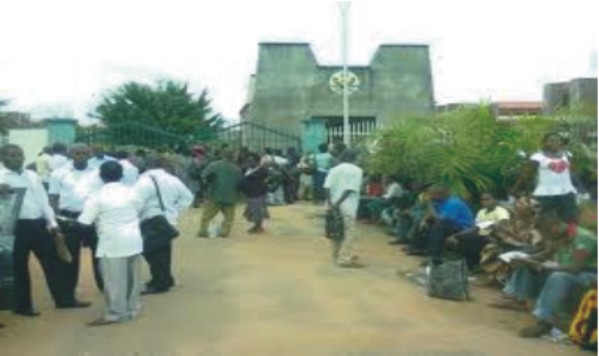 Workers of Imo Foundation, an agency of the Imo State Government has vehemently rejected the sack notice handed to them.
Employees of the foundation which was established during the Owelle Rochas Okorocha era were on Monday handed the shock of their lives when sign post at the entrance of the gates showed that they have been sacked.
Tension was high at the Hospital/Umuaguma Road when the staff came to work but were greeted with sack notice.
The aggrieved workers who gathered in groups to discuss their misfortune not only rejected the sack but also demanded for their over one year salaries owed them by government.
Trumpeta learnt that latter of sack was also handed to them and all efforts to speak to the Director-General of the Imo foundation, Dr Mrs Benlah Chukwuma was expected to have addressed the aggrieved, but to no avail.
Many majority of the workers who spoke to Trumpeta expressed that it amounts to sheer wickedness on the part of the government and management to relieve them of appointment after non payment for a year.
In a protest letter the workers make public reads; "pay us before we accept sack letter" Imo Foundation Retain Us like other staff until paid" and why terminate us after no payment"
Meanwhile, the staff alleged that the government has committed several atrocities through non payment of 14 months salary.
Efforts to reach the DG for comments proved abortive as she was said not to be in office when our reporter called.
About 8 staff sacked last month of July without payment of salary while
7 staff sacked last September 2019 without payment
Termination given that never indicated that they should come and take their salary.