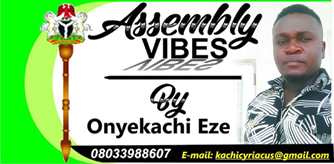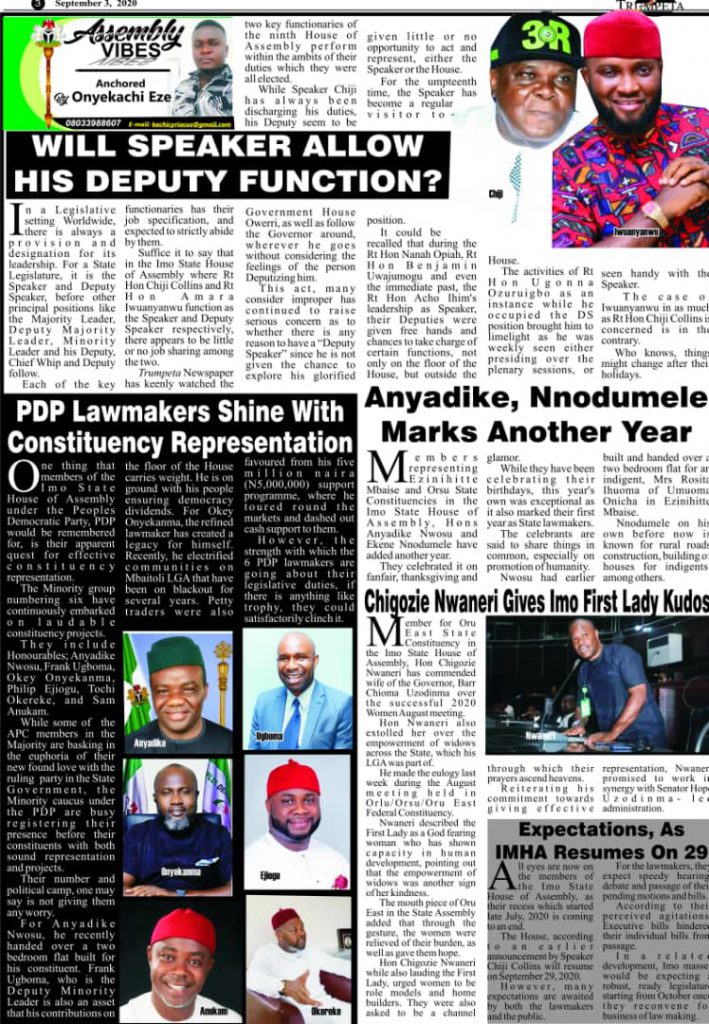 In a Legislative setting Worldwide,  there is always a provision and designation for its leadership. For a State Legislature, it is the Speaker and Deputy Speaker, before other principal positions like the Majority Leader, Deputy Majority Leader, Minority Leader and his Deputy, Chief Whip and Deputy follow. 
Each of the key functionaries has their job specification, and expected to strictly abide by them.
Suffice it to say that in the Imo State House of Assembly where Rt Hon Chiji Collins and Rt Hon Amara Iwuanyanwu function as the Speaker and Deputy Speaker respectively, there appears to be little or no job sharing among the two.
Trumpeta Newspaper has keenly watched the two key functionaries of the ninth House of Assembly perform within the ambits of their duties which they were all elected.
While Speaker Chiji has always been discharging his duties, his Deputy seem to be given little or no opportunity to act and represent, either the Speaker or the House.
For the umpteenth time, the Speaker has become a regular visitor to Government House Owerri, as well as follow the Governor around, wherever he goes without considering the feelings of the person Deputizing him.
This act, many consider improper has continued to raise serious concern as to whether there is any reason to have a "Deputy Speaker" since he is not given the chance to explore his glorified position.
It could be recalled that during the Rt Hon Nanah Opiah, Rt Hon Benjamin Uwajumogu and even the immediate past, the Rt Hon Acho Ihim's leadership as Speaker, their Deputies were given free hands and chances to take charge of certain functions, not only on the floor of the House, but outside the House.
The activities of Rt Hon Ugonna Ozuruigbo as an instance while he occupied the DS position brought him to limelight as he was weekly seen either presiding over the  plenary sessions, or seen handy with the Speaker.
 The case of Iwuanyanwu in as much as Rt Hon Chiji Collins is concerned is in the contrary.
Who knows, things might change after their holidays.
PDP LAWMAKERS SHINE WITH CONSTITUENCY REPRESENTATION
One thing that members of the Imo State House of Assembly under the Peoples Democratic Party, PDP would be remembered for, is their apparent quest for effective constituency representation.
The Minority group numbering six have continuously embarked on laudable constituency projects.
They include Honourables; Anyadike Nwosu, Frank Ugboma, Okey Onyekanma, Philip Ejiogu, Tochi Okereke, and Sam Anukam.
While some of the APC members in the Majority are basking in the euphoria of their new found love with the ruling party in the State Government, the Minority caucus under the PDP are busy registering their presence before their constituents with both sound representation and projects.
Their number and political camp, one may say is not giving them any worry.
For Anyadike Nwosu, he recently handed over a two bedroom flat built for his constituent. Frank Ugboma, who is the Deputy Minority Leader is also an asset that his contributions on the floor of the House carries weight. He is on ground with his people ensuring democracy dividends. For Okey Onyekanma, the refined lawmaker has created a legacy for himself. Recently, he electrified communities on Mbaitoli LGA that have been on blackout for several years. Petty traders were also favoured from his five million naira (N5,000,000) support programme, where he toured round the markets and dashed out cash support to them.
However, the strength with which the 6 PDP lawmakers are going about their legislative duties, if there is anything like trophy, they could satisfactorily clinch it
EXPECTATIONS, AS IMHA RESUMES ON 29
All eyes are now on the members of the Imo State House of Assembly, as their recess which started late July, 2020 is coming to an end.
The House, according to an earlier announcement by Speaker Chiji Collins will resume on September 29, 2020.
However, many expectations are awaited by both the lawmakers and the public.
For the lawmakers, they expect speedy hearing, debate and passage of their pending motions and bills.
According to their perceived agitations, Executive bills hindered their individual bills from passage.
In a related development, Imo masses would be expecting a robust, ready legislature starting from October once they reconvene for business of law making.
ANYADIKE, NNODUMELE MARKS ANOTHER YEAR
Members representing Ezinihitte Mbaise and Orsu State Constituencies in the Imo State House of Assembly, Hons Anyadike Nwosu and Ekene Nnodumele have added another year.
They celebrated it on fanfair, thanksgiving and glamor.
While they have been celebrating their birthdays, this year's own was exceptional as it also marked their first year as State lawmakers.
The celebrants are said to share things in common, especially on promotion of humanity.
Nwosu had earlier built and handed over a two bedroom flat for an indigent, Mrs Rosita Ihuoma of Umuoma Onicha in Ezinihitte Mbaise.
Nnodumele on his own before now is known for rural roads construction, building of houses for indigents, among others.
CHIGOZIE NWANERI GIVES IMO FIRST LADY KUDOS
Member for Oru East State Constituency in the Imo State House of Assembly, Hon Chigozie Nwaneri has commended wife of the Governor, Barr Chioma Uzodinma over the successful 2020 Women August meeting.
Hon Nwaneri also extolled her over the empowerment of widows across the State, which his LGA was part of.
He made the eulogy last week during the August meeting held in Orlu/Orsu/Oru East Federal Constituency.
Nwaneri described the First Lady as a God fearing woman who has shown capacity in human development, pointing out that the empowerment of widows was another sign of her kindness.
The mouth piece of Oru East in the State Assembly added that through the gesture, the women were relieved of their burden, as well as gave them hope.
Hon Chigozie Nwaneri while also lauding the First Lady, urged women to be role models and home builders. They were also asked to be a channel through which their prayers ascend heavens.
Reiterating his commitment towards giving effective representation, Nwaneri promised to work in synergy with Senator Hope Uzodinma- led administration.