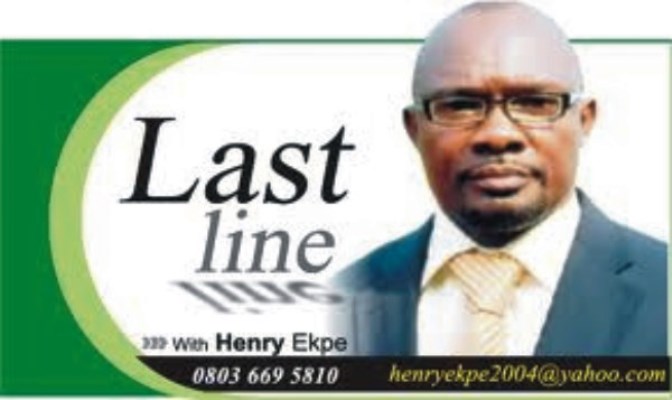 By Henry Ekpe
The Senatorial position of Okigwe people (Imo North) has become a thorn on the flesh of Imo State.
For nearly one full Legislative tenure, Okigwe people have no representative in the Senate of the Federal Republic of Nigeria.
Instead, every effort by the Electorate, the Independent Electoral Commission INEC and political parties to bring the lingering poll to a conclusive end has proved abortive.
The exercise has shown the bitterness and division that exist in one of the Three Senatorial zones in Imo State; Okigwe zone.
While Owerri and Orlu Senatorial zones have since conducted and completed their own elections and moved on, Okigwe Area has refused to see reason as Brothers battle Brothers and Sisters tackle Sisters.
However, as the Okigwe imbroglio opens our eyes to the various challenges facing the people of the Area, it has at the same time opened another Can of worm; the clay feet of the All Progressive Congress, APC in Imo State.
The Okigwe Senatorial election has continued to unveil a lot in Imo polity. The unending political war in Okigwe has now exposed the mess in Imo APC. It has shown that Imo APC is a political party at war with itself.
Rather than face the issue of who takes over from late Senator Benji Uwajumogu who died on the seat, Okigwe people are now saddled with a bigger scenario; which is how to arrive on who picks APC ticket.
And if care is not taken, this matter will pull the entire House down. However, the good thing is that INEC has released its calendar on the Okigwe Senate bye- election, and it would be followed to the letter, and must go on.
There is no where it was stated that APC must produce a candidate before the election goes on. There are other political parties too who must participate in the election, whether APC shows up or not.
What is happening now in Okigwe Zone APC, nay Imo APC in general is a prelude to what to expect in 2023 election in the State from APC. More worrisome now that the party has introduced another word to Imo political lexicon; Ben Johnson.
The issue is that, it is one thing to be a ruling party, but it is an entirely different situation to manage the success that comes with it.
Because of the type of Democracy we practice in this clime, where it appears compulsory that every ruling party must coarse the Electoral Body to return all its candidates in an election, whether they are fools or half dead, every ambitious politician joins the party in power.
This is the reason the Imo APC is tearing into shreds because of a Senatorial ticket. It is the belief that anybody who picks the Okigwe APC tickets is assumed to have won the main election.
Had APC not occupied Aso Rock as the National Ruling Party, would all the Aspirants be jostling for the Singular ticket of Okigwe Senate APC ticket?
However, it must be noted that one day begins a story. One day this puerile assumption that candidates of ruling parties must win elections will stop.
But presently in the case of Imo State, it has exposed that Imo APC is still riddled with crevices and has no central control.
Before the matter got out of hand, the Governor of Imo State, Senator Hope Uzodinma had ordered that a Committee be set up to produce a consensus candidate for the Okigwe Senate.
But it was shocking and surprising that despite this directive from the presumed Leader of the party in the State, the APC could still not arrive at a concensus candidate as instructed by the Leader, the Governor. It was a clear indication that Imo APC has no respect for the Leader, and therefore rudderless. It has no head and a clearing the House, in the State.
Such a directive cannot be flaunted in Peoples Democratic Party, PDP Imo State chapter that does not even have a Governor now that has the power of Finance and Security. You don't need lenses to see a disciplined political party that adheres to the rules and regulations of its constitution. A party that obeys its Leaders and Elders.
Imo APC has humiliated its Leader, humiliated Okigwe people, and now at the verge of humiliating people of Imo State in general.
And unfortunately, the war in Imo APC has just begun. A House divided among itself cannot stand, so says the Bible. Is it not strange that an Electoral Body constituted by the APC hierarchy in Abuja, landed Imo State and split into two, with one half speaking from both side of its mouth, while the other speaks in different Tongues?
As at this material time, it is not yet clear who is the candidate of APC in the Okigwe election, while PDP, APGA, AA and others have all produced their own candidates waiting for the election proper.
For those who do not know, it is these mentioned parties that ought to have crisis since they may not have a final authority that could sneeze and others catch cold.
How could APC that has a Governor not obey their Apex Leader? Who is that that could challenge an Emeka Ihedioha in PDP as a Governor and Leader of the Party?
Who could disregard the instruction of an Ikedi Ohakim, the Governor, as the Leader of PDP? It is not imposition or impunity, but obeying party rules by being disciplined.
Imo APC has literally collapsed. As long as a political party has no Leader that can give a final instruction and it is obeyed, that political is without a Head and in disarray.
In the present situation in Okigwe Senate, what should have been the final action by those who disobeyed the Leader's choice was to leave the party and pursue their ambitions elsewhere. But that was not the situation, instead they challenged the Leader and dammed his instruction.
Indeed, the history of Imo APC cannot be twisted and expect the result to be different. The true fact is that Senator Rochas Okorocha single-handedly brought APC to Imo State. But due to his political miscalculation caused by greed for power, he lost most of his followers who wanted anything at all, but not Okorocha.
It was his bent on foisting his son inlaw, Uche Nwosu as his successor in 2019 that led APC hierarchy then led by Adams Oshiomhole to instruct Alhaji Gulak to handover the party's ticket to Senator Hope Uzodinma, whom they saw at that time as the only man who could checkmate Okorocha and cure his political brigandage.
This act served a purpose then, but as time went on, other issues began to develop naturally, since life is dynamic.
So, presently in Imo State, a lot of water has passed under the APC bridge because alignments and realignments had occurred within the party since a year now.
This alignment includes the coming together of Senators Rochas Okorocha, Ifeanyi Araraume and Hope Uzodinma, to push out a perceived common enemy, Governor Emeka Ihedioha.
And within this period, there may have been agreements which culminated with the sacking of Governor Emeka Ihedioha on Jan 14, 2020, which led Okorocha and Araraume to enter Imo State together on January 15, 2020 to physically witness Uzodinma's inauguration.
Now, the chicken has come home to roost. I suspect that there was an agreement that was not obeyed. The major crisis prior to the Okigwe Senate saga has been that of Okorocha's men and Uzodinma's followers.
The quarrel between Uzodinma and Okorocha had dominated Imo Airwaves which has relegated the Uzodinma, Ihedioha fight to the back seat.
The Uzodinma versus Okorocha issue was hinged on Uzodinma's continuous probe of the Okorocha's era when both men are of the same APC, according to Uzodinma. So, for Okorocha to have raised this matter before Uzodinma, who knows if it was part of what was discussed before Okorocha joined the Uzodinma Train?
But the burning issue tearing Imo APC apart now is the Araraume Senatorial ambition. Who knew what may have led Araraume to abandon APGA and threw his support for Uzodinma? Was the Senatorial slot discussed? These are questions we may not have the answer so soon.
But it is clear that Imo APC is a trouble, because the party has failed to manage its fortunes, while its members have refused to obey their Leader.
Knowing Senator Ifeanyi Araraume as a good political fighter, coupled with the fact that Okorocha may be in the same Trench with him, Imo APC has unraveled, and the Leader, Governor Hope Uzodinma must find the way out.
Okorocha who brought APC to Imo cannot be disgraced out of the Farm he watered from the seeding stage, while Araraume whose latest political battle may cause him a lot if he loses, must hold tenaciously until something gives.
Minister Emeka Nwajiuba who himself had operated these past years in Abuja, only to storm Imo to harvest where he did not sow, by throwing in his prodigee into the ring, must gird his Ioin for a hectic roforofo. By the time these Heavy Elephants are done with the very pitiable Imo APC, whatever is remained of it should be presented to the grass root as the carcass. Surely, the "Ben Johnson" model will fail Imo APC. And it has failed.