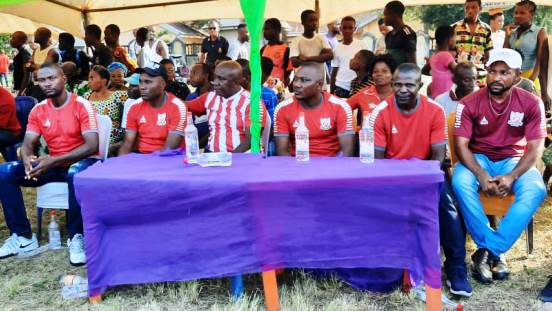 Following the seeming issues bedeveiled Heartland Football Club of Owerri in the past, the Interim Management Committee of the club has clearified that the General Mnager of the NPFL side is at liberty to do his job.
This aserssion was disclosed to members of the Sports Writers Association of Nigeria SWAN, Imo State Chapter on Tuesday at the Concord Hotel, Owerri during a press conference to clear the air on several issues bothering the club including the resent losses it has recorded in the on going 2020/21 NPFL season where it has lost 4 games in 5 conceeding over 11 goals and scoring just 4.
Speaking at the event, the spokesman of the Committee, Sir Emma Ochiagha said though there were little misunderstandings here and there but that they have been able to put their house in order and are more than united to close ranks towards achieving success starting with their next league game against Akwa United this Sunday at the Dan Anyiam Stadium, Owerri.
He however clearified that the role of the Sports Ministry and that of the Deputy Speaker, Imo house of Assembly is purely on supervisory mode as requested by the state Governor, Sen Hope Uzodinma adding that government esterblishemnt is run based on beaurocracy.
The management committee assured that moving forward that normalcy has been rstored among all ranks and that they wish to appologize to imolites for the poor run so far but promised that they will soon start getting good results
In a release signed by the club's Interim Management Committee spokesman, Sir Emma Ochiagha they reassured their committment to run a transperent and all inclusive administration for the success of the club.
"This is designed to inform the press and the members of the public about the situational status of Heartland Club, Owerri ranging from the challenges we met on ground and the efforts we are making to solve them and subsequently to encourage all men of goodwill, sports lovers, sports promoters and investors to come and join us to salvage Heartland Football Club, the sports that unites everybody in Imo State.
"However, we are using this medium to tender our unreserved apology to Ndi-Imo for our recent football match losses. Though, this is not an opportunity to give excuses but it may interest you to know some of our challenges.
On resumption of office, we inherited a lot of debts ranging from accommodation, players and staff salaries, players clearance, training kits and facilities etc.
"Despite the volume of debts which was in several millions, we did not allow that to weigh us down as we swung into action liaising with our supervisors and our sports loving Governor who proactively took responsibility for the payment of players registration and clearance, Staff salaries, sports facility upgrade of Dan Anyiam Stadium, players and technical crews allowances etc.
"It is on record that all the expenses made were through the efforts of our able supervisors to see that Heartland Football Club was not disbanded from playing this season tournaments.
"At this stage that we are laying solid foundation for the Club, every stakeholder must be duty bound to pay deaf ears to gossips, destructive criticisms and channel all necessary suggestions to the appropriate quarters.
" While we reassure you of our commitments to run a transparent and all inclusive administration in line with the 3R mantra of the governor, we sincerely appreciate everyone for making out time for this interactive press conference.
Thanks and God bless you.
Present at the press conference include, Deputy Speaker, Rt Hon Amara Iwuanyanwu(who later left), Hon Dan Ogu, Commissioner for Sports, Youth & Social Develeopment, Barr Ikenna Nlemigbo, SA on Sports, Youth & Social Development, Hon Ifeanyi Chukwudi, General Mnager of Heartland FC and Mr Nzewuihe Anozie, member of the Interim Mnagenment Committee.