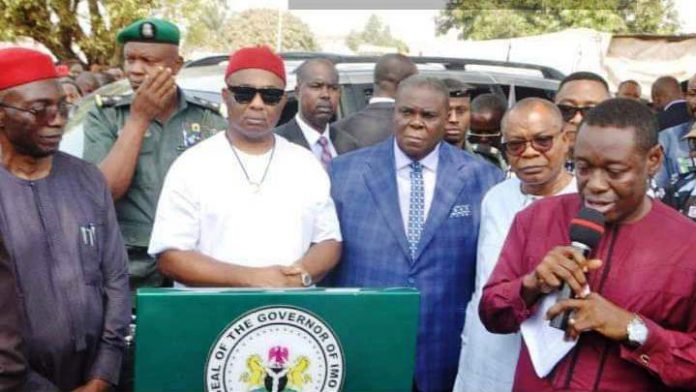 By Stevenie Michaels
The Governor of Imo state, Senator Hope Uzodinma has challenged the people to expose him if caught stealing.
The Governor stated this on Wednesday while addressing the people during the inauguration of new commissioners at Government House Owerri .
Reacting on the recent workers protest, Uzodinma explained that when he took over the mantle of leadership in Imo State that the total number of Civil Servants both at the state and Local Government was fifty four thousand , three hundred and twenty five people with wage bill at three point five billion naira .
According to him, "there was no payment known as pay as you earn which is the statutory tax to be paid by every Civil Servant; this prompted the automation exercise embarked by Imo government of Senator Hope Uzodinma."
The Governor said that it was through this automation that the government had verified  and cleared forty two thousand, eight hundred and fifty five Civil Servants and this people are been paid their salary up till date .
He said ,"in this automation  the government was able to discover the difference of Eleven thousand, four hundred and  eighty people out of which ten thousand, five hundred and forty three are ghost workers ."
"While Nine hundred and forty seven that have not been paid have issues and have been advised to come up with their necessary documents to either the data center or to the office of the head of service for clarification and documentation."
Governor Uzodinma said that he will soon  publish the names of the ghost workers and those collecting double salaries and defrauding the government and names of those not paid yet because of one problem or another.
Governor Uzodinma threatened to recover all the monies from Civil Servants that have been fraudulently collecting salaries in two or more places as they are the problem of Civil Service in the state.
He stated categorically, that there will be no hope of salary for over ten thousand ghost workers whom he claimed does not have any legal evidence of recruitment, who duplicated their names and are receiving double salaries, especially at the local government level.
".Government is a serious business, if you catch me where I steal as a governor, publish my name, But if I catch you, I will publish your name, the Governor challenge civil servants in Imo"
Governor Hope Uzodinma reinstated his resolve to reintegrate Civil service back into the government system as the brain box, a position which was disconnected a long time ago, He promised to return the dignity and honour of Civil Service that goes with working for Government to the Imo Civil service.
Imo Civil Service pay roll system is now automated and only those ones that were cleared will be paid, Imo state Governor, said.