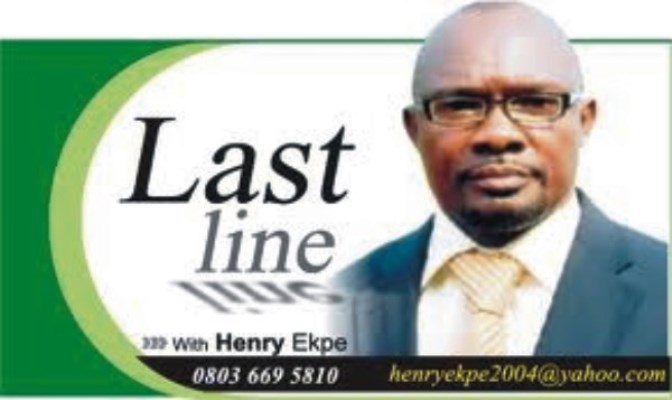 By Henry Ekpe
Imo State is just there. Everywhere is quiet, with the peace of the grave yard pervading the entire State.
The people have shouted themselves hoarse, with the Government led by Senator Hope Uzodinma pretending not the hear anything.
Infact Imo Government is now deaf and dumb to the plight of the masses, as the Government gives no hoot.
Because of this pathetic situation, the people have taken their fate as they see it.
There is no need shouting and crying any more when the Government does not care about the masses and their needs, because the Government hears, says and does nothing.
For five months now Governor Hope Uzodinma has been running the State without a State Executive Council.
He operates Imo State without a full Cabinet and spends more time in the Nation's Capital, Abuja, than in Owerri. He is yet to constitute the Executive Council after he dissolved his Expanded State Executive Council. There are no Special Advisers, SAs, Senior Special Assistants, SSAs, or even Aides.
This bizarre administrative style in Imo has a reflect effect on the various sectors of the State.
Because of no person incharge, the environment is the most affected as heaps of refuse dumps have taken over strategic places in the State capital. Epidemic looms if nothing is done fast. Surprisingly in a State hitherto known as the cleanest in Nigeria.
Even though the administration has made some marks in Traffic Management, the absence of Government Traffic Enforcing Agencies has led to unwarranted motor parks springing up at different places, mitigating the free flow of traffic, because the supervising Ministry has not Commissioner.
Quite unfortunately, all the roads started during the dry season have all been abandoned during the raining season causing devastating erosion and flooding in the State capital never witnessed before.
Why administrations in Imo State commence road constructions during dry seasons only to abandon them during raining season has remained a mystery.
As I write now, I am homeless in Owerri, as flood has eaten up my personal House, submerging every property I laboured to acquire for years now. I don't expect any succor, because it looks a mirage to ask for that.
This was the same situation with Owerri during the Governor Rochas Okorocha's era, and many had hoped that the Uzodinma administration would have learnt one or two lessons from the Okorocha Government on how to handle Owerri roads before the raining season.
Presently, it seems the insecurity that ravaged Imo has ceased. But while there are relative peace in Okigwe and Owerri zones in terms of less volatility by hoodlums, Orlu zone has remained an uncertainty as scores of persons still have their heads severed from their bodies. And this is the Governor's political zone.
This the type of babarism is alien to Imo State. Much as there will always be disagreements among a people, Imo State has never witnessed where head hunting has become a game by some wicked souls who relish in putting others in harms way.
The situation in Imo has made the masses more alert and precautions, even though what obtains now cannot be compared to the mad days when unknown Gunmen had free day.
The attitude of the present Government in Imo has remained causal when it comes to dealing with the masses, who are the main reason Government is in place.
At each turn the Governor hardly bother about the Imo masses when they most need his Leadership and Government intervention.
Presently, the State Government is having a running battle with Petrol Dealers in the State. The masses are still confused of what has led to the return of the old days when fuel was gold. It is dumbfounding that Imo State is the only State in Nigeria suffering Fuel Scarcity in the midst of plenty.
While the Government and Petrol Dealers rub shoulders, the people suffer, as Energy is one of the major sectors than run the economy of every given society, including Imo State.
Rather than appeal to the people to tarry while the logjam is resolved, all that Imo Governor could tell the populace was to go to neighbouring States of Rivers, Abia, and Anambra to search for Petroleum products since the Fuel Dealers have refused to open the stations in Imo State.
I had thought that was a Freudian slip from a Governor to his/her people in dire need of succor, until I went through the video several times.
That stance was the height of abdication of duty by one who ought to be a Leader of the people and problem solver in their time of need.
It is at such dicey situations that the masses reckon on their Leaders to show governance and compassion. But Governor Uzodinma failed the onerous test by directing Imolites to help themselves elsewhere because the State is in "Equidistance" to other States.
That was not the first time the Government of Gov Uzodinma had reduced serious Government issues to some banal and pedestrian matters.
The Governor had some time ago dissolved his cabinet, and named the Ministries and their Commissioners that were asked to stay behind, while others were asked to go.
But months after, the same Government brought back the Attorney-General and Commissioner for Justice, whose absence was openly felt because of the importance of that ministry and told Imo people that he was not in the first place sent packing with others.
One had wondered why a sitting Government could send such a dummy to the people, as if all Imo citizens are fools and lack sense of understanding.
Government is a serious business, as those incharge should always try to respect the sensibility of the masses, because not all citizens are gullible.
Recently, the issue of Open Grazing cropped up in Imo State. And the body language of the entire Southern Nigeria is that open grazing is obsolete as owners of the Business (Cows) should keep their products in one place, just as those rearing pigs, chickens etc.
Following the concensus of the people of Southern Nigeria, their elected Governors met and agreed to put up a Law that will prohibit open grazing because it gives room to Farmers clash with Herders, which has led to Pogroms and massacres in most cases.
Much as Governor Uzodinma tactically avoided such meetings, but he did send his Deputy to represent him and append his signature.
Today, while other Southern Governors are obeying the call of the majority of their people by putting the Law into effect, the Imo State Governor has reneged in that concerted agreement, adding that open Grazing would go ahead in the State.
Without digging deep, he came out to say that there is no Law prohibing open field parade of cows in Imo.
But unknown to the Governor, there is a Law Banning open grazing in Imo, sponsored by Hon Oliver Onwerenem of Ezinihitte Mbaise constituency, signed into Law by the Gov Achike Udenwa administration years back.
The moment Uzodinma learnt of this existing Law, he recanted immediately that he was misquoted by the Press.
It is advisable those close to the Governor inform him that there is life after politics, as that is the time a Leader relishes all he did in Government; Good or bad.
Imo people are peaceful people and accommodate visitors dearly. But they don't want anything that will pit them against their visitors.
Majority of Imo people don't want open grazing and Government had promulgated a Law supporting that for ages. The masses should be given that respect, and allowed to live their lives peacefully with their visitors.
In a democracy, the majority have their way, and the minority their say.
No matter the situation, he should do those things that would endear him to Imo people, and not treating them as not having a voice in how they are governed. At least, we are still in a democracy.
The Governor has allowed more politicking to dominate his stay in office than administrative matters. He is too occupied with political party matters to bother about the plight of Imo people. He should reduce his concentration in politicking and face the business of Governance.
Imo people will like to see the results of his frequent visits to Aso Villa and with "Shoulder Shakes" with the President in terms of "Federal Presence" in the State, but not as an Ambassador of APC in other States, while Imo remain fallow begging for Leadership.
Governor Uzodinma should not allow politics consume his entire four years in office, because he would be rated with what he achieved in office for Imo State by Imo people and not how many people he led into APC, or made win Governorship seats in other States. Should he be interested in returning to office after this first outing, he needs to have what he can point at as his legacies. And he can only achieve that by staying at home to know what the masses want.
Imo needs to move forward. That can only be done when the Governor concentrates in dealing with what concerns Imo people and allow APC National Officers run the party, while he runs Imo State.