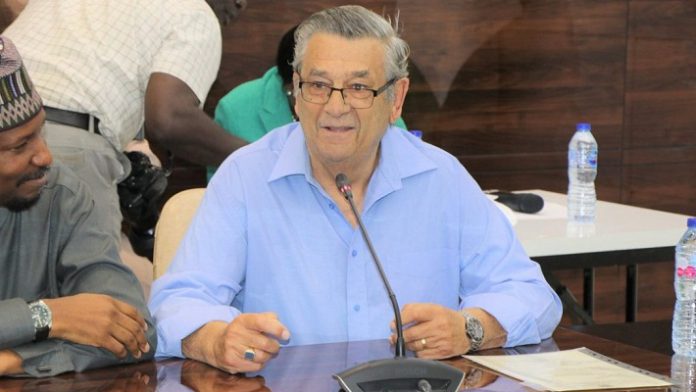 ..How Westerhof Won Silver @ Algeirs '90 With Home Based Players
After Eagles played their last qualifying (for Italian 90 Mundial ) world cup match in Yaounde and lost 1-0 to Cameroon in August 27th 1989, Westerhof set out to rebuild the Eagles and prepare for Algeirs 90 nations cup already qualified by Coach Paul Hamilton.
He visited league venues in Nigeria for talents accompanied by Fanny Amu. Iwuanyanwu nationale and Bendel United were playing in the Continent then, while Ranchers Bees was playing WAFU so Westerhof scouted mostly from these clubs.
By November of that year he had invited most of the players he wanted and played friendly matches with some Nigerian clubsides.
By January 1990 Nigeria hosted Ecowas cup in Bauchi with Senegal, Cote de' Ivore and Liberia in attendance which Eagles won. Then Westterhof set out to invite professionals who will prosecute the nations cup proper with home based players.
Augustine Eguaveon's club Genk in Belgium refused to release him while Keshi gave condition of coming and going after matches to play for his club Anderletch then back to Algeria but Westerhof rejected this. Players like Etim Esin, Samson Siasia and Philip Osondu wanted NFA to pay them upfront but Westerhof also rejected this, by telling the players they are not patriotic and will not get a call up again!
Out of frustration Westerhof called their bluff and took the home based players on a one month training in Papendal, Holland. The only professionals in the team were Andrew Uwe and Ademola Adeshina and the two of them were playing in Belgium second divisions.
Eagles were to fly straight to Algeria from Holland.
In the opening match against the host Algeria, the Eagles were thrashed 5-1 with their Capt Rabah Madjer who had three years earlier scored the winning goal in the champions league final between his club Porto and Bayern Munich, scoring two of the goals past Aloy Agu, While Nigeria's only goal was scored by Emma Jay Jay Okocha. The inexperience of the home based players showed and some NFA officials whom arrival of Westerhof in the country had stopped some dirty deals they do in Europe started talking of sacking him, Westerhof too was humbled and started asking one of his assistants Sebastian Brodericks the strategy he used in China 85 and told him and Jo Bonfere to allow the players rest for a day without training so he could find out if there's a division among them. Then In the second match against Egypt three days latter, he made three changes and brought in Ben Iroha, Herbert Anijekwu and Friday Elaho into the team and through the brilliance of Elaho, Rashidi Yekini scored an early goal and the defence tightened up and Eagles won 1-0. In the last crucial group match with Cote de' Ivore, they fly in by private jet their dangerous star man Youssouf Fofana who was playing at Monaco with George Weah.
When NFA officials heard this news they became Jittery, harassing Westerhof here and there but Westerhof told them he doesn't know who Fofana was, what he know is, he has Uche Okechukwu in defence. Eventually, in the match proper, Westerhof placed Moses Kpakor on Fofana with instructions to hassle and hackle him. This, Kpakor did, till Fofana was substituted in the second half, but before then Rashidi Yekini had scored another early goal and also through the brilliance of Friday Elaho again. Nigeria won 1-0
Yekini was playing for Africa sports in Cote de' Ivore then.
The dreaded Zambians with their tiki- taka football was Nigeria's opponent in the semi finals but Westerhof instructed the Eagles players to let them have the ball but hold them with Zonal marking. As it turned out, it was to be Nigerias best match in the tournament with Uche Okechukwu nodding in, a corner in the first half while Rashidi Yekini scored from a counter attack in the second half with a clever pass from Wasiu Ipaye.
In the final match, the Algerians was surprised with the improvement and confidence of Eagles who they had thrashed two weeks earlier and resorted to hacking our players but referee Jean Diramba was so biased that you will know that he had already made up his mind for Algeria to win, and so it was, cos they scored in the first half by Cherif Ouzani to win 1-0 but the home based Eagles returned to Nigeria as heroes, was given #50,000 each by Babangida led FG and Westerhof had gotten everybody to his side and also got direct access to vice president of Nigeria at that time Augustus Aikhomu for anything he wanted!..
Anyanwu Marcellinus.
Head scout and consultant of Gulf United football club Dubai a leading grassroot football development club in Middle East