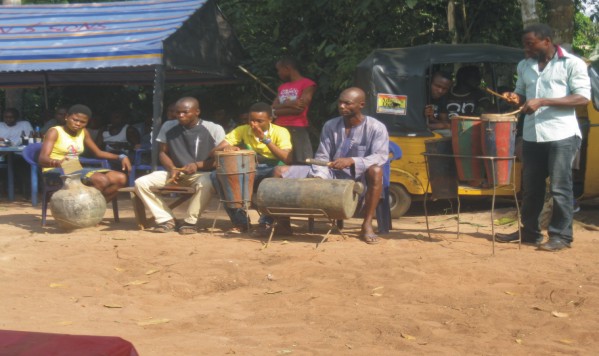 By: Nma Olebara & Ugochukwu Favour-Mayor
According to Obi Egbuna "culture is definition, he who define is your master. To let anyone define your culture for you is to make that person your master". This signifies that when you accept another person's definition of you, he becomes your master and you have to pay for his masterly definition of you with gold a – serious economic fact.
That we as a people are culturally fast becoming decrepit is no longer news. What makes news is the way forward. Presently, we are in a dilemma, oscillating like a pendulum between native and alien cultures. Many of us tend to see culture from very narrow angles. Some see it only in dressing; some see culture from language angle alone, while others see culture in works of Arts and crafts only. Some others see it from the angle of beliefs or manners, agriculture science and technology, literature, Governance, industry etc. Each of the above is a grain in a million grains of a capsule called culture. I might like a teacher define culture as the totality of a man's life, his activities in his environment and generation over.
Not many cultures are static. But my emphasis is on preservation of culture. Preservation of culture readily comes to my mind when we talk of peculiar arts and crafts, antiquities and historical landmarks. Culture being a way of life of a people must be dynamic fluid and flexible. To be otherwise is to be anemic dying and dead. Culture in line with society trends naturally goes through a distillation process.
In the words of late professor M.J.C. Echerue "The challenge we face today is that of re-establishing our identity". And I add re-establishing our "EJIRI MARA" . Language and culture to gain power. A book "PARTNERS, import-export business" says, when something goes wrong in a business run by husband and wife, there is no point to try to place the blame, your first and last response must be to find a way to fix it.
He who knows everything has a lot to learn. It is a historical and cultural tragedy that while the Igbo population is yearly on the increase presently at 20 million our cultural growth is on accelerated downward trend. Igbo is fast becoming 'greek' to our children and parents pride in telling us that their wards neither hear nor speak Igbo.
What can be done to wage the avalanche erosion and corrosion of Western and Allied cultures and influences on our land and clime? The pussy cat dug open   the soil and buried his dung's, for fear of his thing becoming another man's thing.
Culture is like the skin, you cannot pull it off; the quickest litmus to identifying a people anywhere anytime is language and cultures, no language and culture, no identity.
A review on Ekwe Awards:
Developing Igbo music such as Ogene, Bongo, Nkwanwite, Odumodu, Ekpili, Eri Obo, Oyolima and Abigbo is now necessary and it must be done to attract world admiration. Harnessing them means power and economy. In line with this, I want to appreciate Ugo Stevenson for the preparations he is making in organizing the Ekwe Awards (All Igbo Music Award 2012).
"Ekwe is a percussive instrument used in all Igbo music styles that is why we have chosen to brand the All Igbo Music Awards as Ekwe Awards". The main focus of the honours ceremony according to Ugo Stevenson is to celebrate those who have preserved Igbo language through the most effective medium of mass communication known to man which is music.  Each Igbo speaking state in the federation has a unique brand of music that is peculiar to it.  These unique music styles have found strong expressions in Highlife which may rightly be described as Igbo contemporary music.  These music styles are currently performed by more than two thousand practitioners around the globe with high record of success Ugo Stevenson explained to the impressed audience of journalist, broadcasters and art enthusiasts from around the South East zone of the federation including Delta and Rivers State.
Who is merited for Ekwe Award?
Among those to be honoured are the best Igbo originated music  recording and performing artistes in Abigbo, Ekpili, Odumodu, Bongo, Ogene, Eri Obo, Oyolima, Igbo Gospel and Highlife, other are marketers, producers, radio/television presenters and journalists that have shown great patronage to our music culture.
Just like Igbo Kitchens are appreciated all over Africa and dot strategic areas of continental Europe and America.  Just like in America and Europe foreigners rush for our Nkwobi, Isiewu, Ofe  Nsala, Ofe  Olugbo, our pepper soup, even our Akpu now called packet shirt and our palm wine bottled for export.  Just like Nollywood which kicked off with Igbo films came into the market only in the past decade have excelled all others, coming 3rd after Hollywood and Bollywood films. That is how I see Igbo music acquiring such power of cancerous infection on the rest of the world through the support of Ekwe Awards.
The time is not too soon but it is not too far away and history will remember us as part of a team that spared nothing to see our culture becoming our source of great power.
Setbacks of Igbo culture:
Consequently, it is quite unfortunate that Ndi Igbo are beginning to forget their basic beliefs: "Igwe bu ike, Onye aghala nanne ya". No Igbo is interested again to foster these basic values. The Igbos must cease and desist from creating artificial barriers between one another. No Igbo man is interested again to promote our cultural values and heritage, because we no longer strive to put our house in order.
While some experts are clamouring that by 2015, Igbo language will be a history, this plea seems to be on deaf ears. We the Igbos are allowing ourselves to be complacent with Igbo organization affairs, while letting programmes that will promote our values to waste, just like the Ekwe award. We should learn to seek group rather personal interests, re-orient Igbo psyche and values.
Ekwe Award as the future:
However, I strongly believe that the All Igbo Music Award, otherwise known as the Ekwe award will provide us with cultural awakening; it will also serve as a symbol to which Igbo language and arts would be revived. Of course, I have seen it work, just like the Eko Games in Lagos, a sporting competition brand that is designed to promote the Yoruba course. Igbos, why not unite and support the one we call ours?
If we must stand as a people, we all must serve and cherish our culture with an unlimited obligation, with our best and within mutual co-existence. To serve, we must seek identical interests, because identical interests are subject to same laws and standards. Identical enjoins us with one another and strengthens our communal efforts, besides, providing a lasting bondage to our aspirations. We must not let our separate ideologies be excuses for no-involvement in Igbo affairs.
We must organize collectively and not independently. Once we organize collectively, then we can talk about efficiency and accountability. Let us all stay away from dissent within our organization because such destroys collective will. We need to work harder to organize ourselves better in branding so as to be able to attain collective economic and cultural success. We can now start to empower ourselves. Let us use our services to re-awaken and re-engage our collective spirit that have always culminated in our fairly establishing, and rightfully also taking our place, just like Ugo Stevenson and his team have taking the step today. We must also find a way to encourage his vision of re-orienting our people culturally wise through the Ekwe Award that will also go a long way into supporting those who has taking it as a challenge to promote Igbo culture through their God given talents.
If Gov. Rochas Anayo Okorocha must know:
Through omission or commission, Imo today has been distinguished as the second home of the Igbos, which is after Anambra. And this came on the heels of the State's political involvement. Even when other state governments were coming up with proposals to partner with the Ekwe Award project, the first question that came to thought was if Imo State government aware of this development? Following the APGA involvement in the governmental activities of the state, the place could simply be regarded as where "Onye aghala nwanne ya" system of politics reign supreme. How? Since the APGA party is in-charge of the State's governmental activities, they would be the highest bidders to headline the show, together with Anambra State government. Unfortunately, Imo is nowhere to be found. The question again is: does it mean that Ugochi Nnanna Okoro, the honourable commissioner for Culture and Tourism is bemused with the managerial affairs of her office? Besides, Imo is now being noted as event-killer State, following the present government's inability to attract national shows that will bring investors and tourists to the State, unlike the immediate government that hosted Nigeria Music Award (NMA) and The Most Beautiful Girl In Nigeria.
Nma Olebara is an Educationist and Ugochukwu Favour-Mayor is a Media Consultant, they write in from Owerri