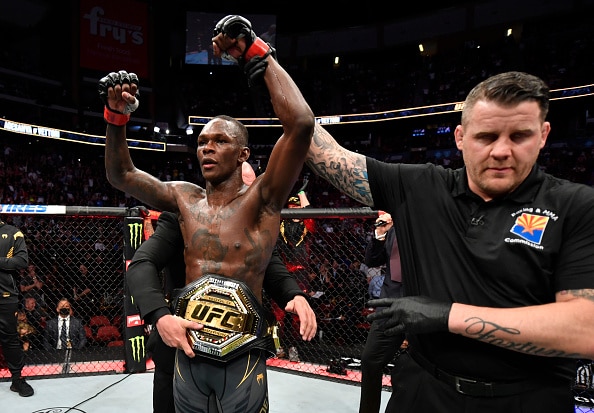 Israel Adesanya is reportedly being taken to court by his ex-girlfriend.
It's understood that the UFC star's former partner, Charlotte Powdrell, is going through the legal system in an attempt to take half of his earnings.
However, there's actually no legal precedent seeing as though the estranged couple weren't even married.
A two-time UFC middleweight champion, Adesanya has headlined some of the promotion's biggest events throughout recent years.
It appears the ex-girlfriend is targeting several dollars that the boxing champion has won in various fights.
But in news that has made headlines around the globe, Izzy's ex is coming after the cash following their split.
The whispers first began circulating when UFC bantamweight contender Sean O'Malley mentioned it on his podcast.
"I'd seen Izzy tweet something and I was confused because I didn't really know, but Izzy's ex-girlfriend, they're not married, right, wants half of his shit," O'Malley said.
"I don't know how their relationship was because I didn't even know he had a girlfriend, but to want half of what he's gone out there and done is absolutely ridiculous… I mean it's hard to say who knows maybe if they were together for 15 years since the beginning and she didn't work because she was constantly making him food, massaging and at the gym doing all this stuff for him." (validview network)