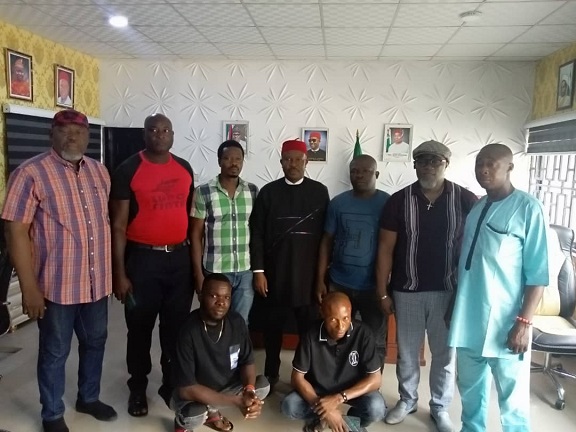 .As Commissioner, Ugorji , Promises To Address Their Complaints decisively.
Nkama Chioma
The Commissioner for Homeland Security and Vigilante Affairs, Dr, l. Ugorji O. Ugorji on Monday, 15th of May 2023, held a meeting with leaders of the Imo State motorcyclist operators. The meeting was arranged as a dialogue between government and the Okada operators, aimed at creating synergy between both parties.
Speaking at the meeting, the State chairman of Imo motorcyclists Association, Mr Peter Udeogu, stated that he has long been waiting for a day like this.
He said that government of the day hasn't been fair to his members in terms of assistance. He reported that his members contribute to the IGR of the government, with nothing to show for it so far.
Continuing, Udeogu narrated that on a daily basis members of his  association are harassed and even molested by security operatives, including arrests and detentions. Additionally, their bikes are often seized and they have been made to pay a lot of money for bail and release of their bikes.
The chairman hinted that not less than seven motorcycles of their members are at the Tiger Base of the Police Headquarters in Owerri, a  situation that has made some of them to agitate for a public protest.
Peter Udeogu pleaded with the Commissioner to help them by stepping into their matter and ensure that all this undue molestation and intimidation cease.
Dr.Ugorji expressed his gratitude to the leaders for coming to him for a peaceful deliberation. He assured them the Ministry would look into their complaints and facilitate the redressing of their grievances.
Continuing, Dr. Ugorji stated that Governor Hope Uzodimma prioritizes security of lives and property in Imo State and that Okada riders must help by being law-abiding and operating safely.
The Commissioner promised to send a comprehensive report of the outcome of the meeting to His Excellency Sen. Hope Uzodinma.
Waxing political, Dr. Ugorji informed the leaders of the Okada riders that it' no longer news that come 11th November 2023, the Imo state gubernatorial election would take place. He asked the Okada operators to come ride with Uzodimma as he seeks reelection. He proposed what he referred to as either a "Riding With Hope" rally or a "Ride-a-Thon For Hope."  According to Dr. Ugorji, "I want to persuade your members to troop out and join us at a Ride for Hope gathering at the Dan Anyiam Stadium or at the Rear Admiral Ndubuisi Kalu Square. The Governor might just ride one of your bikes," Ugorji teased.
In addition to the Commissioner, the following people were in attendance: Hon. Ugochukwu Nzekwe, SA to the Governor on Public Safety, Pastor Nwadike George, SA Training to the Governor and State Patron of Imo Motorcyclist Association,
Peter Udeogu, Uche Gabriel (State Treasurer), Mrs Stella Azorji (HOD for  Administration,  Ministry of Homeland Security and Vigilante Affairs (MOHSAVA).