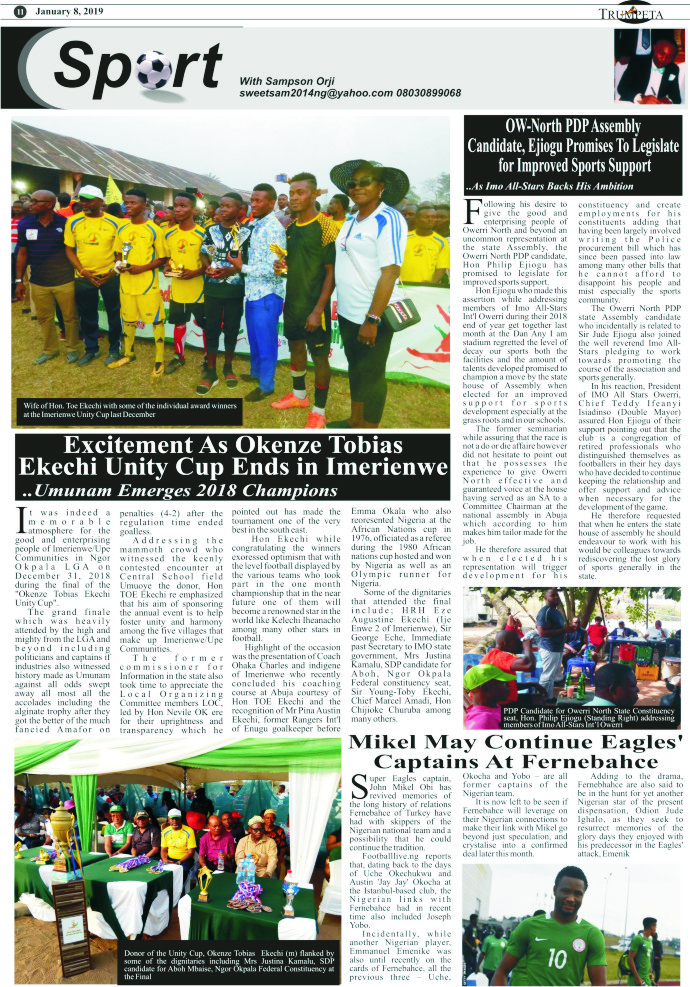 ..Promises Better Heartland Queens 
..As Imo Hosts Nat'l Volleyball League
The Imo state Commissioner for Sports, Youth and Social Development, Hon Emeka OKoronkwo has expressed delight and satisfaction with the achievements in the sports sector within six months of his stewardship.
The Ihube Town chieftain who made this expression during a parley with members of the Sports Writers Association of Nigeria SWAN, Imo state chapter on Thursday in his office  at the State Secretariat, New Owerri, said the qualification of Heartland FC for the NNL Super 8 coming up later this year, which according to him is a prelude to their NPFL qualification and the stabilization of Heartland Queens in the NWFL Premier is one of the hall mark of his ministry's achievements.
OKoronkwo who praised pledged his continued collaboration with SWAN also thanked the pen pushers and Heartland fans for their support especially during the voting for the Super 8 DSTV/Super Sports Football Challenge which he noted was instrumental to the Naze Millionaires being selected ahead of their other Oriental clubs alongside Enyimba Int'l of Aba.
While thanking the Governor, Sen Hope Uzodinma for his dedicated desire to make sports strive once again, OKoronkwo maintained that Sports has since remained one of the cardinal points of the 3R administration insisting that in the near future Imo would regain it's position in the nation's league of sports.
He assured Heartland Queens will soon take a more professional shape both in the management, technical crew and players for optimum performance once they return from break.
In a related development,  Imo state is billed to host this seasons National League 1&2 Volleyball Championship.
Disclosing this during the parley with Imo sports Commissioner, The Imo State Sports Commission Director of Sports, Sir Ferdinand Emanaa said all is now set for the national volleyball fiesta.
He expressed his profound wish and that of the Sports Commission to partner with SWAN as top Volleyball teams across the nation converge in Owerri for action starting from Saturday 3rd, 2023.