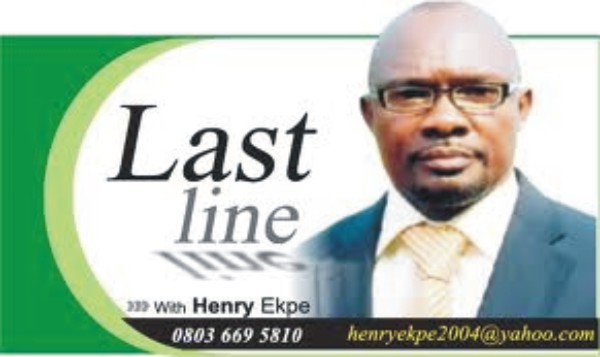 By Henry Ekpe

By the end of November, Senator Hope Uzodinma would have completed his first term as the Governor of Imo State, yet he has not met Journalists based in Imo State in an interactive session.
He had several times met with Journalists outside Imo State, but he has not deemed it necessary to have an interface with the Media Men based in the State he has operated in for nearly four years now.
Whatever is the reason, I cannot fathom, but certainly this was not how I knew Uzodinma with the Press People.
 By 1999-2000 when he had not even participated in any elective position, but a strong financier of the Peoples Democratic Party PDP, his Omuma home in Oru East used to be a regular Mecca for Imo Journalists.
Then, despite the distance, and very bad road , we all always hit Omuma, anything we hear he was town. And unannounced, he would open his gates for us.
He hardly slept in Owerri and all our meetings were in his palatial home in Omuma, with two Gates: on at the front, another at the Back.
No matter the amount of visitors in his House, Uzodinma must see us, and take care of our Transport, no matter how many we were.
And that was the time Journalists in Imo State were regarded as real Stakeholders. Today, those budding politicians then are the once now incharge reaping the rewards, which we contributed in building.
Uzodinma will tell us to wait for him, because he usually preferred seeing us last so that we can feel free and have time with him.
The likes of Chidi Nkwopara(Vanguard) late Euginia Okwara  (Source Magazine) Late Ben Obinna, Ben Duru (Daily Independent) Usoro/Clara (Punch) Kelechi Mejuobi (New Age) Chris Isiguzo, the Current National Chairman of NUJ (Thisday) Gerry Ogu, (National Interest), Bright Chimezie (National Times) Lamber Ojukwu (Statesman) Damian Opara (Sentinel) Henry Ekpe/Kennedy Eweama (Announcer) Chidiebere Iwuoha (Anglican Voice) Emma Ogu/ Chris Nwobi (Champion)  and those unattached, known today as Konjas.
However, our relationship with Chief Uzodinma continued until he became a Senator. Our meetings with him stopped, as it became difficult to track and ambush him.
We were still in good rapour with him, remembering the old times but his stories now came through Press Releases from his Media Office.
The same pattern continued until Jan 14, 2020 he became Governor. However before then, those of us in TRUMPETA got his stories through Hon Mbadiwe Emelumba, who usually call at midnights when we had already closed shop. But we must come out to take the story for next day.
We had thought that the situation and relationship would continue and even blossom, since there are too many things to do for a Governor and Government. But that was how it ended till date. To them now in office TRUMPETA is history
They have been used and dumped.
Unfortunately most painful is that the act has been spread to nearly all the Media Houses in the State and the Journalists themselves.
It sounds ridiculously incredible, that Governor Hope Uzodinma has never, for the first time, since three years, addressed Imo Journalists in a Press Conference. How he thought that all those his Media Friends who used to pally with him in the early twenties have all left Imo State, or died is still a mystery.
Fortunately most of those budding politicians have all, by the grace of God, and support of Journalists here today become Governors, Ex- Governors, Senators etc.
The small Journalists are also moving up by the grace of God in their chosen careers.
Chris Isiguzo who used to be the Correspondent of Thisday in Imo then, is now the National President of Nigeria Union of Journalists NUJ, Ojukwu, Ekpe later became CPS and now Publisher, Bright Njoku, Gele Agbai, Kelechi Mejuobi, Gerry are all publishers. Ben Duru today is a Pastor winning souls for God. While Euginia Okwara, Ben Obinna and some others too are no more.
Therefore, it will be a bad record that Uzodinma led Imo State for four years and never made out time to speak with Imo based Journalists.
During the Udenwa Era, Journalists in the State enjoyed a lot, despite the fact that the State was just coming out from the hand-over of Military era.
 It was the reign of Chief Val Okechukwu and later Dr Fidel Onyeneke as Chairman of Nigeria Union of Journalists, NUJ, Imo State Council.
It was Udenwa's administration that introduced "Stipends" for Journalists in the State, to at least help them to offset some of their daily expenses.
Dr Vin Udokwu, who was then Chief of Staff and Sir Bright Nwelue who was the Chief Press Secretary really pushed Imo Journalists to the front burner of welfarism.
During Weddings, Child dedications, Burial ceremonies, House Warmings etc, Government usually came to the rescue of Journalists.
Nwelue, with the Government House crew was in my father's burial (Dr Hilary Ekpe). The Governor approved one cow for me. While Dr Mrs Gloria Chukwukere, the Commissioner for Education, where my father worked as a Permanent Secretary, represented the State Governor. And I was just a Reporter with ANNOUNCER Newspaper!
And the Journalists were partners in progress with the State Government, but must publish the truth without harassment or quarrel. No matter whose ox was gored.
The only time there was trouble was when Kelechi Mejuobi, Correspondent of Newsage, reported that Governor Udenwa slumped in  Mbeiri during the burial of Senator Amah Iwuagwu. But the matter was also sorted out.
Even when I was kidnapped by an Onuimo LGA Chairman on a story carried in Announcer, Udenwa ordered his Deputy, Eng Ebere Udeagu to immediately resolve the matter.
When DSS Arrested me and my Boss, late Joe Anyama with late Chief Sanfor Nwankwo/Publisher of National Question) over Biafran Story, the same Governor sent Rt Hon Chuma Nnaji, then Deputy Speaker, and Chief Boni Ebili, then Transition Committee Chairman of  Ideato South LGA to bail us. Though we spent four days in detention from order above.
So, when Governor Ohakim succeeded Udenwa and by God's grace, I became the Chief Press Secretary CPS, that relationship between the Government and Imo Journalists got more boost.
Ohakim could call the names of all Journalists in the State. He invited them for every personal functions. He was their delight because he was ever ready for any question.
The Journalist's personal close relationship with the Governor made my job easier, since they would be hurting their friend if they published what was false.
My office was the meeting point for all Journalists.  My fridge was filled with water and other drinks every day. They sent their stories through my office as there were no Wasap, Facebook and other information technology then.
Gov Okorocha  despite his "Stubbornness" and unorthodox ways of doing things  never stayed one month  without interacting with Imo Journalists.
The occasions held either in the Bush Bar in Government House, his Spidat private Home in Owerri, Ogboko his village home, or NUJ Press Centre,  Owerri.
During Christmas or the Stakeholders meetings held every New Year, Udenwa, Ohakim and Okorocha invited, not only NUJ hierarchy, but Publishers in Imo, and other Senior Journalists.
Even the seven months Ihedioha spent in office, he met Journalists in his Owerri residence once, and his Mbaise home.
Unfortunately, since the Uzodinma era, to see the Governor for interaction becomes a problem. Either those managing his image prefers "Outside Media" or don't want the "Home Based" Journalists meet their Governor Or the Governor don't want to meet them.
Ironically those managing the Uzodinma Media could be described as "Home Boys". Hon Mbadiwe Emelumba, before he was appointed a Media Aide by Udenwa, was the Editor of National Post, Published by Chief Emmanuel Iwuanyanwu, based in Owerri, Imo State.
Emelumba later became House of Assembly member for Oru East. So, he knows nearly all the Journalists in Imo.
The Chief Press Secretary, Oguwike Nwachuku has been an old friend of mine, and he is from Mbaise. I met him when I was CPS to Ohakim and had to go to Lagos to see the Press there. He and his erstwhile colleague Ikechukwu Amaechi instantly became my brothers and friends, and my eyes in Lagos axis throughout my stay as CPS.
They worked in Daily Independent then.
But I was Imo Newspaper Publishers Chairman when God made Nwachuku CPS. But till date, he does not know my office. Not even the Commissioner for Information. I am aware the same thing is applicable to other Newspapers based in Imo and the Correspondents chapels.
Imo Journalists are not getting it funny under Uzodinma Government. The same for the Home based Publishers and their owners. Apart from Imo Government, the next highest employer of Labour  in Imo is the Media.
No "Local Newspaper" in Imo employ anything less than Fifteen Staff. And they are all graduates, including the Typists.
In Abia, Ebonyi, Rivers, Lagos, etc our colleagues get their due respect and support from Governments because they are recognized "Stakeholders". They even gave land allocations in Abia State. We all went to Umuahia to celebrate with Isiguzo when he "washed his House".
It is unfortunate that professional colleagues, Media practitioners, are the once incharge  the Uzodinma Media Team. "Home Boys", yet they believe they have nothing to tell the Governor about their mates in the Field in Imo.
No Government ever succeeds without the Press. Yes, Uzodinma has done good in the Area of Roads, he has a tough election in a few months times.
However, his Minders may feel they don't need Imo Journalists, much more if Uzodinma wins a second term.
But the fact remains that there is always a post Governorship time for every State Chief Executive.
So, cultivate friends today, especially Pen publishers. You may need them tomorrow.
You can ask Udenwa, Ohakim, Okorocha and Ihedioha.