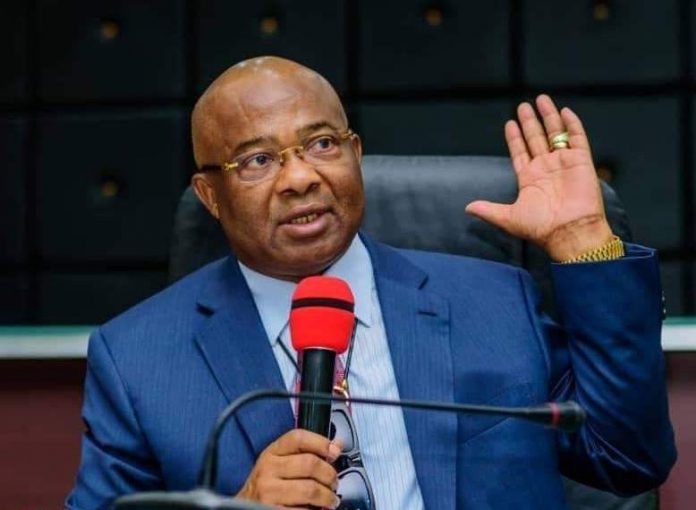 .May Weed Out Untrusted Appointees, Former Allies
.To Revisit Fallout of APC Presidential Election Result
.Fears Detractors May Use Insiders To Rock The Boat
By Okey Alozie
There is serious trouble in Imo APC now over the reechoing of poor performance and results recorded at various political booths, Wards, Local Government Areas during the last general election.
Records have it that good number of the party officials, Chieftains and 3R Government Appointees could not deliver in their Booths. Against this backdrop, the Governor of Imo State Dist Senator Hope Uzodinma who is seeking for his reelection is said to have  resolved to bring in those appointees and officials that will bring good results in the November 11, 2023 Imo guber election.
The Governor will at first unveil his new campaign team, after which he will dissolve his cabinet and bring in new cabinet members, Trumpeta learnt.
It is most likely that the result of the last general election will serve as a yardstick to measure the electoral performance and political value of the appointees and party chieftains of Imo APC.
We gathered that the list of Commissioners to be dropped for not performing well has been compiled. That of the party officials and chieftains will soon be out.
In the last general election, one of the party chieftains could not record upto 4 votes in his political ward. The same thing happened to many Commissioners and Special Advisers. APC members especially the women and youths disclosed that they revolted against the party during the last election because of bad attitude of the so called Appointees and party leaders who according to them were self centered.
The aggrieved party members disclosed that they have not benefited anything since the 3R Government came on board, adding that the appointees and party chieftains are only after their families and this familiocracy according to them will make the party to fail again if care is not taken.
Our roving reporter observed that those Commissioners and other Appointees who could not deliver in their booths are now shivering. Their fear is that the Governor may punish them for not doing well.
There are other appointees who committed double standard during last election.
The Commissioners attracting negative images to the 3R Government by delivering not IGR as well as extorting money from people through illegal taskforces will go this time as we gathered from a reliable source.
APC supporters are now calling on governor Uzodinma to weed away all those who are not doing well in his administration.