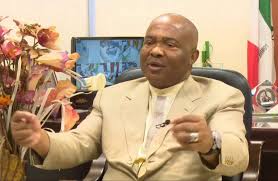 Former Managing Editor of Nigerian Horn newspaper, Chuks Ofurum said, the achievements of Imo State Governor Hope Uzodimma will be better appreciated after eight years.
Speaking with journalists in Owerri, the former NITEL Public Affairs Manager, described Governor Uzodimma as bold, inspiring and visionary saying what the governor will achieve in the next four years will be a record in the annals of the state.
Ofurum who is Deputy Manager of a Lagos-based online media, described the first four years of governor Uzodimma as turbulent, diversionary and full of negative publicity, stressing however that despite the challenges, the governor has performed beyond measure.
He said:" Honestly, the first four years of governor Uzodimma has been characterized by serious socio-political challenges that could bring any administration to it's knees.
There is the celebrated insecurity, improper handover from the previous administration, the COVID-19 pandemic, EndSARS, and numerous others, but despite all these, the governor as well oiled leader was able to weather the storm and have performed very well in the areas of road construction, capacity building, linking the state to the national politics, and most importantly, strengthening the economic base of the state."
He maintained that given  another four years, the governor will finish some of his signature projects that includes the dredging of the Orashi river to the international waterways, completion of the ultra modern Imo International Conference Center, connecting the 27 LGAs through the ongoing rural road network, and ensuring a seamless transition to the next administration through the Imo Charter of Equity as canvassed by prominent Imo citizens.
"While we are proud of governor Uzodimma's achievements, I am more interested in what he will do in the next four years. Some of his reforms and projects are of international standards. He thinks outside the box to see that citizens are happy. Imo people may not know the import of connecting the state, and by extension, the entire South East region to the international waterways through the dredging of the Orashi river. When the project is completed, the South East will be economically vibrant and less dependent on other ports.
Ofurum called on Imo people to vote for Governor Uzodimma for sustained economic development and stable polity, warning that if this opportunity is missed, the state may find it difficult to recover.
"Imo people must shun politics of bickery, nepotism, character assassination and bitterness. We may not know what God has given to us in the person of governor Uzodimma. But I am convinced that by the end of next four years, Imo people will not regret voting the governor back. This is a clarion call and it is devoid of sentiments.