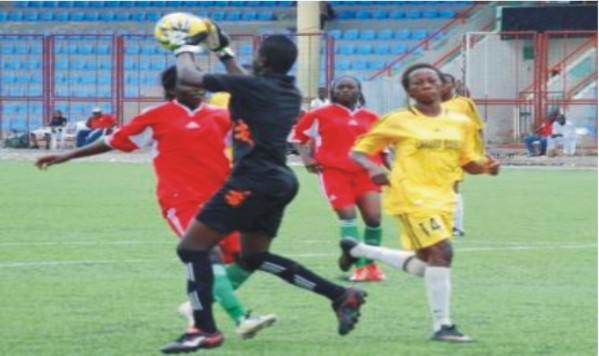 ..Pays Courtesy visit On Imo Sports Commissioner, Okoronkwo
The chairman of Nigerian Woman Football League Body NWFL, Mrs Nkechi Obi on Wednesday September 20th 2023 paid a courtesy visit to the Imo state Commissioner for Youths, Sports and Social Development, Honourable Emeka Okoronkwo in his office at New Owerri.
The NWFL boss during this visit rolled out a detailed and well articulated development plan for the league ahead of the new season which will be officially unveiled at the NWFL 2023 AGM billed to hold in Lagos on the 5th of October.
She further revealed that most of the plans will be unveiled at the AGM and then appealed for the support of the commissioner for sports as the chief custodian Heartland Queens who happens to be one of the few states that house the NWFL side and pleaded with the commissioner to key into the development plan and also support the development plan the board will role out.
"In our bid to help develop women football in Nigeria, we have been able to engage critical stakeholders, including those beyond our reach by creating a viable channel of communication.
Stake holders engagement is very critical to achieving the desired development results in the women's league but the stakeholders are not only people in your eco system because the problem of sports cannot be supported by the sports people alone, individuals in other industries can play a major role.
In the light of this development, we have designed two initiative called the SISTER HOOD  initiative and the HE FOR SHE campaign.
The league needs about N700 million Naira to run it and put in place the kind of infrastructure needed to succeed. This initiative will help secure at least 30% of this expected income.
Our 2023 AGM has been slated for October 5th and I am appealing to you honorable commissioner to please key in that AGM
We intend to bring all this stakeholders to the round table during this event and your presence as the chief custodian of Heartland Queens is very important to the league body.
As for the league kickoff, November 15th has been chosen for the kick off and it has been structured in an organized form.  first we have the NWFL which is the elite league, then we have the championship and having scrapped the nationwide league, we now replace that cadre with state league.
We have set up development training programs for various actors such as training for female coaches and referee because we lack a lot of female coaches and referees.
After that we will train the media teams because we are not getting the desired publicity and then afterward we will now draft  in a career orientation program called players rising for all the female players.
All this development programs is aimed at restructuring the league and ensuring we get the best out of this league.
We have entered into partnership with Laliga to help create an avenue for our players to be able to secure deals in top Spanish clubs.
All this and more will unfold in due course, we therefore appeal to you honorable commissioner to give Heartland Queens the desired support." Obi concluded.
In his response to her appeal, the Honourable commissioner for Sports appreciated her presence in Imo and also reassured her of his support and commitment to the the success of the league.
"It is a great opportunity for me to interact with the league body concerning the club which we have been committed to ensuring it's welfare for a very long time.
Heartland Queens became very prominent and popular in the reign of this Excellency Governor Hope Uzodimma.
Be rest assured that this your visit is not in vain. I want to assure you, that our team Heartland queens will be committed to the programs of the body.
Heartland Queens are already prepared for the initial kick off date scheduled for 29th of this month before subsequent postponement.
Everything needed to make a good team is available for them. I'm sure  they are preparing well by engaging in preseason training and matches keeping themselves fit for the challenge that will come up in November.
It is encouraging to note that we have someone like you, now we know who to call when necessary.
We thank you for being a good leader and our assignment is to ensure that we do everything within our power to bring out a strong team that will compete In the Super six because that is our target.
Super six mandate is a challenge from his excellency the Governor this season and God willing we will get there.
I thank you very much, it's not going to end here, you have opened that channel of friendship and collaboration between us.
I want to appreciate you for coming to Owerri. Owerri is a hospitable place, from time to time always come by to check on us." Okoronkwo concluded.
Also present at the gathering is the chairman Imo state Football association, Barrister Ifeanyi Dike.
Dike thanked the visiting board chairman for identifying with Imo state in what he tagged sensitization tour and went ahead to laud her lined up programs and plans ahead of the league season.
Dike pointed out that this move is a breakthrough for women football in Nigeria and here in Imo state, with the help of the commissioner, we will support your course.
Other persons present at the meeting were the members of Heartland Queens management, coordinator Heartland Queens, the secretary Heartland Queens, media officer, Cordinator Heartland FC and Imo FA board member casimir Mbachu, Osita Nwaeze Imo FA board member and gentlemen of the press.