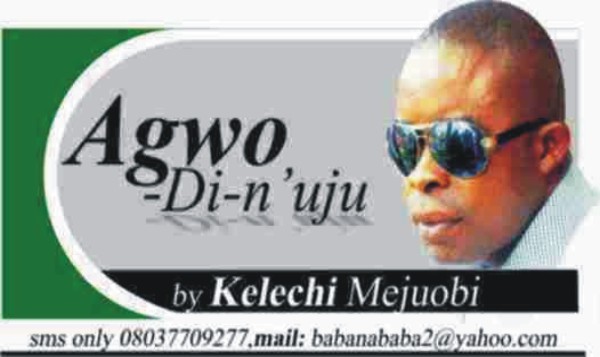 A text message from an unidentified person buzzed my phone last Wednesday. Since it was a phone number I was not familiar with, I took my time to read the message because I was on the driver's seat to my office. When I screeched to a halt, I picked the phone and saw a message. "Your guess is right; Rochas has started the Rochanisation to CGC". I felt that it was part of the reactions threatening my commentary on Imo Assembly and the Rochanisation of Community Government appeared in Agwodinuju column a fortnight ago. However, my reluctance to give the message another thought diminished when news filtered into the newsroom that Imo State Government has approved names of new Community Liaison officers christened Government Liaison Officers, GLO, thereby removing the former Community Liaison Officers (CLOs) who had acted as Community Speakers since the birth of the present grassroots government in Imo state. I was forced to reply the text to the sender thanking him for his reaction and comments concerning my last epistle which dwelt on CGC.
Having dwelt on the CGC issue in recent past, I decided to ignore future write-ups until certain developments that are trying to rub the shine off the pet project of Governor Rochas Okorocha. And these sinister moves form the major part of my commentary.
However, my write up will be incomplete if I don't reflect and share experiences; I had with few readers after last week's edition on Trumpeta Publishers, Columnists and Threat to life option. Of all the reactions, two challenging text messages, I received deserve a mention for readers delight. One is from a favourite phone number 08033337981.  The number always makes a concise reaction to most of my write-ups. And what thrills me is the apt and fair language adopted when reacting. In last Thursday's edition the phone stated: "I must commend the recent efforts by ur newspaper, Trumpeta, towards upholding objectivity and balancing of information in ur publications. The article in pages 7 and 9 of today is a clear testimony to the fact that an individual can be praised and at the same time criticized for his shortcoming; I was even shocked to see d headline "Big Blow hits PDP in Imo" on ur front page. It's unlike ur newspaper; Kudos. As for the threats u talked about, I can only say that it is most unfortunate. This is not d military era, there should be freedom of the press as enshrined in the constitution". While thanking him for finding time and space in his/her phone to react, I replied that "In Trumpeta, we are 4 all, if u open ur door weenta, if u close we hav no option dan 2 peep & when u peep u will c what will interest readers. What we c is what we publish". Two more text message exchanges became a melodramatic exercises that kept us laughing.
Having dealt with last week's reaction, let me dwell on the appointment of key political office holders in the state as GLOs and matters arising. As predicted in my second but last epistle, there is a grang design to Rochanise CGC. From all indications, the present administration is using subtle means to make the 4th Tier government an extension of the Governor's campaign machinery. There would not have been any hue and cry if the state government had not abolished, the Community Town Union Government, an apolitical socio-cultural structures across all the autonomous communities for the CGC. It would be recalled that in the past, town unions existed alongside political groups and campaign structures and machinery at the grassroots level. In the last dispensations, local coordinators of Redemption, Destiny and New Face organizations consisting of career politicians existed alongside Town Union government at the various autonomous committees and electoral wards.
Despite the functions of the new GLOs outlined by the State Government in a recent press release, the creation undoubtedly is the de facto political structure of Gov Okorocha. Apart from some members of PDP extraction in Imo State House of Assembly who reportedly have kept mute on their new disposition as GLOs over a juicy offer extended to them in the CGC arrangement, the rest are die-hard followers of Gov Okorocha's administration, his political appointees and aides. Others were former Transition Committee Chairmen who served Owelle Rochas.
The appointment of the GLOs was facilitated by a recent amendment of the law asking the Governor to make use of caretaker committee since several law suits stalled conduct of elections.
However, mixed reactions have continued to trail the action of the Governor. While it has gone down well in some quarters, others feel that the appointment shows that Okorocha is warming up for another shot in Douglas House by moving in his foot soldiers to the grassroots as his agents. Having been elected to represent people of their various constituencies is it not ridiculous deploying lawmakers as agents of government in the respective autonomous committees. The members who have enormous responsibilities to cater for a state constituency by the CGC guideline now care for an autonomous community. A handful of the state lawmakers have been granted persona non grata in their respective autonomous communities. During the pre election schedules, politicians return to the grassroots for campaign and they stay put during elections to canvass for votes. After getting what they want from the people, they return to Owerri, the state capital and become Owerri politicians. How does Owelle Okorocha think that the GLO will perform in the various communities when most of them hardly be in the village except during festivities? I know some who out of fear of rampaging kidnappers and armed robbers have never slept in their various country homes in recent times.
How does our dear Governor think that the lawmakers will be CGC compliant when a reasonable percent are yet to organize constituency briefing for their people as well as have a functional constituency office in the localities? If these lawmakers cannot perform their duties as elected representatives, how would they help in the realization of the CGC ideals?
Except, the Governor is not in touch with modern political tunes in most of the localities, he should have known that some of these he gave the GLO positions, especially former office holders are "mere paper tigers" and "spent forces" who have no value in their domain.
What would the likes of Senators Osita Izunaso and Ben Agunanne be doing in the respective autonomous communities after a bountiful period at the National Assembly? Do they have the mental psyche to face the villagers at home in the name of Community Government? There are many questions begging for answer.
Except the present administration is employing the "more you look, the less you will see approach, it would have known that the recent appointment of GLOs is capable of causing confusion and instituting anarchy at the grassroots. Protests and complaints have been trailing the announcement with several communities storming Owerri to demonstrate. Apart from lamenting the appointment of some persons who hail from a different community from the ones they are their GLOs, the character and disposition of some persons are generating interest. Few days after the announcement, people of Obuoma Dike in Egbema stormed Assembly Complex to protest the appointment of Gideon Meffor, the suspended ISOPADEC board member as GLO of the autonomous Community. The Community claims that Meffor hails from Mgbara in Oloshi autonomous Community different from Obuoma Dike comprising Etekwuru and Umudike Communities.
Yesterday, people of Ofekata III of Oru East LGA also besieged the Assembly Complex on the appointment of Augustine Onyedebelu who they accused of several misdemeanors and somebody unfit to hold the GLO position.
I am also aware that my autonomous community will also protest the appointment of one Cajethan Uchegbu as GLO of Umuagwo Autonomous Community, when the said Cajethan is from Umukene, a different Community in Umuapu Autonomous Community and which is not among the six villages that make up Umuagwo autonomous community.
A recent claim by an aggrieved person who is a leader of a non governmental organization in a text message sent to media houses and prominent persons in Owelle Okorocha's government stated that it is a big mistake on the part of Rescue Mission Government to include a name (withheld) as GLO for Umunakanu Community in Ehime Mbano adding that the appointee in 2008 allegedly attempted to rape a mother of 8 in his village.
I have the feelings for much of this before government came up with the new GLOs, Efforts ought to be made to respond to the complaints and yearnings of the disbanded CLO otherwise known as Community Speakers. The CLOs who are Owelle's eye in the CGC arrangement are lamenting the ill treatment meted to them by the state government as they were summarily dismissed without pay and other entitlements.
For now, I will end this week's epistle here, wishing everybody lovely days ahead.