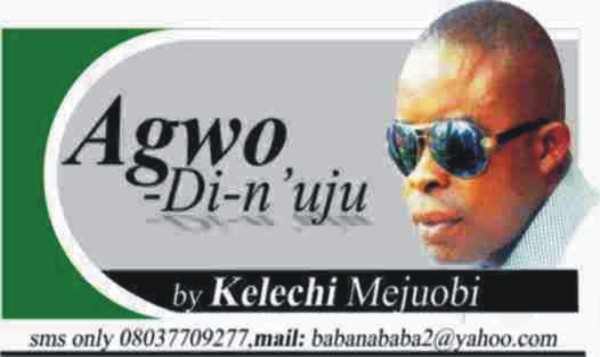 Last week, this political commentary centred on fresh challenges from politicians of Okigwe zone who claim that despite speculations and agitations from some quarters that 2015 Imo State Governorship position belongs to people of Owerri zone, it is the turn of Okigwe to produce Governor. The protagonists of Okigwe Zone argue that if eggheads from Owerri zone want to use 1999 till date as benchmark for their claims, then they are entitled to four more years to complete their two-term tenure.
According to the Okigwe Zone politicians, if Udenwa of Orlu zone had eight years of interrupted tenure, it was wrong for any other zone to lay claim to the 2015 title when Okigwe zone had not had her complete tenure. It would be recalled that the incumbent Governor, Owelle Rochas Okorocha from Orlu zone, in 2011 truncated the desired two tenures of Okigwe when two frontline gubernatorial candidates from the zone Ikedi Ohakim and Ifeanyi Ararume lost to him.
More so, prominent Owerri zone politicians were blamed by the Okigwe people for their 2011 woes. While a former minister, Captain Emma Ihenacho of the PDP was blamed for his party's election woes in Owerri North, Martin Agbaso was also accused of providing the necessary logistics and financial resources for the success of Governor Okorocha.
In the case of Ihenacho, he was not only accused of being responsible for the political schisms that engulfed Owerri North in 2011 but also allowed supremacy battle and war of ego between him a former senatorial aspirant, Dr Mrs Kema Chikwe, (also from Ihenacho's (Emekuku) Community to effect the fortunes of the party. The Okigwe people alleged that as Minister for Interior, Ihenacho was also accused of employing the services of para-military agencies under his ministry like Civil Defence, Prisons Service, Immigrations and Customs to work against the interest of his party. Furthermore, they noted that there were unconfirmed reports that the oil and gas magnate distributed trailer loads of bags of rice to people in the locality. Though, he never told them to vote against his PDP, but there was instruction "Jiri ire guo eze gi onu (use your tongue to count your teeth). The Okigwe zone were aggrieved that taking into consideration, the overwhelming influence of the former minister, it was an abomination to lose in his polling booth, ward and Owerri North LGA, in the 2011 election, in both the Governorship and National Assembly elections. Okigwe zone people contend that 2011 negates the principle of zoning been campaigned by Owerri zone people for 2015 Guber election. According to an Okigwe zone stakeholder, Agbaso's recent alliance and fresh romance with the pro-Owerri zone group, the Owerri Zone Political Forum, OZOPOLF for the 2015 Owerri Zone Governorship dream is defeatist, as the Emekuku-born politician played a significant role in distorting the zoning arrangement that denied Okigwe Zone another four years in the Government House, Owerri. In an interview with our medium, one of the Okigwe Zone agitators lamented the role of Agbaso, who they accused of prosecuting selfish interest against the wish of the masses. "In 2007, he made spirited efforts to deny us the chance of winning the Governorship position. Even when Ohakim was declared winner, he went ahead to institute several litigations against the Okigwe Zone man. In 2011, instead of allowing us have our second term, he supplied an Orlu zone man the necessary weapon to fight us and capture power, thereby denying us our deserved 2nd term mandate. Now, they want to tell us it is their Owerri zone turn. How possible will it be for them when we have not completed our tenure? Does principle of equity, fair play and justice permit that it is Owerri Zone turn in 2015 when their major actors surreptiously worked against zoning?
As I explained in last edition, I have had chanced meetings with the affected Owerri zone gladiators who explained reasons for their roles. At a recent interactive session with media Chief executives in Owerri, Capt Ihenacho absolved himself of the blame or mischief to PDP in 2011 election. According to Ihenacho, there were ominous signs for PDP based on issues of wrong candidates "we raised the alarm of fielding of wrong candidates in PDP. We saw the crash coming, not just for anything but because of wrong candidate. If anybody wants to blame me, I am not the only top PDP politician that lost in his Ward and LGA. Checkout the PDP leaders, our party Chairman, Eze Duruiheoma lost his place. Several people, even those in Ohakim cabinet lost their wards. So nobody should blame me for the loss. The alarm was raised earlier but we did not heed to it. I think it would be a lesson for us in the party not to choose wrong candidates", Ihenacho added.
Explaining further, Ihenacho blamed Okigwe zone people for their defeat in 2011. The former Senatorial aspirant noted that Okigwe zone people engaged in self-destructive tendencies by allowing two strong contenders to run for the position against another candidate from another zone. "If you check the number of votes the Okigwe zone governorship candidates garnered in 2011, you will know that they were architect of their misfortune. Their votes combined are greater than the number of votes the eventual winner used to defeat them. If they had not been two, one of them could have won" Ihenacho said.
Captain Ihenacho's contention is in tandem with the views of a sender who also argue that the people of Imo North Senatorial Zone were instrumental to their 2011 failure. According to 08108271864, "Okigwe people denied themselves 2nd tenure. D neglected the issue of 2 people from d zone contesting d same position, why didn't they put their act together. D would have reconciled d two so dat one person stepped down. Thus their votes was shared. Even many of them voted for Rochas. Why are d cry n wolf where there is none. Abeg make dem go sit down. 2015 is an exclusive right of an Owerri man".
Capt Ihenacho in denying that he never worked against Okigwe Zone in 2011 disclosed that he rejected an offer from APGA to contest the governorship election in that year.
Said he, "Even as I believe in a good candidate emerging from any area, it was my respect for zoning that made me to reject APGA guber ticket in 2011 election. I was offered the ticket before Rochas took it. I would have taken it if I wanted to scuttle Okigwe zone second chance".
For Agbaso, there is no regret in the action he took in 2011. According to the fair-skinned maverick politician whose younger brother, Jude was recently impeached as Imo State Deputy Governor. "No regret for what I did to make Rochas Okorocha governor as at that moment. What I did was what we needed at that moment", Agbaso said. A political lieutenant to Agbaso whose does not want his name in print said that the contentions of the Okigwe Zone politicians are frivolous. According to the aide, "after Orlu zone eight years by Udenwa, it was the turn of Owerri Zone. Agbaso was coasting home with victory for Owerri zone turn before an interest of a single person scuttled that dream. It was the turn of Owerri zone in 2007. Ohakim and co stole that mandate. That was why Ochiudo challenged it in court till the matter was exhausted. So 2015, is Owerri turn"
We shall keep our fingers crossed as events continue to unfold. Certainly, the rumoured second term bid of Gov Okorocha will add spice to the whole show. Keep reading.