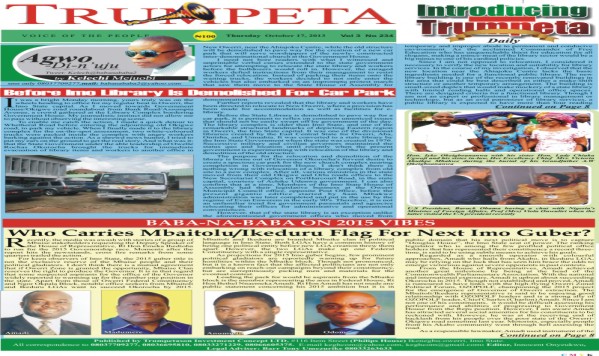 Recently, the media was awash with stories of a group of Mbaise stakeholders requesting the Deputy Speaker of the House of Representative, Rt Hon Emeka Ihedioha to run for the 2015 Governorship race. Moments after the report hits the newsstands, cross fire remarks from some quarters trailed the action.
For keen observers of Imo State, the 2015 guber title is not the exclusive reserve of the Mbaise people and their political gladiators. I don't think there is a mutual agreement that if Owerri Zone is granted the opportunity, Mbaise Clan reserves the right to produce the Governor. It is in that regard that some suspected aspirants for the office of the Governor widely reported to warming up for the number one position in the state. Apart from those of Owerri Federal Constituency and Ngor Okpala Block, notable office seekers from Mbaitoli and Ikeduru LGAs want to succeed Okorocha by 2015. Mbaitoli and Ikeduru are branded Mbaike clan in political language in Imo State. Both LGAs have a common history of being one political entity before new LGA creation threw them apart. However, the two LGAs make up one Federal Constituency with a single representative.
As projections for 2015 Imo guber begins, few prominent political gladiators are reportedly warning up for future hostilities within the Mbaike block. Though not pronounced, but it is a known fact that the affected politicians are not only embarking on reach-out campaigns beyond their constituency, but are surreptitiously picking men and materials for the eventual contest.
Leading the pack for would be aspirants from the Mbaike block is the member representing the area in Federal House, Rt Hon Bethel Nnaemeka Amadi. Rt Hon Amadi has not made any public statement concerning his 2015 ambition but it is in public domain that his next political move is to capture "Douglas House", the Imo State seat of power. The ranking legislator who is among the few profiled political office holders that has represented their constituency a record three-time, is said to be using subtle means to achieve his goals.
Regarded as a smooth operator with colourful approaches, Amadi who hails from Akabo, in Ikeduru LGA, may be relying on the luck that has seen him brace the odds to emerge victorious against severe opponents in past contests.
From the House of Representatives, Amadi achieved another great milestone by being at the head of the Commonwealth Parliamentary Association. With the national and international exposure, Amadi is upbeat about succeeding Okorocha in 2015. Though not established and proved, Amadi is rumoured to have links with the high-flying Owerri Zonal Political Forum, OZOPOLF, championing the 2015 project for the emergence of Governor of Owerri extraction. The Mbaitoli/Ikeduru representative is said to be enjoying good relationship with OZOPOLF leaders and is a strong ally of OZOPOLF leader, Chief Charles (Charlon) Amadi. Since I am not one of his constituents, it would be difficult assessing his performance and abilities of progressing to Government House from the Reps position. However, I am aware Amadi has attracted several social amenities for his constituents to be reckoned with. However, he was at the receiving end of backlash from his people over the poor state of the Owerri-Okigwe road sometime last year. Motorists, especially people from his Akabo community went through hell assessing the road.
As a responsible lawmaker, Amadi used instrument of the Federal House to draw attention of the Federal Ministry of Works to the pitiable state of federal road. Based on a motion Amadi sponsored on the floor of the House, the lower Chamber of the National Assembly resolved that Federal Road Maintenance Agency, FERMA, be instructed to undertake immediate rehabilitation of the damaged portion of the road. Today, people of the area and indeed road users can heave a sigh of relief on the Akabo area of the Owerri-Okigwe road, courtesy of Hon Amadi. The road has been put in proper shape.
Two factors may work against the ambition of Amadi. The fact that he has been in the saddle for 12 years and winning back-to-back the House of Representative position for Mbaitoli/Ikeduru Federal Constituency and not giving chance to others in the spirit of "mmanu akara di uto, onye ratu, ibe ya aratu, (bean cake is sweet, when you take, others will take). His challengers will query the rationale behind occupying any public office like that of the office of Governor after colonizing the House of Representative seat for uninterrupted 12 years. Again, it would be difficult for Amadi to assess the various localities across the state since his activities are limited to his constituency only. Getting the necessary support from the three zones would pose a threat to Amadi's ambition of becoming Governor in 2015. Tongues are wagging that his deep-neck interest in the international parliamentary job may have alienated him from the grassroots, where the game of politics for who becomes a state governor is played.
Since Eze Madumere has flatly denied nursing any ambition to run for the 2015 Governor of the State, it would be worthless discussing his interest. Following Trumpeta weekend report on his alleged schemes for interest, the media aide and some government officials dismissed the report and branded it a mischievous attempt to set-up the Deputy Governor against his longtime boss and executive Governor of Imo State, Owelle Rochas Okorocha. In this write-up, I shall not talk about Eze Madumere running for 2015; rather, my discussion will concentrate on his chances of carrying Mbaike flag for 2015 governor based on political uncertainties that characterize Imo governorship race. In politics, anything can happen to throw anybody up in 2015 electoral contest and surprises cannot be ruled out.
Though, in a chanced discussion I had opportunity of having with the Deputy Governor, he has always made it clear that Owelle Rochas Okorocha's project is his project anytime, any day and any moment including 2015. But discerning minds would ask if he would reject to run for Governorship position using APC ticket if Governor Okorocha wishes to respect the one-term pact he mutually agreed to in order to allow Owerri Zone people produce the next Governor of Imo State? As the favoured aide and political godson, what if Okorocha decides to go for higher office like the president or vice-president, and the lot for would be replacement falls on Madumere, would he reject it? Based on the age-long relationship and strategic partnership between the duo, it will not amount to premature and wild imagination to include Madumere on the list. The fact that he has acted as Okorocha's Chief of Staff for years, got appointed in 2011 as Chief of Staff to the Governor and elevation to Deputy Governor position after Jude Agbaso was impeached, gives Madumere as another chance to benefit from Okorocha's milk of kindness. The coming into power of Okorocha administration has upgraded Madumere's profile and rich pedigree as an instant stakeholder and political leader in Mbaitoli/Ikeduru clan. As a master strategist and astute politician with knack for excellence and service delivery, Madumere will get the nod of many to join the fray should his boss, Okorocha decides not to seek second tenure by 2015. His presence has drawn several politicians from his locality to APC. A notable PDP Chieftain who led the party in the past and acted as Deputy Chairman of the party until recently, Chief Marcon Nlemigbo, is romancing with the APC camp. It would be recalled that prior to the 2011 election, Nlemigbo swore that he would go on exile if former Governor Ohakim loses second missionary journey. Instead of going on exile, Madumere's magic wand made the likes of Nlemigbo, Okorocha's converts and Rescue Mission new apostles.
At the home front, Madumere is seriously making a clean sweep of his constituency by attracting dividends of democracy and political empowerments. While several local roads have been asphalted, the Roche-type mode schools are positioned at strategic places in his constituency. No wonder the new General Hospitals at both Nwaorieubi in Mbaitoli and Iho area of Ikeduru LGA have reached advanced stages waiting for operational equipment.
At the state level, the Deputy Governor is the heart and soul of Okorocha Government. Governance and office of the Governor will not be a new thing to Madumere since he has effectively taken charge of official government functions and activities during Okorocha's absence.
Like I repeated in the past, forces opposed to his boss will undoubtedly extend it to Madumere since he is an extension of Okorocha. Politics is a game of struggle for power and those working against the present regime will continue their onslaught against any aspirant or candidate enjoying Okorocha's support for 2015 Guber. More so, perceived enemies Madumere may have made and those he stepped on their toes in the course discharging his duties as former Chief of Staff to the Governor and Deputy Governor will ambush him in 2015 for their pound of flesh. He might not also have a smooth sail in APC as those not comfortable with his rising profile within the rank and file of Okorocha's Rescue Missionaries will oppose his ambition.
By next week, I will continue with the rest.