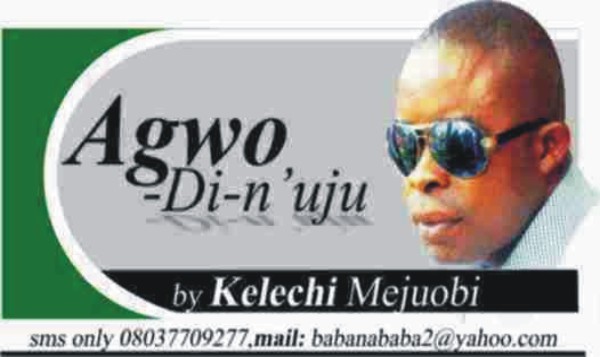 Last week, I began a foray into the newly re-constituted Imo State Executive Council by the State Governor, Owelle Rochas Okorocha. I began with my sector; the media department, where "my pals" are in charge. While Chief TOE Ekechi is in charge of Information Ministry, Sam Onwuamedo dictates the pace as Senior Special Assistants (Media). While extending my warm felicitations to them on their new appointments, I offered helpful tips for their success and I wish them well in office.
In fulfillment of my promise, this week continues with other commissioners and appointees on board the new Exco. Before I go further, I need to discuss about the office of "my man" and colleague in the pen profession, Paddy Obinna. Paddy Obinna is Adviser to the Governor in charge of Culture. Reports reaching me indicate that Obinna has started well. He not only dazzled those who attended the inauguration of the Exco at Ahiajoku Centre last week Monday, with his cultural wears, but also had a post-swearing-in reception in a cultural way. As Ndaa Paddy, settles down to business, I expect him to showcase the qualities that may have endeared him to the heart of the Governor who considered him worthy to occupy the privileged position. I am aware that Ndaa Paddy, no doubt will face several challenges in office. And part of the challenges I expect him to tackle is the issue of foreigners handling art works and sculptural designs in the state.
Governor Okorocha may have reasons for handing over art work and jobs to foreigners. I have personally spotted some foreigners doing art works in the state capital. The artworks designed at the Government House/Okigwe Road Roundabout, Orlu/Warehouse/Bank road Roundabout and new scintillating creations near the State Library Complex on Government House road are being done by those we normally regard as "Oyibo" people. Few days ago, while negotiating the Govt House roundabout, I noticed the "Oyibo" people handling the art work. I want to inform Ndaa Paddy who is a creative artist that his colleagues are abound in the state for any job than government hand over art works and contract to foreigners. Before the advent of this government, there have been several artworks and sculpture at designated areas of the state and I am not sure they were handled by foreigners. There is hardly any higher institution in the state and within the South East that has no Fine Arts/Creative Arts Department, to produce qualified artists.
Besides, the present administration penchant for engaging in "capital flight" by patronizing foreigners should not be extended to creative arts sector where local artists capable of handling the job are on the streets. Ndaa Paddy should also know that the famous "Otele ukwu Awaka" (Corn) sculpture situated at the Awaka main market in his Owerri North was done by a woman of Imo descent. Same applies to the famous Ekwema Arugo sculpture at Ugwu Ekwema arranged by an indigene of Owerri too. I am not dismissing the technical finesse of foreigners to artworks, but indigenous fine artists can also do better as part of government empowerment programmes.
Taking into considerations, the cultural heritage of Ndi Imo, I also expect Ndaa Paddy, to reconsider revitalizing the states cultural potentials and values with a view to making it one of the cardinal programmes of the Rescue Mission government. With the urge to shift the country's economy from an oil dependent economy to other fields, repositioning Imo State cultural values undoubtedly will act as a catalyst in boosting socio-economic development of the state.
As I bid bye to my professional colleagues in Okorocha cabinet, I will delve into other critical sectors of the state government by attempting to look at the returnee commissioners and their present designations. In my earlier discussion, I contested reasons behind the mass sweep of the out-gone Exco members in one swoop. Taking into consideration that a reasonable number of the former commissioners returned and retained their portfolios, the July 2013 mass sack was unwarranted. Though, my partner and co-columnist in Trumpeta, Henry Ekpe who parades at the back page every Friday in his Lastline dealt with this matter last week, my stake and commentary as usual will go on and in good faith.
Having learnt some lessons after two years of being in the saddle as Governor, Okorocha is beginning to play politics of governance by handling over key ministries to his trusted allies and undisputed loyalists. I share the Governors sentiments in this aspect. Since it is the prerogative of the Chief Executive of the state to appoint his cabinet members, only loyal and trusted aides would be favoured. I am not surprised that his inlaw, Uche Nwosu and Ichie Uche Best Mbanaso returned and are in charge of Lands and Urban Development and Works Ministries respectively. If Okorocha did not find favour in them for doing his bidding, they would have not returned to the Executive Council as Commissioners. Same applies to Dr Ifeanyi Nwachukwu, Ugochi Nnanna Okorocha, Nick Oparandudi, Deacon Chike Okafor, Jerry Okolie and Kenneth Emelu, who I will better describe as "Super Commissioners" having survived the odds to return to their respective offices.
For Nwosu, I am aware that his continued management of Lands and Urban Development as Commissioner, is for strategic reasons. Since the advent of our nascent democracy in 1999, people from Owerri Federal Constituency and to an extent, Ngor Okpala, held the position until Okorocha came into power in 2011. From AUD Mbah of Owerri West during the time of Udenwa to Hon Levi Oguike and Prof Jude Njoku of Ohakim era. When it was the turn of Okorocha, Ogueri Enwerem started before the first cabinet shake-up that threw up Nwosu. As a bubbling youngman entrusted with power and authority over land matters, housing and urban development, I will only enjoin Nwosu to be cautions in his dealings knowing that power is transient and nobody holds if forever. I expect him to imbibe precautionary measures as well as laid down procedures in handling issues related to government land by realizing that any action done by this government can be reversed by another administration since government is a continua and nobody's private property.
From Nwosu, I step into the area of Works Commissioner, Mbanasor. I am aware that Mbanasor is an integral member of the Governor's cabinet. Since the Governor wants to score points with infrastructural developments, especially on road constructions, the onus lies on the works commissioner to prove his mettle and deliver for his boss. I will simply request Mbanasor to distinguish himself from a private contractor and acting as commissioner for works. Even when the Exco was shut down, Mbanasor was still on duty and most time undertaking supervisory roles at most government project sites. It behooves on the distinguished commissioner to toe the part of honour and respect the obligatory moral standing expected in governance by identifying his status. I also expect Mbanaso to continue with the sanity instituted by his immediate predecessor, Nick Opara-Ndudi who turned around the fortunes of the Ministry of Works. I was opportune to attend an exclusive briefing by Opara-Ndudi as Works Commissioner were informed Media Chief Executives his heart-warming turn-around manipulations in the ministry. I also expect the commissioner to allow the Ministry's engineers to supervise road projects across the state with a view to improving quality control and due process. The complaints from the public that most of the completed roads are "China products" which may not stand that taste of time should be reviewed and revisited for peculiar remedies. I will not end my expectations from the Works Ministry without reminding the Commissioner of lamentations of unpaid contractors who have been languishing in penury over inability of the state government to pay them for jobs done. While regularization of papers for the contracts are been settled, the contractors deserve a better deal of payment of jobs executed for survival.
Ordinary, I would not have commented on Nwachukwu and Emelu who are Commissioners of Public Utilities and Sports respectively. The plethora of complaints that greeted their re-nominations as commissioners from several quarters would serve as a guide than my write up. I expect the duo to reflect on the two years they spent so far and know why protests trailed their return as petitions against them came mostly from their ministries and constituencies. In public utilities, Nwachukwu owes Owerri residents reasons why public water supply seems to have become a forgone alternative and the renewed epileptic operations of street lights in Owerri town. Nwachukwu should also check his public conduct not to attract fresh backlash from perceived enemies.
For Ministry of Sports, Emelu has the Herculean task of revitalizing Heartland Football Club of Owerri. The Owerri-based side fondly called "Naze Millionaires" is the darling club of Imolites. For the first time in the record of the Club that has witnessed a chequered history, it recently missed relegation to lower division by whiskers. The inglorious untold stories of what the players, officials and management went through this season culminating in their unceremonious ouster from the African Confederation's Cup, after failing to honour a second leg outing in Congo, calls for serious attention.
A concise approach should be adopted to put the Heartland team back on winning ways. Appropriate funds and necessary logistics should be mobilized now for pre-season build up for 2013-14 Nigeria Premier League (NPL) season. More so, the Ministry of Sports should also adopt a resounding strategy to shore up the fortunes moribund sports, to add Imo again in the map of states with considerable interests in sports and youth development.
To many, the balkanization of the Ministry of Education into two departments of Primary and Post Primary Education and Tertiary Education came as a surprise. But taking into consideration the practice in other states and in view of Owelle Rochas Okorocha's perceived love for education, the new designations for the Education Ministry's Commissioners are welcomed. I am aware that one of the states in the South West part of the country has a similar division. I also feel that the present administration in its determination to pursue its free education to the logical ends and take education in the state to highest may have warranted the Ministries of Tertiary Education and that of Primary and Secondary Education.
Irrespective of the designations, I expect Prof Uba Nnabue and Mrs Uche Ejiogu to contribute their quota to the growth of the education sector in the state. There is no gain saying in the fact that judging from several factors, the much touted Free Education in Imo has several defaults. The accreditation problems faced by the two state-owned higher Institutions; Imo State University and Imo State Polytechnic, cannot be over emphasized. As a law teacher at IMSU, Prof Nnabue knows the challenges facing the institution and should eschew master-servant relationship in government to let the Governor know that IMSU has lost its taste in provision of basic and quality education. Same applies to Imo Poly, where it recently attracted national disgrace that ridiculed the acclaimed Free Education in the state. The disgrace meted to HND graduates of the Institution at the ongoing Orientation Camps, by NYSC officials who sent them packing from the various camps should be properly investigated with a view to providing adequate remedies. Imo Poly is gradually dying contrary to constant deceitful media claims by the management Imo Poly is working. Prof Nnabue should ask questions why no admissions to students for HND courses. The commissioner should also devise means of relaunching the Institution to path of glory. Finally, I will implore the commissioners to ensure that the Free Education is not a wishy-washy thinking that lacks creditably. Instead of quantitative education, the state government should imbibe qualitative attributes to garner accolades from the masses for making education part of Rescue Mission cardinal programmes.