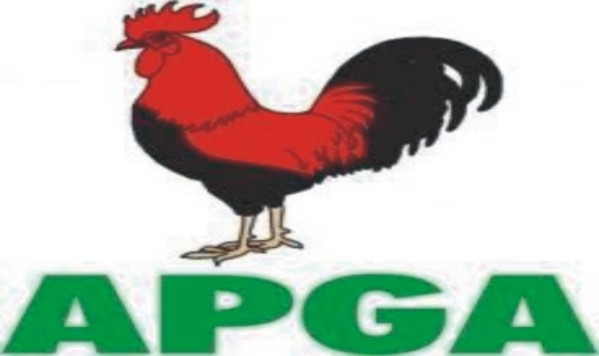 By Chris Nwosu Esq.
Recently, it was on the news that a group known as the Imo State Apex leadership Caucus of APGA has endorsed Hon Captain Emmanuel Iheanacho as the consensus candidates of APGA for the 2015 guber race in Imo State. It is indeed an interesting piece of story that has dominated the tabloids for days now. While different perspectives of the issue abound, it needs be conclusively evaluated what the politics of endorsement portends and who goofed on the scenario.
To state the obvious, at the last count, over six aspirants have in different fora demonstrated their intention to unseat the inglorious administration of Owelle Rochas Okorocha via the platform of APGA. In fact, further to the APGA mega rally that stampeded Owerri on Friday 3rd of October, it is expected that more prospective contenders for the plum job at Douglas House might enter the race through the APGA platform. Thus it is only glaring that aspirants and worthy replacements eager to show APC the exit door are multiple. Yet, the self-styled Apex leadership caucus rushed to the market with the uncomplimentary endorsement.
Implicit in the endorsement contraption was a supposition that the multiple aspirations in APGA have been pruned down and narrowed in favour of Capt. Emmanuel Ihenacho. The question that arises is the arrangement within the context of modern democracy? And the answer is simply in the negative.
Conversely, it appears to one that the purported endorsement by the self styled caucus group is purile, undemocratic, hasty and smarks of common desperation concocted and prompted most probably by its sole beneficiary. In fact, it connotes a disposition ant ethical and alien to the cherished rapidly growing popularity for which the APGA family has impressed the entire Imo masses who cannot wait to shut the door on APC.
APGA is a political party with a constitution. One has flipped through the provisions of APGA constitution and it is not clear which section created the Apex Leadership Caucus of APGA. To put it a little bluntly, the group does not exist, it is simply a creation of a desperate mind. The next question is who is that desperate mind and why the desperation?
The involving issues in APGA are enabling political observers to prompt a direct internal two way contest. The endorsement was probably procured by Iheanacho, Okey Ezeh took the guntlet Perhaps, it is necessary to juxtapose both.
Capt. Emmanuel Iheanacho, the sole beneficiary is a former Minister of interior. He is very matured in age; perhaps, over 70 years old.
Some people also think Ihenacho carries with him heavy business and political liabilities.
On the other hand, Chief Okey Ezeh who has taken the gunlet questioning the concorcted endorsement, is the youthful Mbaise-born technocrat turned politician. He is a first class product from University of Nigeria, Nsukka, a banker with grand exposure in a global finance firm based in the United States. He sounds stable, visionary and vibrant. It was said that he just celebrated his 45 years recently. His major challenge is that Okey is too polished and refined for the crude and brazing kind of politics in Nigeria.
While events continue to unfold, there is no mistaking that APGA is the most favoured political brand with capacity to sack APC in 2015. But its mission to reclaim Douglas House is enchored on its ability to observe and adhere to hallowed principles of modern democracy that allows for party primaries.
For a group of individuals to gather in one man's house and endorse him after a few bottles of red wine and brown envelop without any recourse to the wishes of large APGA faithful across the State, falls short of common sense. Do they expect the rest of APGA large membership to sing doxology? What was their expectation? He who comes to equity, must come with clean hands and he who seeks equity. Must be ready to do equity.
The story would have been other wise, if the architects had tarried a little further until such a time all aspirant had indicated their interests. Thereafter, the aspirants could seat together as a family and consider the possibility of harmonization and compromise. Where that fails, then the provision of APGA constitution for primaries would be activated. At the primaries, APGA faithfuls through their delegates would have made the choice. Whoever that emerges the winner of the primaries would enjoy popular support of both his colleagues on the race and the rest of the party faithfuls across the State, and victory would become a walk over.
The truth is that whoever that concorted the 10th October purported endorsement of Capt. Emmanuel Ihenacho goofed. It smarcks of political criminality alien to the spirit for which APGA is known. It is an on goal against its principal beneficiary. And it goes to no issue.
Before the purported endorsement, the impression one had was that Captain Iheanacho held sway of APGA Imo State. In fact, the popular impression was that Iheanacho was in charge of APGA in Imo state. Now, it becomes necessary to ask, if Capt. Iheanacho was really in charge, why the desperation to abort primaries. Why was he so afraid of contesting primaries that the endorsement was hastely procured even before it was time for sale of forms? The answer is so simple, perhaps Iheanacho is not really in charge.
Information from sources who were present at the endorsement was that some of the L.G.A party chairmen that signed the endorsement were told that the National Chairman, Chief Victor Umeh mandated them to endorse Iheanacho as their candidate. it is now very obvious that Chief Victor Umeh who is passionate about APGA did not give such directive.
Hon Dan Ikpeazu (the member representing Owerri North Constituency where Capt. Ihenacho hails from) attempted to justify the purported endorsement by reference to similar actions at different platforms. He referred to the endorsement of President Goodluck by PDP and that of Rochas Okorocha in 2011. One strongly refuses to see eye to eye with Ikpeazu.
The Endorsement of Jonathan by PDP is clearly understandable and stands on different foundation. First, it was done by the NWC of PDP. NWC is a creation of the constitution with enormous powers while the Apex Leadership Caucus group is a creation of a desperate mind with illegitimate purpose to serve. Ikpeazu might also need to know that in case Prof. Soludo of Anambra State, a court held that only the NWC of a political party has the power to adopt a candidate and not even the State Working Committee let alone an Apex Leadership Caucus, that is uthopian.
On the adoption of Rochas as a consensus candidate of APGA in 2011, it must be recollected that itwas a woeful precedent that APGA is yet to recover from. It is a reference to a pathetic case that must not be allowed to repeat itself. The APGA faithfuls cannot continue to allow themselves to be disenfranchised from party primaries by a few undemocratic and disoriented cabal.
The desperation in the concorted endorsement is quite understandable. If Iheanacho loses APGA ticket for the 2015 guber race, he is not likely to have that opportunity to govern Imo State again given the fact that age is not on his side. But that is a misconception of what life is all about. It is not about carrying a toga of "Governor". It is about allowing the will of God for each man per time. If God has preferred Okey Eze to Iheanacho for 2015, there is little desperation could accomplish. One would have rather expected a free and fair contest where there is no victor and no vanquished. One person can be Governor, the other, National party Chairman of APGA or Ambassador. There is no need for such desperation to warrant premature endorsement of Capt. Iheanacho before the whistle is blown.