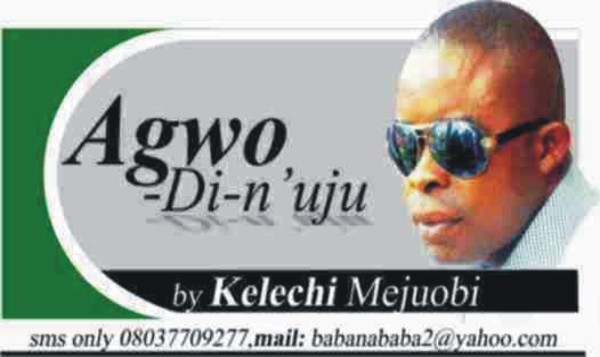 AGWODINUJU
After mind – boggling thoughts, I considered it necessary to revisit the issue of Imo Trumpeta newspapers, especially the ownership, editorial style and public perception. Taking into consideration a plethora of reactions that trailed each edition and publication of the Owerri – based tabloid, this commentary has become necessary. Even as I had my normal "fellowship" with my friend, who is one of the embattled elected local government area chairmen battling to save their executive chairmanship positions against plots by the present administration to keep them out of the councils, at our normal "cathedral" with the usual "Isi ewu" and Palm wine to unwind and reflect on the lingering political impasse in the state, I felt that the public should this time be a part of our discussion. Something is obvious, my chairman – friend has agreed with me that their getting back to the council and being at the helm of affairs under the Okorocha – led government will be a mirage. We went into further details but the reading public will not know about the discussion since Governor Okorocha and the elected council chairmen are back to the law court.
It would amount to prejudice and something near contempt of court for me to discuss the matter and since I am not a practicing lawyer and holding brief for any of the factions, I prefer to suspend my ink on this matter and go into certain issues that have continued to trail Imo Trumpeta since it hit the newsstands last year.
Scathing remarks coupled with pockets of threats have been launched against publishers, directors and editorial staff of the only tabloid that ran a daily publication from the first day it kick started production in the state fondly called Eastern Heartland. The uncouth tirades against Trumpeta continued until recently when disgruntled elements apparently dancing to the inglorious tunes of some "antagonistic forces" changed tactics by employing threats and unwholesome acts to intimidate, blackmail and chastise the management of the newspaper for upholding the ethics of the profession.
It is worthy to note that few months after Imo Trumpeta debuted, unknown person whose mission is yet to be ascertained broke into the cooperate office of the newspaper in Ikenegbu area of Owerri to cart away valuable items. The midnight attack which occurred when the staffers had closed work and gone for the day, was suspicious and ominous sign that interested forces are working against the continued existence of the tabloid as the rampaging criminals not only ransacked all tables, files and accessories in all the rooms especially that of the publishers and Board of Directors, but also took away laptops and other information. Items. That was after one of the publishers and Editor – in Chief, Henry Ekpe was almost sent to his grave by hoodlums suspected to be loyal to a political party in the state at the premises of the Owerri High court after the 2011 gubernatorial election tribunal verdict. Ekpe who went to cover the judgment with a photographer escaped death by whiskers but was however unlucky because of the body injuries he suffered from the physical assault even as he lost his handsets, cash and personal belongings to the induced marauders.
Having discovered that their treacherous plots to stifle life out of Trumpeta are in vain, the "evil forces" have remodeled their Modus Operandi by engaging in blackmail and threats to life.
Part of the text messages sent to our mobile sets and unidentified phone numbers issuing warnings and threats best describe the new tactics. The unsavoury scenarios reached its climax since the struggle for Imo local governments bet ween the state present administration powered by APGA and elected chairmen of PDP stock.
While some responsible readers of my column "Agwodinuju" chose to be civil and precise in their reactions to my views, few decided to express bestial tendencies, I would not bother readers with what transpired between me and some of the few aggressors but consider it proper to state that we are doing our job in Imo Trumpeta and cannot be coerced or induced to apply unethical means in the course of discharging our duties for record purposes. It is important I reiterate the fact that Imo Trumpeta is solely owned by three seasoned journalists, Messirs Kelechi Mejuobi, Henry Ekpe and Gerry Ogu. Having practiced for over fifteen years in the pen pushing profession and after serving as Chief Press Secretaries to two top political office holders (immediate past Speaker of Imo State and Governor of state) and coordinator of defunct Ikeduru East Development center, it was imperative we get back to the beat and seek our normal means of livelihood. Contrary to insinuations in certain quarters that our former principals are behind the establishment of the newspaper, Trumpeta is solely owned by these seasoned media men. I don't think former Attorney – General of the state, Ken Njemanze (SAN) who is back to the courts his chamber to further his legal practice can be branded an Ohakim lawyer because he was a Commissioner during the Ex – Governor's regime or Prof Jude Njoku who may have retraced his footsteps to the classrooms as a university teacher will be seen by students as an Ohakim propagandists. It is unfortunate that instead of verifying the authenticity or otherwise of our stories or news items, some fellows with skewed imagination and memory begin to cast aspersions and brand us anti – government. One of the concerned fellows in a recent text message asked if I was blind between 2007 to 2011 and now seeing clearly what is happening in the state?
The fellow went further to liken me to another ex – political appointee who was in-charge of the media and public affairs of former Deputy Governor of the state, Barr Emperor Iwuala who turned a critic overnight after four years in government. I know where the fellow is coming from. I had no option than to tell him that from 2007 to 2011, I played my role as an image maker and public affairs handler of a Speaker of a House of Assembly.
that I did not know how my principal emerged during the party primaries, I did not vote for him during the April 2007 elections and was not privly to his emergence as Speaker. That I only came into the scene when I was invited to be the Chief Press Secretary. Part of the reason I was asked to leave my news hunting business as a struggling journalist to come on board was to manage his image. Since politics is a media event, I have the obligation to be an intermediary between my colleagues and my boss. History and posterity will judge my actions and inactions as CPS. I told the fellow that within that period I had a specific function and role; to defend the integrity of the Speaker and to a large extent, the Imo State House of Assembly. I likened myself to the present Special Adviser (media) to the Speaker Ben Uwajumogu and my bossom pal, Citizen Ikenna Samuelson Iwuoha for anybody who has followed Citizen Iwuoha's antecedents, he would have been blowing hot and fire on all cylinders against this present regime if he was not part of the Rescue Mission administration.
I know that my friend Samuelson would have taken Okorocha and Uwajumogu to the cleaners on certain issues. But today, he is dumb and a disease has easily affected his hands forcing him to always react from the rear to defend government actions whether right or wrong. That is the job. I keep wondering what my friend, Samuelson would have said about the present government especially to the present House of Assembly where he now acts as Chief image maker? In other words Samuelson shares the same fate with the Special Adviser Media to President Goodluck Jonathan, highly revered and seasoned columnist Dr Reuben Abati. I have always read Abati's views about the ruling PDP and Jonathan family in his regular column in The Guardian newspapers. The scathing remarks he made in the past against his present boss leaves much to be desired. To be continued next week