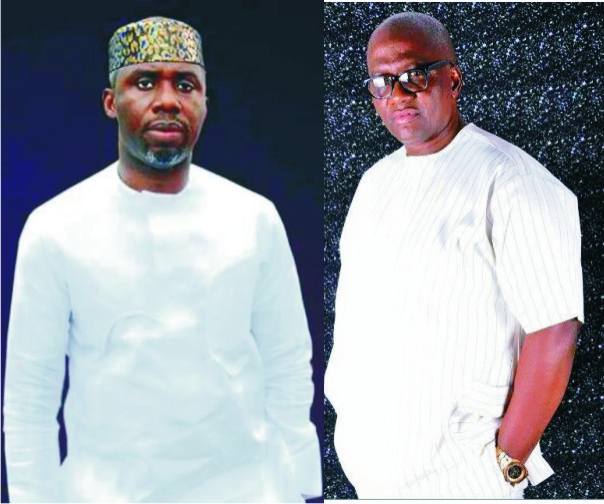 By: Onyekachi Eze
Intro: Prince Charles Amadi, also known as "Charlvon" was a former Pro-Chancellor of the Imo State Polytechnic Umuagwo. An APC Political titan from Eziama, in Ikeduru LGA of Imo State Nigeria. In this interview with Onyekachi Eze of Trumpeta Newspaper, Owerri, he spoke extensively on Imo APC and why Ugwumba Uche Nwosu should be supported to be Imo next Governor.
Excerpts:
Trumpeta : Lets Know you Sir?
Amadi: My name is Prince Charles Emeka Amadi, known as Charlvon. I am a chieftain of the All Progressive Congress, APC. I am also, the Board of Trustee Chairman of the Ugwumba Uche Nwosu Campaign Organization.
Trumpeta: What is your position presently in Imo APC?
Amadi: I don't have any position in Imo APC. I am just a very serious stakeholder in the party.
Trumpeta: There has been lots of controversies for quite some time now, trailing the Imo APC congresses. What's your take Sir?
Amadi: Well, you are aware that the unfortunate thing there remains that there was no congress in Imo State. I am saying unfortunately because, we all prepared for the congress, at the end of the day, the National Organizing Secretary of our party, Senator Osita Izunaso and his friends disappeared with the materials meant for the congress. That is the fact, and it has been confirmed by the INEC, the security agencies and also been confirmed by our acting party chairman in the State.
Trumpeta: But actually last week, Hilary Eke was among the State chairmen that were inaugurated in Abuja by Chief John Oyegun. Are you saying that the NWC of the party also goofed?
Amadi: I wouldn't want to use the word goofed. Something funny happened there. Ofcourse, the National Legal Adviser clearly advised that Hilary should not be sworn in. He did not only say it, but was made through a written document. We all have copies of that, and the person in question is a Senior Advocate of Nigeria (SAN).
Ehhh, if law enforcement officers state that very clearly and also the court, we should allow the status quo to remain. What happened in Abuja was very unfortunate. Our party has been known for keeping to the rules and regulations abiding the laws of our State and Country.
Oyegun and Izunaso hopefully, will one day come and explain, and I must repeat that the exercise they did that day was exercise in futility.
Trumpeta: What do you think could have led to the crisis bedeviling the Imo APC?
Amadi: (cuts in) no no no! There is no crisis in Imo APC. If you go to the grassroots, to the villages; I believe you are from Imo State, if you go to your village or town, to your Local Government, you will discover that APC is one. We just have group of people who have been meeting in Abuja for quite some time, trying to see how they can come and snatch APC from the masses. And that is impossible. You don't stay in Abuja and make meetings thinking it is easy. If you are interested come down to the State. The Governor and all of us have equally asked them to come down and participate in the congress.
You know, you might be lucky to win or lose some if you are on ground, not just snatching it and   going to the National Headquarters and now say, "this is the chairman". Let the chairman who was announced in Abuja come down to Imo State and chairman his party.
Maybe he is the chairman of Imo APC, Abuja branch. We are here, and authoritatively speaking, there is no crisis in our party.
Trumpeta: But majority Believe it was due to the pronouncement of Uche Nwosu's guber bid. How true?
Amadi: Uche Nwosu is entitled to contest for any position in Nigeria, and Imo happens to be part of Nigeria. Anybody is entitled to contest. Nobody has come, even the governor has not come to say that Uche Nwosu is the party's candidate. The governor has the right to support anybody he wants to support. If the people who are opposed to Uche Nwosu can gather themselves and come down to the congress let them contest. If they win Uche Nwosu, as law abiding people, whoever that wins, we will support. So tell them, they shouldn't be afraid, rather they should come to the field and try their luck. They have been telling everybody that they are the owners of the party. No, ownership of the party starts from the village, town, LGA, it doesn't start from Abuja. Let them come down here and defeat us.
Trumpeta: As the BOT chairman of Ugwumba Movement, how realizable is Nwosu's ambition?
Amadi: (Expresses Optimism) very realizable. Compare him. Line all those aspiring to be governor under our great party. Line them and Uche Nwosu, the difference is clear. The difference between him (Uche Nwosu) and the other aspirants is very very clear, day and night. You know, we are grassroot people. Uche Nwosu is a grassroot person. So, we have asked them to come, and I tell you, Uche Nwosu will be the candidate of our party. He will be the candidate of our party because the people want him, people love him, he has shown he has gotten the grasp of Imo situation. Continuity, the free education, the laudable projects by the governor, so let them come, we are very sure, we will go back to the main election come February or March next year (2019), we will win. We are the party to beat.
You can agree with me that for now, Uche Nwosu is the issue, but you cannot wish him away. Is he not an Imo indigene? Let them come and contest. The people that are from my own Local Government, Ikeduru that said they are from Abuja, let them come. If they defeat us in Ikeduru, we will also congratulate them, but if we win them by landslide, they should do same by congratulating us.
Uche Nwosu by the grace of God is the next governor of this State.
Trumpeta: You have just sounded so convinced of his political aspiration, but why do you think he is the best brain to succeed his own father in-law?
Amadi: No, this has nothing to do with father-in-law or son or daughter. He is from Nkwerre. He has been tested. The other people are just making a lot of noise in Abuja. They hardly come to Imo State. When they come in to Imo State, they come in group with private jet, lodge in one house, make one propaganda and enter their private jet back to Abuja. Go to your villages, meet with your people, campaign, tell them your programs. We all are here, we go to our villages, we go to our booths, followed by wards and LGA meetings, we have State meetings too, we tell them what we are doing and they are seeing what we are doing. Why won't we defeat them?
Trumpeta: As a son of Owerri zone, why still throwing your weight towards the governor's son-in-law's guber ambition?
Amadi: I am from Imo State, and I love this State. I am not denying the fact that I am not from Owerri zone, or from Ikeduru or from Eziama. That is not the point. I am saying for now, the person that will go into that "People's House" May 2019 and work for the people, not working for himself is Uche Nwosu. And we want development. I want you to know that, since this government's seven years, I have not been spending in any education levies for my extended family members or the less privileged ones out there. I don't want anybody that will come back to the "People House" (Government House) and   tomorrow we start queuing up for school fees. So why won't I support him? If tomorrow, it could be 2017, we have a credible person from our zone, I will support that person. But for now, We need credibility. I don't want this clannish stuff. The era of clan is gone.
Trumpeta: Is it true of the alleged plans of governor Okorocha to leave APC for the coalition Group?
Amadi: (Laughs)! The governor, Rochas Okorocha, as you know APC is his baby in this State, his baby in South East, and His Excellency, Owelle Rochas Okorocha will never dream of abandoning his baby, the APC. Why will he leave it for the coalition? Where are they? Have you been seeing them in Imo State? They are not on ground. Take this from me, the coalition group will never take this party from us. We are fully in control.
Trumpeta: Any words to Imolites?
Amadi: My parting word to Imolites; first, we thank them for having faith in Owelle Rochas Okorocha. We thank them for appreciating the things His Excellency is doing. The Free education, the tarring of roads in various villages and towns in Imo State, the urban renewal projects in Okigwe, Orlu and Owerri zones. We thank them for having faith in the movement, and we are assuring them that the governor and his chosen successor will never forget them.
Trumpeta: It's a pleasure Sir!
Amadi: You are welcome.