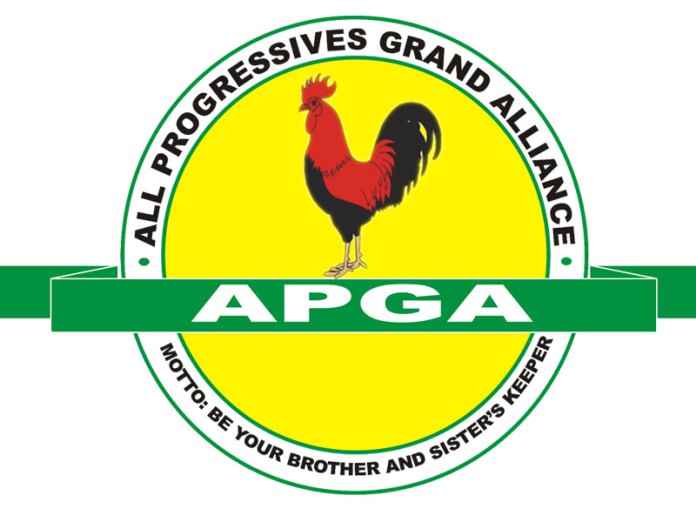 Mixed reactions has continued to trail the sale of three man ad-hoc delegates form of the All Progressive Grand Alliance APGA, Imo State as the exercise is grossly characterized by hoarding of the forms by the party hierarchy and their stooge in the State.
Trumpeta investigation has it in good authority that the exercise which was scheduled to start on Wednesday September 18, 2018 at the three zonal offices of Owerri, Orlu and Okigwe, only started on Wednesday in Owerri zone by 4.30pm.
In Orlu and Okigwe zones, the sale of the forms could not start until Thursday September 20.2018 with few people having possession of the form as at 3.30pm without any cogent reason for the delay.
The development which is giving credence to the alleged manipulation and hoarding of the forms by the party in collaboration with certain desperate aspirants is sending a very dangerous signal to the Imo electorates who are relying on APGA to salvage the state from its current state of hopelessness.
Unfortunately all efforts to reach the State Chairman of the party Barrister Peter Ezeobi has not yielded any positive result. The worrisome aspect of the development is that all the intending delegates who has already paid the mandatory Ten thousand naira form fee (N10,000) are handicapped as they are neither sure of getting the form nor a refund of their money.
Some of the aspirants who do not want their names in print expressed grave disappointment with the development which they alluded to corruption in the system. Querying why the difficulty in releasing the forms to the intending delegates who has already paid for the forms as directed by the party in the Bank.
On the issue of payment of dues by members, they maintained that it should not be enough reason for not given any delegate the form he had already paid for since they could still be disqualified on such grounds during screening.
They raised eyebrows that if the situation is not checked, that it is capable of derailing the smooth process and consequently create room for revolt and gang up against and among the contending aspirants to the various office in the State.