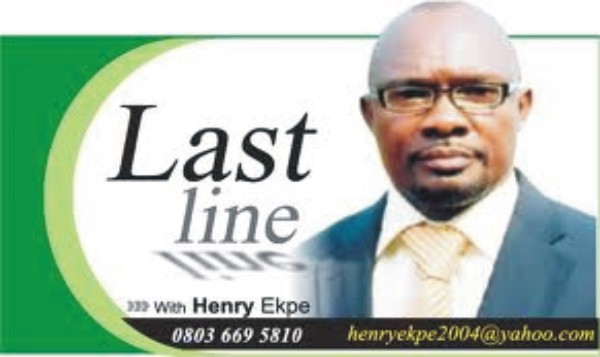 Prior to 2011, Chief Uche Nwosu was simply a quiet private person; a young man who was pursuing his live like others, until he met Owelle Rochas Okorocha. By Okorocha's own account, no one introduced Uche to him as he ran into him "along Wethral Road, without knowing who his parents are"
But the story of Imo State and Okorocha's Eight years reign as Governor cannot be complete without mentioning the Uche Nwosu saga, which has dominated Imo State as far as who succeeds Okorocha in office after Eight years is concerned.
I saw Uche Nwosu first time in May 27, 2011, the day Okorocha as governor-elect came to Douglas House Owerri to be briefed by then incumbent Governor, Chief Ikedi Ohakim. Uche Nwosu was on the entourage of then Governor-elect, Owelle Rochas Okorocha. It includes Ogueri Enwerem, Frank Onwumere, Paschal Obi, Chinedu Offor and other. I can't remember now.
Frankly speaking, Uche Nwosu attracted my attention because of his quiet conduct and sharp dressing. While others were hostile and combative, Nwosu was calm and urbane, that I had to enquire who he was. Remember, I was the Chief Press Secretary, CPS to Governor Ikedi Ohakim then.
Later on, our relationship blossomed and I was one of the first who was privy that the young man from Eziama Obire, in Nkwerre LGA was being prepared for something higher and Big in the future.
And there was nothing wrong with that. Those who are close to Uche Nwosu will tell you that he is an intelligent and sharp young man. He is always alert and learns quickly. These are qualities you cannot take away from Uche Nwosu. And these could be some of the reasons his father-inlaw Owelle Rochas Okorocha wanted to make him his successor aside Okorocha's other motives. But unfortunately, the Governor could not manage that project well.
However, following the current developments within the ruling All Progressive Congress APC, as regards the party's Governorship candidate in Imo, it seems Uche Nwosu will not make it again as envisaged by his father in-law Owelle Rochas Okorocha.
Sincerely speaking, the euphoria in the State today among more than seventy percent of the populace is that Uche Nwosu lost the APC ticket. However, this general notion is not particularly against Uche Nwosu as a person, but because of where he is coming from politivally.
I had in my previous write-ups made it clear that the reason Uche Nwosu's Governorship project could not fly was hinged on too many factors, which could not be traced personally to the young man, even though he cannot be completely exonerated from the entire scenario.
Therefore, it is pertinent to note here that if Uche Nwosu fails to be Governor in 2019, it is not over for him, provided he learns from the current mistakes and avoid them in his subsequent political outings.
I say "if" because, Nwosu has told his followers that he still remains in the frame for Imo APC governorship project until December 2, 2018 when INEC would have closed the submission of names of candidates by political parties.
Naturally, they say that ambitions hardly die! In this case, I see Uche Nwosu executing his Governorship ambition to it's conclusively end, may be through another political platform, if not APC.
But unfortunately, politicians hardly hear that hard truth but love to pander to sycophants who tell them what they want to hear, and go away with stipends.
Therefore, it is yet to be seen if Nwosu will bury the idea of running for Governorship in 2019, go home peacefully to his beautiful wife and children, and prepare for a next time. I foresee a Bigger tomorrow for him.
Nwosu is very young to actualize his political estimations next election season, and by then he would have been his own man, out from his father-inlaw's apron strings which is one of the major factors that militated against his political chances this 2018.
But political Hawks who depend on Uche Nwosu for food will not hear that the young man has done anything otherwise to their own selfish wish, than that of their principal.
These same Hawks are those who create crisis and ask for funds to quench them. And they are the ones who send our likes threat calls, because they see Nwosu as their own "National Cake". They will not stop until they milk him dry and then move on to another "Cow".
Even if Nwosu goes to another political party now to pursue his ambition, it will pose a big task for him, because APC as the ruling party, and his father inlaw as the sitting Governor while election holds in Imo would have been an added advantages had he picked APC ticket.
And again, Okorocha holds APC Senatorial ticket for Orlu. Therefore, any other political party where Uche Nwosu finds abode would be seen as Okorocha's decoy, which certainly will not sit down well with APC hierarchy in Abuja. Now, can Uche Nwosu execute any election in 2019, be it House of Assembly, without the contribution of his mentor Okorocha?
The fact remains that Okorocha would be accused of floating another parallel political platform to counter APC chances in Imo State, which could be interpreted into too many things that may translate to different matters as he steps out of Douglas House, stripped of immunity in May 29, 2019.
Under this circumstance, Uche Nwosu must have a second thought in abandoning APC for another political party.
Another issue is the Imo electorate who are so enraged with the policies of the Okorocha's administration which affected every strata of the Imo population negatively.
It was a very big image blunder recently where Uche Nwosu's Media office said it was the young former Chief of Staff to the Governor that initiated the Urban Renewal policy, which many see from different perspective in Imo State. Infact, that policy is it the hardest side of Okorocha's administration that must be forgotten quickly. It dealt with every citizen in the State.
Another problem for the youthful politician is that most of those fighting against his ambition were former Comrades, with whom he fought battles from the same political trenches for Okorocha.
These people are angry that they were denied what ought to have belonged to them, and they know Okorocha and Uche Nwosu inside out and also know how, where and when to strike the targets. And they usually hit the Bull's eye each time they strike.
And the zoning issue is a leech which has refused to leave Okorocha in his choice of Nwosu as successor.
A majority of Imo people still rate Okorocha low in his political strategy and calculation in choosing an "Orlu" man as successor after spending eight years in office. In making that choice in his own son inlaw raised apprehension and fear among the populace who were afraid that Okorocha wants to recolonize Imo State a second time after Lord Lugard.
This situation had Nwosu to pay for a sin he knew nothing about. Every effort to convince Imolites that Uche Nwosu is not an off-shoot of Okorocha has refused to sink in for nearly one year now. And may never sink in even if Nwosu moves to another party without his father- inlaw.
It is said that Okorocha as an experienced politician knew that the Uche Nwosu project would not only fly, but whoever Okorocha projected as successor will not be voted for, because of the Governor's attitude towards his compatriots lately in his second term, and therefore tried to gamble with the Nwosu project.
This, I was told, was why Okorocha refused to abandon his senatorial quest in lieu of the Governorship seat for his son-inlaw, just as Governor Sullivan Chime of Enugu State abandoned his Senatorial ambition for Ugwuanyi to emerge Governorship candidate in 2015.
To my good friend Uche Nwosu himself, God has been too faithful to him that he should judge from the number of his class mates in IMSU who still in 2018 have no sources of income and troop to his office everyday. He should allow his good sense of reasoning, for which I know him, rule his final decision on 2019 election.
I remember that last December, I asked a friend who was vying for Federal House from Nwangele what he was waiting for and he replied that he was waiting for Uche Nwosu to decide first before he draws his own political plans.
Had Uche Nwosu ran for Federal House or Senate now and wins he would have been ripe with experience and contacts for the big one in 2024. But when some of us raised that issue, I nearly paid for that sincere advice. The reason for my take then and shall now was that he needed to expand his own political tentacles, devoid of his father inlaw's over-bearing presence and also that Owerri zone would have tasted the position of Imo Governorship before it goes back to Orlu.
But even at the risk of my life, let me make it clear here that Nwosu is a good guy any day and had his own plan, but may have jettisoned it to please some forces by obeying the powers that be. May be this was what led him into the Governorship race.
It is not over for Uche Nwosu. Before you know it, four years is gone. Okorocha since 1999 began dreaming of being a Governor, and it could only come to fruition in 2011. He himself knows it would not be easy to skyrocket Nwosu from ground zero to Governor of Imo State. Politics is not done like that and it hardly happens anywhere. Even in England, the hier apparent is groomed for years for the throne, even as he knows he would ascend it. The same happens in Saudi Arabia and other Kingdoms of the world.
However, it nearly worked in Imo, had Okorocha played the gullible one and took Imo people along in his successorship plan. But he used the Machiavelli theory of the end justifies the means, which back-fired in the end.
Nwosu remains a quality, and must bid his time because Imo State still needs him in future. He should not think it is over because it is not over for him yet. Age and time are on his side, and as the Okorocha era passes away, Imo people may still see a messiah in Uche Nwosu when his time comes and when they have forgiven and forgotten Gov. Rochas Okorocha.