News Digest
Justice Christiana Ukachi Anwukah of Customary Court of Appeal Imo State is dead.According to source close to the family, Justice Anwukah...
Editorial In what appears to be a confirmation of one of his watchword "my word, is my bond", the... There is no gain stating the obvious that Chief Dr Emmanuel Iwuanyanwu is a natural figure of repute. This recognition no doubt he earned over... Politicking ahead of the 2019 general elections for various positions in the country has started in earnest with many citizens indicating interest for one...
Sport news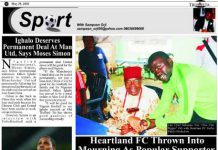 Football followers in Imo state especially the management, players and supporters of Heartland FC where on Wednesday...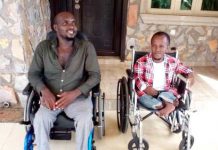 IN CONTINUATION OF HIS HUMANITARIAN SERVICES, HIGH CHIEF AMB.PAUL NJOKU OF PAUL NJOKU FOUNDATION BASED IN LAGOS HAS PRESENTED TWO WHEEL CHAIRS...
Guest Columnist
If there is one lawmaker that can win award for showcasing independence mindedness in the affairs of the...